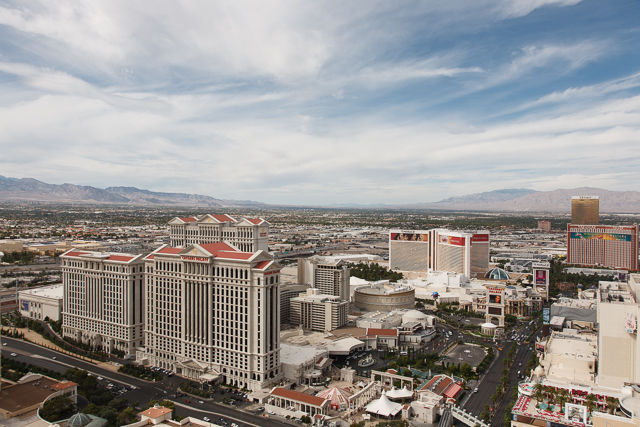 Today was meant to be a chill out day in Las Vegas, but it isn't really a place for chilling out, everything is so full on! We started our day at the breakfast buffet at the Bellagio. It was the most decadent self-service restaurant I've ever seen, carrying on with the Italian theme from the rest of the casino. Pretty much all food groups were covered, but my highlight were the pancakes with caramelised peaches – surprisingly my first pancakes this trip. Breakfast was followed by a quick go on the fruit machines, then a walk round the miracle mile shops and sorting out tickets for a show in the evening.
By this time we needed to relax for a bit and cool off, so we went to the pool at our hotel, it was quite surreal swimming in the pool and looking up at the Eiffel Tower, I'll admit that I preferred the view from swimming in Santa Barbara though. Suitably cooled down we took a trip up the Eiffel Tower for a great panoramic view of Las Vegas, unfortunately we'd timed it badly as we were too early to see the Bellagio fountains, which start at three o'clock. Next we braved the heat and madness of the strip to check out the Venetian hotel, complete with canal for gondola rides and replica of St Mark's square – I imagine that this is the only time that the original would be madder than the Las Vegas recreation. We crossed the strip to return to our hotel, but ended up getting lost in the shops under Caesar's Palace.
When we eventually made it back to our hotel we both felt like we needed to chill out for a while before heading back out. Before long it was time to walk back up the strip for our dinner reservation at St Mark's square, where we enjoyed pizzas sat "outside" on the terrace, being serenaded by a band and watching all the tour groups coming past. After dinner we crossed the strip to the Mirage for roulette and cocktails before the show. We saw Cirque du Soleil's Love, which is based on the Beatles music and was easily my highlight of Las Vegas, the choreography and acrobatics were amazing. We finished off our day in Las Vegas with sore feet – we walked over 23,000 steps – but happy watching the last performance of the Bellagio fountains from our suite.