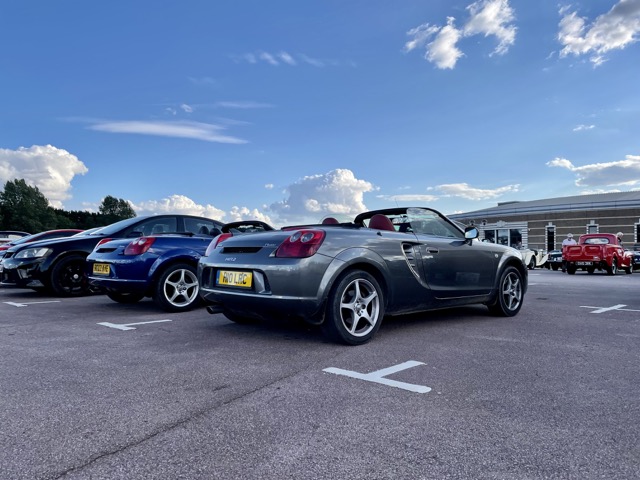 On the second Tuesday of each month, the British Motor Museum at Gaydon holds a gathering for car enthusiasts. Usually, I cannot make it as I take Owen to his swimming lesson, but this month the stars aligned – there was no swimming lesson, the sun was out and it was even the eighth anniversary of buying my MR2 Roadster.
After work, I jumped in the MR2 and set off to Gaydon, via the scenic route of course. It was great to get out for an evening drive – something that I need to do more often! I got to Gaydon and managed to park next to the only other MR2 Roadster in attendance. My parents were also there, so we had a look around the cars together. I was impressed at the turnout, the cars ranged from a pimped out Hummer to pre-war cars. I particularly liked a little blue Lotus Elan, which made my MR2 look big.
The plan had been to grab something to eat there, but my parents had already eaten, and it just looked like a standard burger van, so we just had ice creams and then I picked something up on the way home, after another fun evening drive in the MR2. I am not sure when I will manage to get to another Gaydon Gathering, but it has reminded me that I need to get out in the MR2 more often!