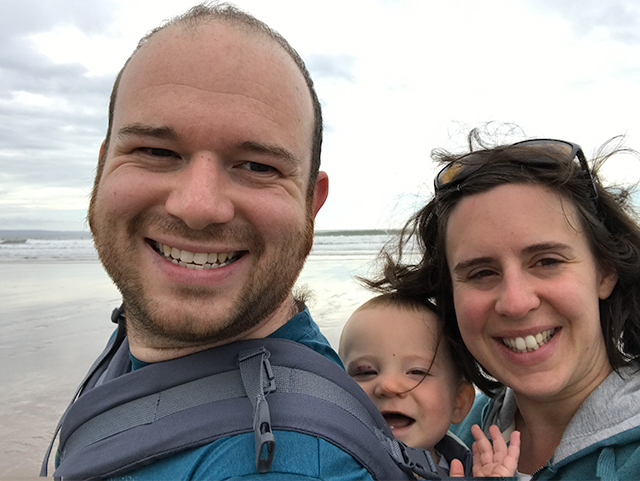 This post starts off where the previous one left off, with us on holiday in Croyde, North Devon, so this has turned into a bit of a travel blog too. The week started off grey and rainy, always the risk when holidaying in the UK. So we took Owen to the softplay in Barnstaple, he's still a bit too small for it, but seemed to enjoy playing in the ball pit. Once again our plans to stop in Braunton on the way back to Croyde were thwarted – although Jen did get out of the car to pick us up some pasties for lunch.
The weather wasn't much better on Tuesday, so we went out in the car. The north coast looked to have the best weather, so we went to Lynmouth, mainly because last year we found a cafe that does a good pasty and cream tea lunch. We also went up to Lynton on the Lynton and Lynmouth Cliff Railway. We weren't that fussed about Lynton, but Owen enjoyed the funicular, especially as we were able to sit at the front and pretend that we were driving!
Wednesday was fairly similar to Tuesday, except that the railway was flat and powered by steam! We went to The Lynton and Barnstaple Railway, for Owen's first train ride! I think Owen's granddad was the most excited though! Jen's sister Heather joined us in the evening and we all went to the Thatch pub for dinner.
The weather had improved by Thursday, so when Owen woke us up early, I went for a walk down to the beach with my camera. The light was lovely and the beach was almost empty – a perfect morning for photography. Later in the morning we all went back down to beach, Owen had fun throwing sand around, knocking down sandcastles and even dipped his toes in the sea. After all that activity we went to the National Trust tea rooms for a late lunch. At this point the day took a turn for the worse – Owen did a poo that breached both his nappy and shorts. Then when we were cleaning it up, we discovered that we didn't have a spare vest or shorts for him – the only clean clothes available were two t-shirts. So he had to go back into his pushchair for the walk of shame back to the chalet with a t-shirt tied around his waist instead of shorts, luckily it was a warm afternoon! We hosted a takeaway evening for dinner, I went to the Mexican food truck at Down End car park, while Jen and Heather went to Billy Bud's to collect some pizzas, it was a great way to spend the evening.
While Jen went out for a run on Friday morning, Owen and I hung out at the chalet, then walked down to the Thatch to meet Jen for breakfast – we can't visit Croyde without having breakfast at the Thatch. After Owen's morning nap we went back to the beach, but this time I was in my wetsuit and hired a surfboard, in the hope that I hadn't forgotten how to surf! I think it was more through luck that skill, but I managed to catch a decent wave on my first attempt, then spent most of the next hour or so getting battered by the waves. A fun way to work off a large breakfast! We spent our last evening in Croyde at Blue Groove, our favourite restaurant. I made an out of character choice to have the special – octopus and chorizo stew! I think my decision was swayed by thoughts of tako yaki, Japanese deep fried octopus balls, which are my favourite thing to eat when I'm in Japan. I'm not sure I'd have it again, but I'm glad I had it. Owen was on top form, charming the staff and other customers.
Saturday was the long drive home – always the worst part of a holiday. We decided to break the trip up with a stop at Cribbs Causeway, as it is just off the M5, and has more food options that the usual motorway services. We ended up at a Mexican street food place – perfect. The downside to stopping at a shopping centre is that we had to do some shopping. Owen came out of it well – we had his feet measured and bought him his first pair of Clarks shoes. I spent the rest of our time at Cribbs Causeway paranoid that he would lose one of them. Who knew that such tiny shoes could be so expensive?
As much as I love Croyde, it is always good to get back home, especially when you still have a few more weeks before going back to work! There was a lot of washing to do, photos to process, blogs to write and a bike that had been unridden all week, so Sunday flew by!