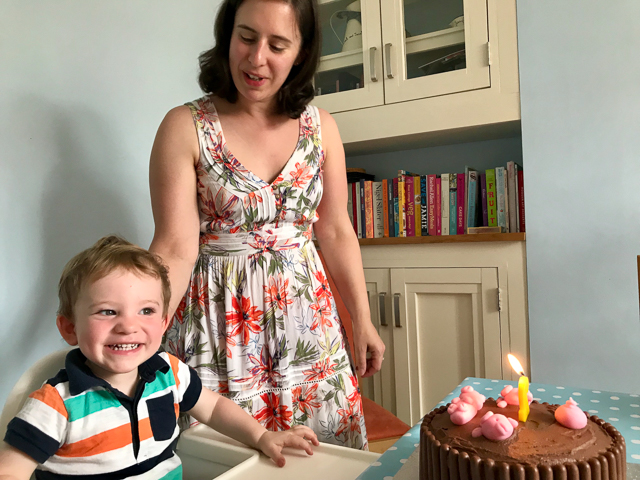 Yesterday was Owen's second birthday! Time flies – his first birthday, and four-toothed smile, don't feel like they were that long ago! It also means that Owen has been going to nursery for a whole year, albeit only one day a week and I am half way through my reduced hours at work, although I may ask to extend them over next summer.
The last few days have been really busy, with birthday celebrations and other excitement! On Saturday we had family round for a BBQ. Owen loved being the centre of attention – especially when everyone sang him happy birthday and he got to blow out the candles on the "pigs in mud cake" Jen had made him!
On Sunday Jen went to London for the day, so in the morning Owen and I went to Coventry Motofest to look at all the cars. Then in the afternoon we went for a bike ride to the War Memorial Park (Owen on the back of my bike, rather than on his balance bike), for an ice cream. Owen showed me his new technique for eating ice cream – he starts at the bottom of the cone, then tries to eat the ice cream before it melts into a puddle at his feet. I was surprised how much he was able to eat before it fell to the floor. However his hands and face were covered! I hadn't really planned for this, it would have been difficult to bring his changing bag on the bike anyway, so he had to make do with a hose down from my water bottle! We rode back home along Hearsall Common and through the woods and I had a very proud dad moment when we got home and Owen exclaimed "Good bike ride Daddy!".
Owen spent Monday and Tuesday in the Cotswolds with Grandma and Grandpa, visiting Cotswold Farm Park, which he really enjoyed. Especially feeding the animals and seeing tractors, as he is currently obsessed with tractors and diggers. While Owen was away, Jen and I took the train into Birmingham to go to the Supper and Beer Club at Pure Bar, for what was billed as a five course tasting menu, but with pre dinner snacks was more like ten courses! I don't think any of the food on the menu were things that I would usually order, but it was all really good – especially the smoked eel and turbot courses. Which was surprising as despite my old Saturday job working on the fish counter at Waitrose, I don't really like eating fish.
We started Owen's actual birthday by opening presents – the yellow digger and dumper trucks being instantly promoted to new favourite toys! He then had to go to nursery, where he had more birthday cake and candles to blow out. We collected him at lunchtime and spent the afternoon at Twycross Zoo, before heading back to Owen's granddad's house for dinner and more presents!
I am pretty sure that Owen had a good few days and he certainly likes his new digger and dumper truck! The excitement is going to continue over the next few weeks, with a bike race, Father's Day breakfast pizzas and a holiday all to look forward to!