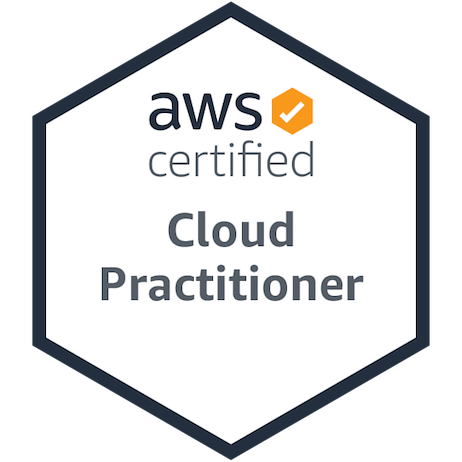 One of my goals for 2020 was to become an AWS Certified Cloud Practitioner – and after a stressful online exam yesterday, I am pleased to say that I have achieved that!
For those that do not know, AWS is Amazon Web Services – Amazon's cloud computing platform, which essentially makes all of the tools that Amazon have developed to run their online store available to other organisations from Apple down to individual developers/bloggers, like me. I have been using AWS to run this blog, and a few of my other sites for a few years, and decided that it was about time to formalise all the skills that I have learned along the way. Whilst completing the online training I also picked up a few new things that I could apply to my website, or improve how I am using the tools.
The exam itself was really strict, I completed it online from home, although usually it would be possible to do it at a local testing centre. I was monitored the whole time through my webcam/microphone – with the exam being terminated if anyone else came into the room. I also had to have a totally clear desk – given that my usually crowded desk is currently doing double duty, with my work PC alongside my iMac, I opted to take the exam on my laptop at the dining table. As much as I like the idea of online exams, I do not think they are ready for the mainstream, after I had passed all of the entry requirements, showing my passport and desk space etc the application locked up, just as I should have been starting the exam. If AWS, probably the biggest cloud computing company in the world cannot get it right, I cannot see it being rolled out for GCSEs/A Levels! After giving it a decent amount of time to recover I ended up having to force a shutdown on my laptop and eventually managed to get back to the exam and start it. I found the exam hard, but finished it well within the time limit, and got told I had provisionally passed, with official confirmation arriving a day later, which is certainly an improvement over previous exams I have taken.