Martyn Ashton is a legend of mountain biking, so when I heard that he would be giving a talk about his career I had to go. My friend Partho was keen to join me, and as the talk was at Buxton, in the Peak District, we decided to make a day of it. As we were not taking bikes, it meant that we could take my MR2 Roadster for the drive – so of course we went via the country roads.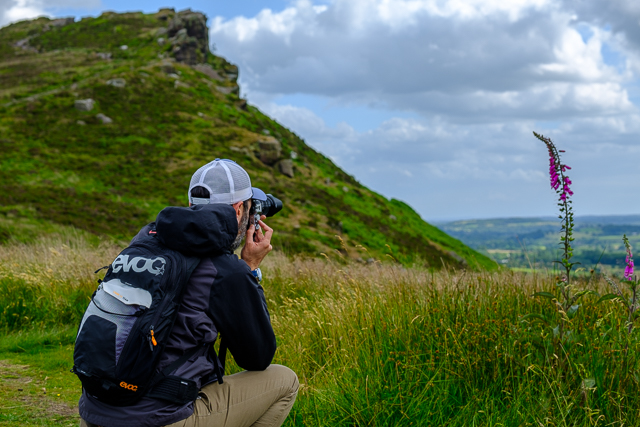 Enroute, we stopped at The Roaches, a rocky area between Leek and Buxton, for some photograhy. We had a rough plan of walking up to Doxsey Pool, which is allegedy bottomless and inhabited by a mermaid. However, the directions we were following were somewhat vague, and we parked in the wrong place, so walked up Hen Cloud instead. It was really windy at the top, but the view was good. Even if the light was not great for photography. It was good to break up the drive, and we both want to return another time and ideallly do the walk we orginally planned and hopefully with better light!
On the drive in to Buxton we passed Flash, where I remembered stopping on a breakfast drive a few years ago. We had some time to kill in Buxton before our dinner reservation, so took a stroll around the Pavilion Gardens and past the Crescent and spa – it seemed like a nice town worth going back to. We had a great Mexican dinner at The Lone Star.
Martyn's talk was great – the first half covered the moment up to his lifechanging accident in 2013 – I remember reading Mountain Bike UK magazine in the late nineties, and Martyn was always in it, so it was good to head some stories from that first golden era of mountain biking. It ended with Road Bike Party – including a viewing of the film, for those in the audience without a six year old child who regularly asks to watch it! Martyn shared a lot of still photos, which I always prefer to videos, but the one I found the most powerful was that split second before his accident, the bike about to hit the bar he was landing on. The second half of the show covered his long recovery and the second-half of his career, and the rise of adaptive mountain biking – a truely inspriational story.
After the talk, it was time for the long drive back to Coventry, however I love roof-down drives on a warm summers evening and I had one of my best drives in ages, on mostly empty roads. It was a late night, but well worth it!