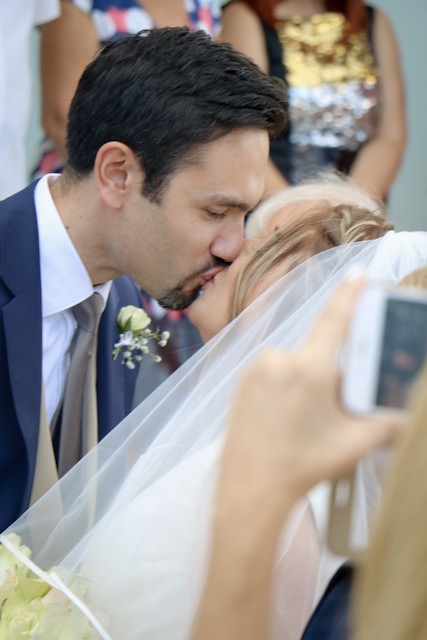 Photo by my good friend Richard Long, as I was too busy being best man to take any photos.
After a busy build up, this was the day we had come to Cyprus for – Partho and Marilena's wedding! I had been told that my services would not be needed until 13:00, so we had a relaxing morning, swimming with Owen. The outdoor pool was too cold for him, but the hotel had a heated indoor pool, which was perfect for Owen. It was also empty, so he could splash and squeal in delight as much as he wanted! I was going to take him in the sea, but had been told it would be better to wait until we got to Protaras for that, as the sea in Limassol is "cold" – this was from a Cypriot, who obviously hasn't surfed in the English Channel in February!
I had been told to report to Partho's hotel at 13:00 for the ritual shaving, a Cypriot tradition where the best man shaves the groom. Although these days it is mainly symbolic and for the photographers. Partho must have wimped out, as I merely had to help him get dressed, button up his shirt, tie his tie etc, again, all for the photographers.
After the photos we had an hour or so to kill, so we thought we would get Owen lunch, which turned into a rushed affair, with both Jen and I getting stressed that we'd be late for the ceremony. Partho actually thought I was doing it on purpose as Marilena was so late to our wedding she missed the ceremony! After the quickest outfit change for all three of us, we made it to the hotel lobby a mere six minutes late. Only to be told that the bride was behind schedule – panic over. Owen looked so smart in his blue trousers, white shirt and blue bowtie, especially as he was matching Partho and I.
At the church I didn't realise what was going on – I'm not too au fait with British weddings, let alone Greek Orthodox ones, and all the logistics of who needed to be where etc were in Greek. Rather than the groom waiting at the alter, the bride and groom meet outside and walk down the aisle together. I eventually got the right place, next to Partho at the alter, then realised that I hadn't been given the rings! Fortunately the best man isn't responsible for the rings at a Cypriot wedding and the priest had them.
The ceremony was a bit of a blur, the priest did explain some bits in English to Partho, so I had a vague idea of what was going on. My best man duties were swapping the rings between Partho and Marilena's fingers twice. I had been told I needed to do it three times, so was a bit confused there. As I was when I didn't need to swap their "crowns" (beaded head pieces, which are tied together) – I had been told that I would need to swap them three times, and that if they were dropped the wedding had to be postponed! I also had to hold a napkin under Partho's chin in case he dribbled when eating the holy bread and drinking the holy wine. Partho joked that I was best qualified for this as I'd had plenty of practice with Owen. One thing that surprised me about the ceremony was that the photographers and videographers where free to work during the service, even posing Partho and Marilena when the priest was talking to them. They had lights and camera dollies set up behind the alter and at points it felt more like I was in a film about a wedding, than at an actual wedding.
The wedding reception was back at our hotel, with canapés on the lawn. This was a good opportunity to try some typical Cypriot food, which was all very tasty. Even Owen ate plenty of it! As best man I was sat on the top table for dinner, but hadn't been expecting Jen and Owen to be up there with me. Having a tired little boy on the top table was a risky strategy, but Owen seemed to take it in his stride, making friends with Partho's sister.
I found my speech more difficult than when I was best man at my little brother's wedding in 2015, despite Partho giving me so much material to work with over the years. The language barrier and the fact speeches aren't usually part of a Cypriot wedding didn't help, but Partho had decided I wasn't getting away with not doing one. I did get a few laughs at the key moments and didn't upset Partho, or Marilena, with my stories, so I'll class that as a success!
After the speeches a short wedding highlights video was shown, with both Partho and Marilena getting ready, and some shots from the ceremony and reception. As a photographer I was impressed at how quickly they turned the video around. I'm also looking forward to the full wedding video and photographs, as there was much more focus on capturing the day than at a typical British wedding. I don't envy Partho and Marilena having to choose the images they want for their album!