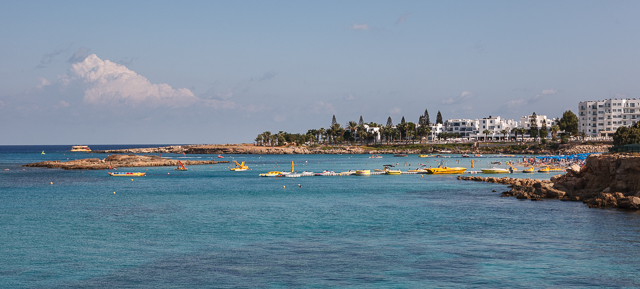 Despite his late night, and my even later night celebrating Partho and Marilena's wedding, Owen was awake at 7:00 and not at all sympathetic to Daddy's hangover. Jen took him for a walk along the beach, so I could catch up on some much needed sleep. We met Partho, Marilena and Richard for a late breakfast as we would all be going our separate ways that morning. Partho and Marilena for a minimoon in Ayia Napa, Richard over the border to Northern Cyprus (which Jen and I checked out in 2011) and we were going to Protaras for a few days relaxing. Before checking out, we took Owen for another swim in the indoor pool, which he enjoyed.
When we visited Limassol in 2011 there was a lot of building work happening near the old town – a swanky new marina was being built. We decided to have a look round and grab some lunch before settling off for Protaras. The marina was beautiful, with super yachts parked in the turquoise waters and pastel coloured villas lining the marina. I'm not sure if the boats or villas would be more expensive, but imagine that the owners have both anyway. There were regular security patrols on golf buggies, making it feel a bit like a Bond villain's lair. We had frappes (iced coffees) sat outside Cafe Nero, as that was what the locals do. Then we went for lunch at TGI Fridays, not normally somewhere we'd go on holiday, but it was sheltered from the sun and wind and had a great view over the marina.
After lunch we drove to Protaras, taking the coastal route to Larnaca, then the motorway to Protaras. It was good to see some new parts of Cyprus – I'd previously only seen Limassol and the motorway from the airport. Some of the smaller villages were really nice, others just seemed like ramshackle hamlets. Our first impression of Protaras was driving down "the strip" to get to our hotel. It looked much like any other typical holiday resort, with English themed pubs (Only Fools and Horses bar etc) showing English football and advertising full English breakfasts. After putting Owen to bed, I popped out to the ice cream shop next to the hotel – this was to be a recurring theme of our stay.
Once again, Owen woke up at 7:00, despite our efforts to keep him on British time, so I took him for a walk. Fig Tree Bay was two minutes down the road and looked beautiful, with shallow clear water and a small island in the middle of the bay. We walked around the headland to the main beach with all the big hotels. I really liked having the promenade/boardwalk along the beach and that there were municipal sun loungers and parasols, rather than the beach being carved up by hotels for residents only.
After breakfast we took Owen to the beach for his first taste of swimming in the sea! He seemed to enjoy it, splashing away and wriggling his feet into the sand. When we got out he made friends with the couple on the sun loungers behind us, playing peekaboo and waving at them. I went back into the sea with my GoPro and swam out to the island, where there was a shelf of rock just under the water, which was a perfect place to watch the fish swimming around. There were even some pipefish swimming around, which I had never seen in the wild before. Some of the GoPro photos looked otherworldly and some even had fish in the frame.
All the swimming and playing in the sand must have tired Owen out as he had a long nap, meaning we had a late lunch. We walked back down to Fig Tree Bay, to Zefkas, for traditional Cypriot kebabs. They were amazing, probably the best food we ate all trip. Jen had pork, I had Sheiftalies (a Cypriot sausage) and Owen had halloumi and lountza -Cypriot ham. To work off our lunch we walked the length of the promenade to the other side of town, stopping for an ice cream, then back via the strip. In the evening we went to Paladela, which was just across the road, I had Pork Tavas (chunks of pork and potatoes baked in a tomato sauce), Jen had moussaka and Owen had pizza. Then when Owen was in bed I went to the ice cream shop to bring back a late night snack. Once Owen was in bed it was nice having some time to relax, sitting out on the balcony reading a book, sorting through photos or blogging.
Our last full day in Protaras was much the same as the first, except that Partho and Marilena joined us for lunch at Zefkas and a walk along the promenade. We all then joined Partho's sister and brother-in-law at the beach, where Owen befriended some Russian kids, although I expect he was planning to steal their ball! Our evening wasn't quite so relaxing, as we had to pack for the flight home. We still managed to have ice creams though.
The journey to the airport went without a hitch, we even had time for breakfast pizzas and a bit of shopping at the airport. We had seemingly the only empty seat on the plane next to us and Owen had a much better flight than on the way out, despite a fair bit of turbulence. We got through the airport quickly – our bags came round the carousel just as I got there, which never happens! Before embarking the long drive back to Coventry we stopped at McDonalds for a late lunch, which was Owen's first Happy Meal, he was especially excited to be given some balloons.
Traveling with Owen was certainly different to our previous travels, we're used to traveling light, but Owen had more stuff than both of us combined. He seemed to cope well with the food, even if he wasn't eating as healthily as he would at home – but that is all part of holidaying, right? We did miss out on a few things, such as paddle boarding and eating later with everyone else but he certainly made the holiday more fun.