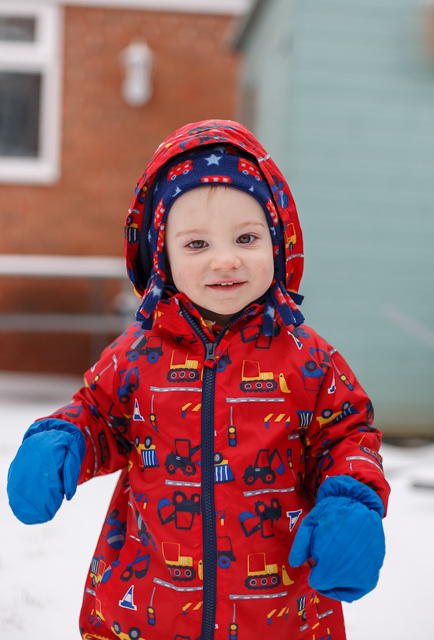 The Beast From The East/Snowpocalypse struck the UK last weekend and although Coventry seemed to get off fairly lightly my plans to take the MR2 on track at Silverstone were scuppered, but we still managed to have a good time without leaving Coventry!
Since returning back to work after paternity leave, my weekend starts on a Friday, usually with Owen's swimming lesson in the morning. Driving to the pool, the roads were actually clearer than they had been on the previous evening's commute – where I witnessed a car leave the road in front of me. Owen enjoyed his swim, but was a little monkey when he got home. He was probably getting cabin fever, as he's spent most of the last week at home, as he had picked up a stomach bug at nursery and we didn't want a repeat of our trip to Yorkshire last year where he passed on his bug to everyone he met! Unfortunately we couldn't get out to play in the snow, or even work on bikes in the garage (which Owen loves), as it was just too cold and windy. So we lit the fire, settled down in the lounge and waited for Jen to get back from work.
Fortunately the wind had died down by Saturday morning and everywhere looked lovely covered in a thick blanket of snow. Jen's Parkrun was cancelled, so we were able to run some errands, before getting Owen into his snow clothes to play in the garden. This wasn't the first time Owen had played in the snow, and he was excited to get out in it. He really enjoyed himself – especially throwing snowballs! He also copied Jen making a snow angel, and loved crawling around in the deeper snowdrifts in the garden.
Playing in the snow tired Owen out, so while he was having his nap I managed to get out on my bike. It was only for a short ride around my local trails, but they were transformed in the snow and I couldn't help but smile at the sound of fresh snow under my tyres. I am used to the trails I ride most weeks changing with the seasons, but it is usually a gradual change, rather than an overnight change with the snow! I also liked being able to follow other tyre tracks and seeing which parts of the trails other people were riding.
The snow had started to melt by Sunday morning, so we went out to Hickory's Smokehouse for breakfast. All of the playing in the snow must have made Owen hungry, he polished off most of his fry up – we've never seen him eat like that! Whilst Owen was sleeping off his breakfast I went out on my bike again. The snow on the trails had mostly turned to slush and mud, so it was tough going. I ended up having to abort my ride and ride home on the road as I ran out of time. We spent the afternoon visiting Jen's mum and dad, looking at photos of Owen – it is amazing how much he has changed, even over the last six months.
The weekend hadn't gone to plan, the weather was rubbish, but we still managed to have a good time. I was rested and ready to hit the ground running when I got to the office on Monday morning, which was useful as work has been really busy over the last few months, hence the lack of updates to this blog. Things should be retuning to normal soon though.