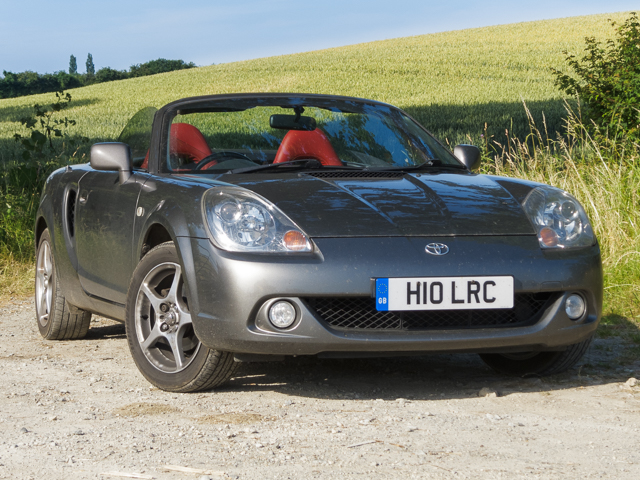 My poor MR2 has been taking a bit of a back seat recently, which is slightly ironic as it doesn't have any back seats… These days most of my Sunday mornings are taken up with mountain biking, so the MR2 only gets used if I'm driving somewhere and don't need to take a bike or Owen with me. However this weekend both my bikes were broken, awaiting parts to be delivered to fix them, so I decided to take the MR2 out for a blat!
I had been thinking of driving to the Elan Valley in Wales, somewhere I have wanted to check out for a while, but I didn't really have time before family duties kicked in again in the afternoon. So instead I kept it fairly local, the first part of my route to the Elan Valley started in Alcester, so I decided to drive there – taking the fun way of course! Coming out of Balsall Common, I ended up following an MGTF for a while. Back in 2005, the MGTF would have been one of the main competitors to the MR2 Roadster, I imagine that road tests in magazines would rate the handling and driving dynamics of the MR2, but that the MGTF would ultimately win out due to being more practical. I'm certainly glad I bought the MR2 though!
I continued cross country to Wooten Wawen, where I picked up the B4089 to Alcester. This is one of my favourite local(ish) roads, and it was great to have a clean run at it. The road has both corners and gradient changes in abundance – the sort of road where the MR2 shines! From Alcester I joined the A422 towards Worcester. I'd only ever driven this road in Jen's Fiat 500 enroute to the Pistonheads Sunday Service at the Morgan factory after the MR2 had a tyre blowout the previous day, so the 500 was promoted to show car. I had wanted to return in the MR2 ever since.
The A422 did not disappoint! Starting off with great views over the farmland on both sides of the valley, then progressing through pretty villages as it snaked towards Worcester. I enjoyed this section of road so much that I decided to turn round and drive it again! Unfortunately the traffic had picked up by this point, especially the Lycra clad road cyclists, so I stopped for some photos, and took a detour off the main road, towards Redditch. After a while I started to recognise some roads from when Jen and I hired a classic Fiat 500 on our first wedding anniversary and pointed the MR2 back in the direction of Coventry. With the roads now busier, and the sun already beating down on me, the pace slowed and I enjoyed the sensations of being out in an open top car, cruising though the beautiful Warwickshire Countryside on a warm summers morning!
I was only out for less than two hours, covering ninety miles, so I had plenty of time left to work on my bike and wrangle Owen whilst Jen ran some errands. Whilst getting caught up in mountain biking I had forgotten just how much I enjoy an early morning hoon in a sports car. Plans are currently being made for that trip to the Elan Valley before the summer is out!