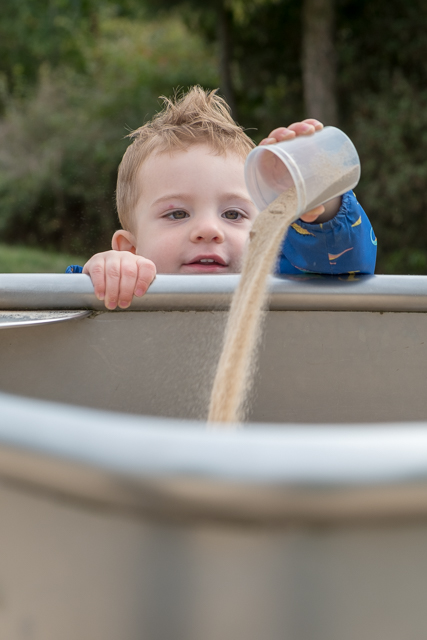 After eleven years using Canon DSLRs for my photography, I have swapped to a Fuji mirrorless system. It literally was a swap too – I walked into my local camera shop with a bag of Canon kit and walked out with my new Fuji X-T2 and 18-55mm lens!
The main reason behind the change is that in the last few years my lifestyle and priorities have changed and a heavy DSLR camera doesn't fit in with my life in 2018. I'm not going out on photography adventures with my Dad anymore, Jen and I aren't travelling as much as we were and my motorsport photography days are long gone! The Canon Eos 5D which I bought as a "temporary stop gap camera" in 2010, just wasn't being used. It was too heavy/bulky to carry around. Especially when I am on a bike or out with Owen, and other than working and sleeping that is all I seem to do these days!
On the rare occasions I was using my camera I was only taking the camera and 24-105mm lens with me, to keep both kit and faffing to a minimum. On checking my Lightroom catalogue I had only taken one picture in 2018 with my 70-200mm f2.8 lens. I had been looking a a more advanced compact camera to replace my Canon S90, but my long term plan had been to get a new full frame Canon DSLR. However, given the amount of use I couldn't justify it. Then I started to notice a lot of my photographer friends moving to mirrorless systems. With both Canon and Nikon announcing new mirrorless ranges recently the tide seemed to be turning towards mirrorless, so I decided to ignore my misgivings about electronic viewfinders and do some investigation…
Sony seemed to be the popular choice; I liked the idea of full frame sensors, and had heard a lot of good things about image quality. Then I checked the price – way out of my league! The Canon Eos M series was more reasonably priced, but I got the impression that they were aimed at amateurs, especially the range of lenses, probably too much of a step down from my 5D and L series lenses. Whilst looking I came across the Fuji X-T2 and thought it looked good, compact and well built, but too expensive, especially for a cropped sensor camera. However the seed had been sown. My search then brought me to the Fuji X-T20 – the X-T2's baby brother, and its cousin, the X-A3. They were more in my price range and shared the same sensor/auto focus system as the X-T2, but crucially were within budget! I read a lot of reviews and convinced myself that Fuji with manual control dials on top of the camera and well built lenses was the mirrorless system for me.
Then it dawned on me – we were off on holiday in a few weeks time, a week in Croyde would be the perfect opportunity to get to know a new camera system! I sent details of my current kit to a dealer to see if the numbers would work – fortunately they did! Now all I had to do was decide which Fuji camera to buy, I preferred the layout of the X-T20 but the features of the X-E3. The only way to make a decision was to get to a camera shop to try them out. Whilst waiting for an opportunity to visit a camera shop, Fuji announced the X-T3. It looked perfect, except it was way too expensive for me, and in any case wouldn't have been available before my holiday. However, it did mean Fuji reduced the price of the X-T2, just about bringing it into my budget! I now had three cameras to decide between. The main attraction of the X-T2 was the better build, including weather sealing and even simpler controls than the smaller X-T20. The downside was that I would only be able to afford one lens initially. By the time I got to the camera shop I had pretty much decided on the X-T2, deep down I knew that I if went for the cheaper model, I would either end up wanting to upgrade or breaking it whilst out on my bike. Therefore buying the more expensive X-T2 was actually the cheaper option. The camera just felt "right" in my hands, I didn't need to try the X-T20, I was taking the X-T2 home!
As is usually the way with these things, I didn't get to use it over the weekend, I certainly didn't want to risk taking it to the Peak District with me. Especially as I haven't got any protection for it – all my existing camera bags are set up for full frame DSLRs, so the little Fuji is just rattling around it them. Other than a few test shots at home, my first proper go with it was taking some headshots at work – no pressure then! After eleven years using Canon DSLRs I can change anything on them instinctively, and whilst the Fuji controls are intuitive, I struggled a bit. The zoom ring being the opposite way round to Canon, is going to take some getting used to. However, the electronic viewfinder was awesome, I could see what the photo was going to look like before I took it and the shooting information was all there too. I really don't know why I was so against them previously!
Since then, I have been tweaking the settings to my liking and practicing on my tame(ish) model – Owen! Jon Caz's guide was a particularly helpful starting point for settings, as there is a lot more to configure than on my old cameras and to be honest I am still getting used to them. We took Owen to get his haircut in Rugby, so I knew we would be going to the GEC recreation ground after – Owen loves the sandpit and mechanical diggers there! With Owen entertained, I was able to concentrate on taking some photos of him and trying out different settings. I particularly liked the one at the top of the post because of the expression on his face. Jen even used the camera to get some good pictures of Owen and I playing on the mechanical diggers, she noted how much lighter the Fuji is than my old set up.
I had read about people having issues processing Fuji files in Lightroom, this was a concern for me as moving away from Lightroom would be a much bigger change for me than changing camera system. My friend Graham sent some raw files from his X-T2 for me to try in Lightroom, I was able to get results I was happy with. However it has highlighted that I need to revisit some of the new features in Lightroom, especially the "Profile" section of the Develop Module, but also the sharpening controls. I had the same experience with the photos of Owen, I've been able to get photos I like, but possibly not as good as they could be.
The main thing though is that switching systems has got me interested in photography again! Instead of finding excuses to leave the camera at home, I'm finding reasons to take it with me!