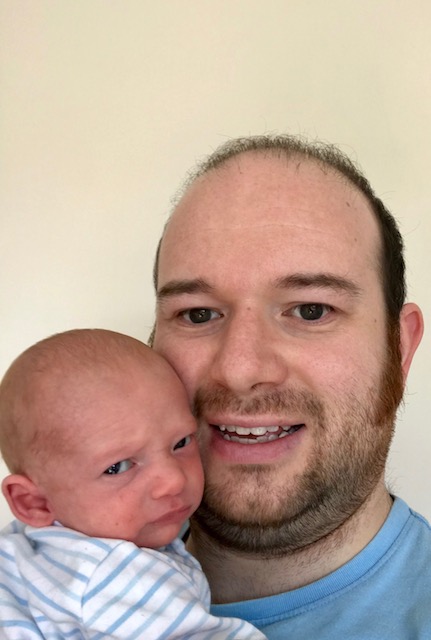 Today was Henry's due date, he was born a few weeks early, although not as early as Owen, so has already been on a few adventures. The first few days he stayed at home, stealing the hearts, and cuddles, of all his visitors. When he was four days old he was starting to look slightly yellow and by day five he had lost more weight than the midwives were happy with, so we were sent back to hospital. This was reminiscent of when Owen also had  jaundice and was admitted to special care. This time much easier on us, as we knew what to expect. Seeing Henry in the incubator took me right back to June 2016 and the many hours spent with Owen on the neonatal unit. Fortunately Henry responded well to the treatment and was back home within 36 hours.
As he was gaining strength we could take him out and about, to the supermarket (for a photo in the whisky aisle, like I did with Owen), to visit Nanny and Grandad in Nuneaton, (whilst Owen and I went on a bike ride with Little Rippers) and also to the garden centre/softplay to watch his big brother. While Owen was at nursery, Jen and I took Henry to register his birth, followed by lunch at Dough and Brew in Warwick – the first restaurant we had taken Owen to. Like Owen in 2016, Henry was so well behaved, letting us eat our pizzas without disruption – not something that we have experienced for a while! We also took both boys for a visit to Coventry Transport Museum, and Sprinkles Gelato for ice cream and waffles.
However the best part of my paternity leave was being able to spend time together as a family of four. My paternity leave for Owen was spent in the neonatal unit at UHCW, I had already gone back to work by the time he got out. So the bonding time at home was great. There have been lots of nappy races, where we line the boys up on their changing mats and see which parent/boy can change the nappy fastest. What was harder this time round, was not being able to devote our full attention to the new baby. Owen had been a bit poorly around the time Henry was born and I think felt like we had abandoned him a bit. So to start with he was playing up a bit, we have tried as much as possible to keep to his normal routine, but it has not been easy. Things have improved now and he seems to have accepted Henry, it is very cute when Owen says goodbye to him whenever we go out just the two of us.
Henry has also changed loads in the two and a half weeks since being born. He is now heavier than his birth weight and so much more alert. The jaundice has cleared up too. His little legs are already really strong, despite their skinniness. He loves his milk, often drinking way more than his little tummy can hold, with predictable consequences…
I am really going to miss Jen, Owen and Henry when I go back to work tomorrow. It will be especially difficult trying to fit a full work day and spending time with the boys, especially as I am doing Henry's late feeds. I had visions of getting all sorts of jobs done during my paternity leave, life admin, servicing my bike etc, but had forgotten just how much attention a newborn needs – almost as much as a toddler!
I am still working a four day week, so will have extra time to spend with Henry and I am very much looking forward to taking some shared parental leave at the start of 2020 – it was such a rewarding experience when I did it after Owen was born.