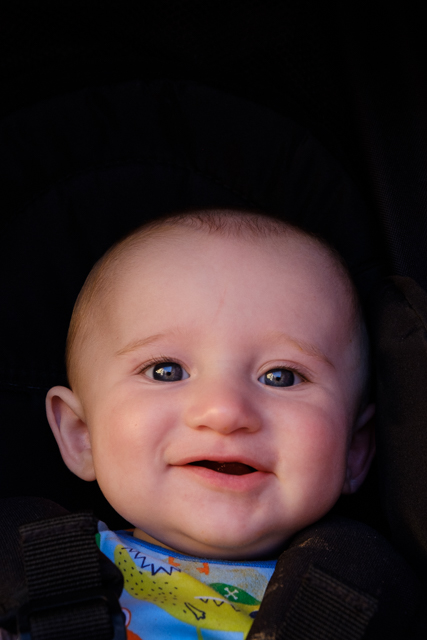 The main thing that happened this year was that Henry was born – going from a family of three to a family of four was a pretty significant change to our lives! Fortunately Henry has mostly been a chilled out baby, with lots of smiling and letting us deal with his big brother, as he went through the issues of being a "threenager". However in the last few weeks, since Henry has learned to crawl/climb, his cheeky side is coming out – he is always up to something!
Our year started off quietly, getting the house ready for a baby – relocating my office into the dining room to make room for a nursery etc. Then when Henry was born I was either wrangling Henry, or Owen – my theory that two little boys actually means four times as much trouble has been proved right! My day job has also been really busy, so personal projects took a back seat, although I did start to get involved with Coventry Bloggers – the first event I did with them being the opening of MOD Pizza in Broadgate.
When I have had to opportunity I have tried to focus on improving my AWS skills and learning iOS development with Swift. I am partiularly proud of the workflow I set up to push Git updates to my AWS S3 web hosting. Away from my desk I also learned to wakeboard.
Photography wise I have continued to enjoy my Fuji kit, adding a new lens in the last few days (blog post coming soon!). More often than not I have taken the camera with me on days out, or even bike rides, meaning that I have captured more images in recent years. Two of my school friends, Partho and Rich, have also bought/upgraded their cameras and a few weeks ago we met up in the Peak District for a photography session. I messed up on the location, so we missed the best light, but we all enjoyed getting outside together.
https://www.instagram.com/p/B6vAQ6QnFwa/
My 2019 best nine on Instagram gives the impression of a year of bikes with my boys – including my friend Partho, who snuck into two of the shots. Like last year, I will do a separate post with more background to each of the nine photos.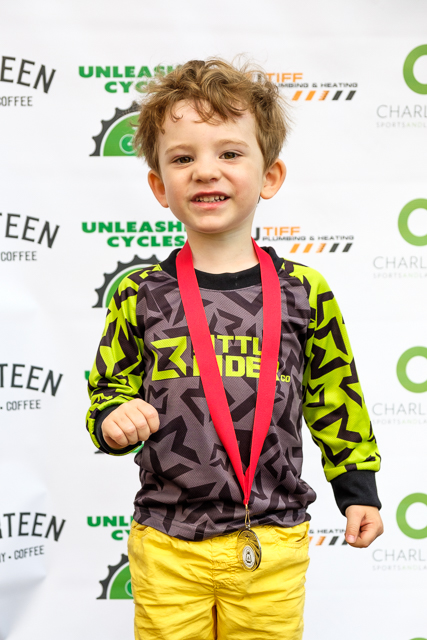 Whilst Henry is the headline, Owen has also had a great year – getting a little brother was obviously a big change for him, as he was no longer the centre of our attention. He seemed to cope with it really well though – we have had some great adventures together, on the Mac Ride (which was definitely my best purchase of the year) and on his Strider. His highlight of the year was our holiday to Bluestone in Wales, including the stops at Flyup 417 Bike Park and Pedalabikeaway in the Forest of Dean. He has well and truly mastered his balance bike, even if he may not be cut out to be a racer and is now starting to get the hang of his new pedal bike.
At the start of the year I set some goals, I also did a mid year update back in June, but here are the final results:
Get my weight down to 85kg
Massive fail! – I have actually ended the year heavier than I started. I have been eating too much nice food, especially over the Christmas period.
Reinstate my mid week cardio session
Fail! – This was probably a bit optimistic with a newborn and a massive project at work. I did get out for a few mid week rides, and in the summer a few Friday rides, with Owen on the Mac Ride, but neither were a regular thing. I also managed to commute to work by bike at least once most weeks. The flip side is that I learned more programming skills than I was expecting to.
Do a strength workout at least once a week
Fail! – I probably only used my weights about ten times and my resistance bands a handful of times. I did manage to do yoga most weeks. Again, this was probably optimistic with a newborn. I suspect this could be why my dodgy knee has been giving me gyp the last few weeks.
Ride at the pumptrack at least once a month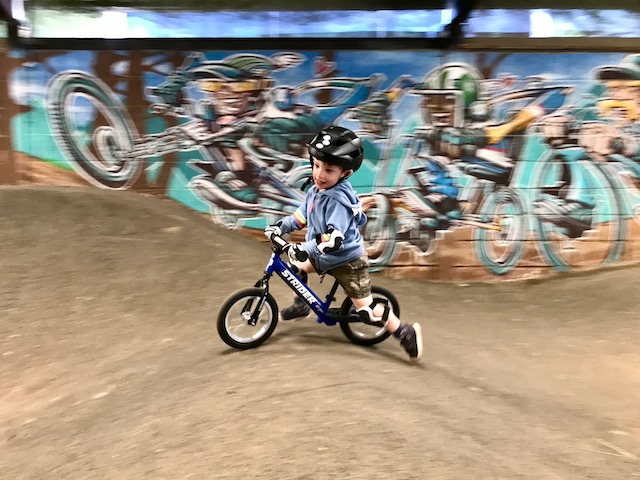 Yes! –  This was probably the easiest goal to achieve! Especially as towards the end of the year Owen could join me. In addition to our local pump tracks we also had good sessions at Flyup 417 Bike Park's indoor pump track (which I have dubbed "the barn of dreams"), the pump track at the Forest of Dean and Leeds Urban Bike Park, which was awesome – we met our friends from York there and had a great day! I was so busy riding and wrangling Owen that I barely took any photos – hence the lack of blog post. I did not make my stretch goal of clearing any tabletop jumps or manualling through rollers. My jumping has improved, but I still cannot hold a good manual – I had to stop practising when I was riding with Owen as he was trying to copy me on his balance bike.
Ride at a bike park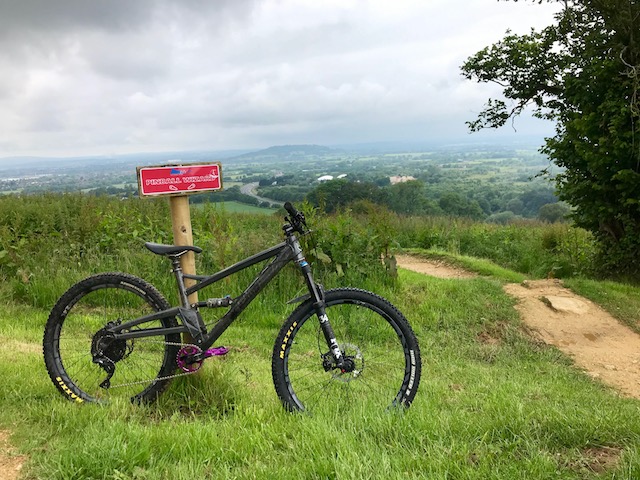 Yes! – Twice in fact! Flyup 417 Bike Park is my new favourite place to ride. I have been twice now, both times were midweek and I was lucky enough to have both the bike park and the uplift service to myself. There are only a few trails, but it is great for focusing on technique – which is something I need to do!
Clock over 100 active hours on Strava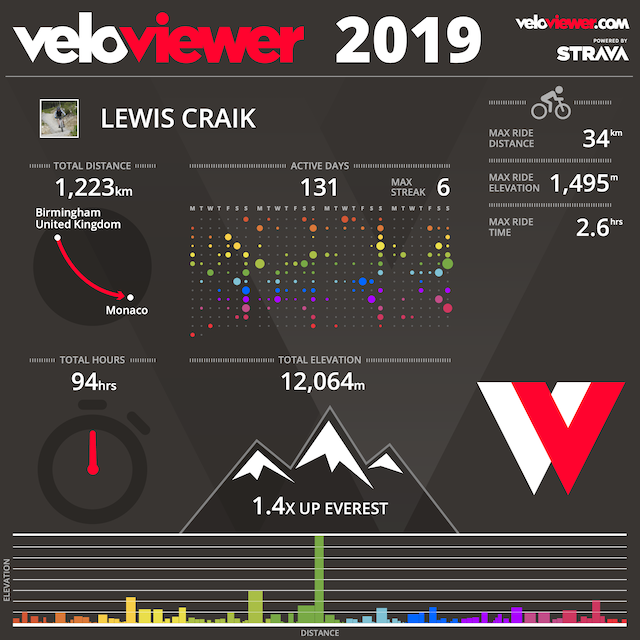 Fail! – The final tally is 94h 17m. On reflection expecting to clock more hours than last year with a newborn was not realistic. I am actually surprised that at the halfway point of the year I was over 50 hours! Maybe I am being unfair to Henry using him as a scapegoat, when it has actually been the last month or so, when the weather has been terrible that has done the damage.
However, on the Strava based goal that really counts – I managed to comprehensively beat my best friend Partho, by logging 1,223km to his 955km in our annual Strava challenge.
New blog server
Fail! – I was over confident in this, and planning on doing it at the last minute, but I ran out of time. Hopefully I'll be able to finish it off this week.
Take control of my open tabs in Safari
Yes! – Well I am going to claim it as pass, I am down to under 100 open tabs across my three Apple devices.
Replace my ageing iMac
I am not quite going to call this a fail, as I have decided what I want – a new iMac. I am just waiting for Apple to release one! I ruled the MacBook Pro out as I can buy a well specced iMac AND a MacBook Air for the price of a well specced MacBook Pro and monitor.
Do some night photography
Yes, but only just! – I had a few shots planned, and even read up on astrophotography, but generally, by the time the boys are in bed I am too tired to think about heading out to take photos. Especially when I expect to be woken up early in the morning. I did get out to take a photograph of the Hearsall Star – a local festive season landmark.
Detail my MR2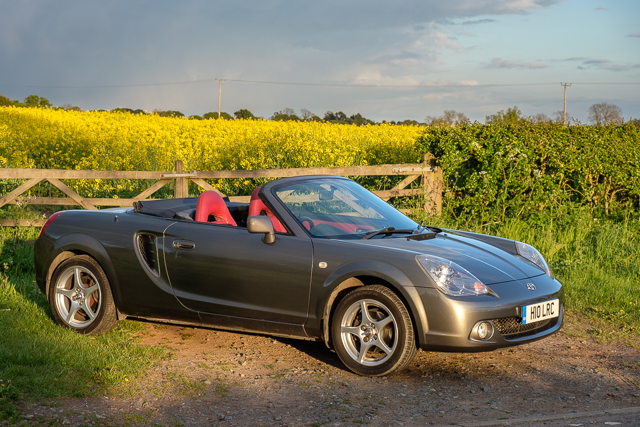 Yes! – I ticked this one off early in the year. However, it could probably do with another wash again, but is at the back of the queue behind my BMW and Jen's Yaris.
Get my MR2 to 60,000 miles by its MOT in April
Fail! – Just like the MOT… Fortunately after a good Italian tune up the MR2 was able to pass the emissions test. It passed 60,000 towards the end of the summer. Embarrassingly I cannot actually remember the last time I drove it…
Drink more whisky
I have certainly drank more whisky than previous years, so did not fail in that regard, however I only emptied one bottle, which was then replaced at Christmas, so not sure I can claim success either. At least Jen's gin collection is catching my whisky collection…
2019 feels like it has been a year of change, Henry being the biggest, but best change to our lives. Owen has also grown up – at the start of the year he was sleeping in a cot and wearing nappies – now he sleeps in a proper bed and takes himself to the toilet when he needs to! It was also the first year since 2008 that I did not visit Croyde in North Devon, nor did I leave the UK – I cannot remember the last time that happened!