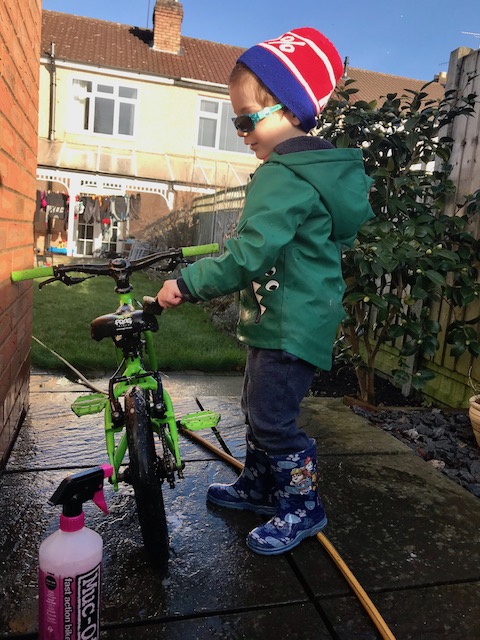 It is my third week of parental leave, and I feel like I am getting into the swing of things. Owen kicked the week off by waking up at 12:05 on Monday morning and shouting for me, only to ask if it was still nighttime. He called for me a few more times in the night, he had had a quiet Sunday, which I suspect is the reason he did not sleep well. Henry slept like a log! When I weighed him in the morning (my Withings scales have a cool baby weighing feature) he had reached 10kg – no wonder my arms hurt after carrying him for a while…  My Mum and Dad came round to spend some time with the boys, arriving just as Henry had finished his breakfast – so I was able to do my morning chores without having to worry about him either getting bored watching me – or even worse "helping me". Then I was able to do some studying. We all had lunch together, then Owen and I cleaned our bikes, as they had got pretty muddy at the weekend. My Four was also well in need of a service, so I started that. As it was such a nice afternoon my Mum and I took the boys for a walk to the park, well we walked, Henry was sleeping in his pushchair and Owen was on his Strider! It was a longer walk than I had expected, but it was good to be out and the boys slept well that night.
Tuesday was a quieter day, with nothing planned. Henry and I had a relaxed morning at home together, before venturing out to the supermarket. Henry stayed awake this time, but did not have any smiles for the old ladies that tried chatting to him. When we got home we had avocado on toast for lunch – Henry ate all of his up, which is more than could be said for his big brother when I was on parental leave with him! We spent more time relaxing at home, Henry did not sleep for long enough for me to get any jobs done, so I took him out for a drive – to Balsall Common to fill up the BMW. He had a good sleep in the car, but woke up when we got home. Then we collected Owen from pre-school. It was a quiet day, but a good one!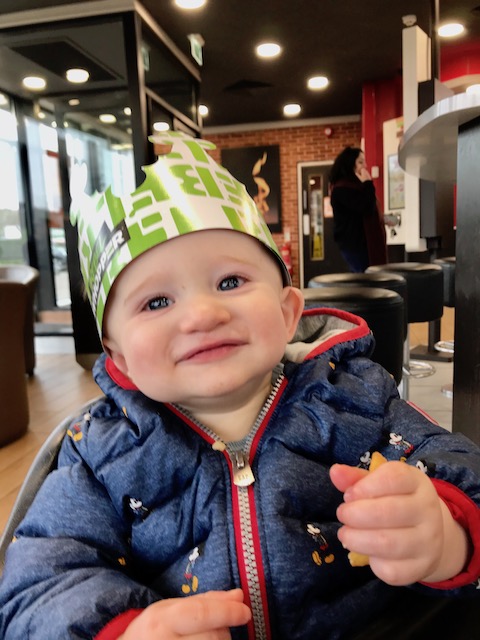 Henry did not sleep well that night, he spent a lot of time screaming in his cot, then eventually wriggling in our bed. Come the morning, he seemed fine, but everyone else was tired. Owen was in a particularly grumpy mood, for some reason not liking the trousers that had been put out for him to wear. Then it turned out that he had changed his trousers at pre-school the day before – the old ones were "too warm" apparently, but in doing so he had emptied his rucksack, and not put anything back in. Fortunately we were able to find them when I dropped him off at pre-school . Henry had his breakfast when we got home, then screamed at me for a few hours. I knew he was tired, but he was refusing to sleep, and calming him down meant that I was unable to make his milk – which probably would have been the one thing that would have calmed him down. We eventually got out of the house to meet Jen for lunch at Burger King, Henry seemed happy once he had some chips to eat. Then I took the long way home, via the tip, to try and get him to sleep in the car. It worked, and I was able to transfer him into his cot when we got home, allowing me to catch up on some chores, life admin and blogging. In the evening I took Owen to his Ready Steady Riders Wheelie Wednesday session – the focus this week was on racing starts. Owen seemed to be getting better at starting himself off with his dominant foot on the pedal. He also did some good listening to Coach Kazzi.
Like last week, getting Owen to pre-school on Thursday morning was a bit of a nightmare, he got ready as slowly as possible, spilt his breakfast down himself and refused to let me change his clothes – taking his top off as I was putting his trousers on etc. All the time screaming at me that I was making him late for pre-school. Henry and I just about made it to Henry's swimming lesson on time! Henry was a little star throughout this, and carried on his good behaviour during his swimming lesson. He still has not quite got the hang of scooping with his hands and kicking his legs, but enjoyed himself and went underwater a few times. I managed to speak to the mums that I know from swimming with Owen, about the next grade of swimming lessons, as Owen will not be able to carry on with his lessons after I go back to work (can any Coventry folk recommend swimming lessons for a 3 (nearly 4) year old? If so let me know!). Once again, Henry only had a short nap after swimming, so we had another quiet afternoon, before I was eventually able to convince him to have another nap. This nap ended up being so long that he was still asleep when it was time to collect Owen from pre-school, fortunately Jen was able to on her way home from work.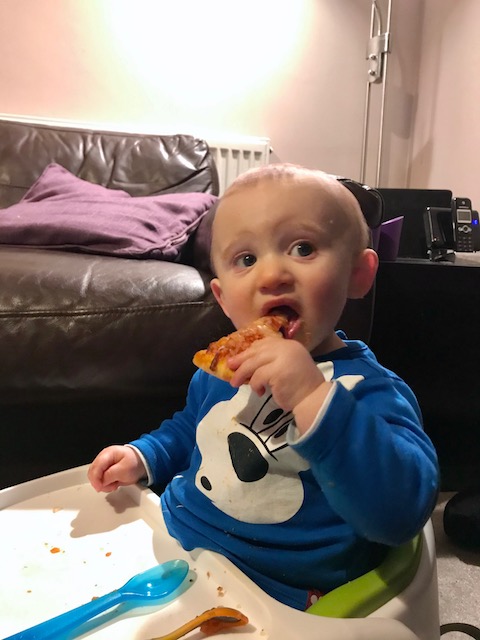 On Friday morning, I was able to get out for a pre-breakfast bike ride, as Jen was not at work. As my Orange Four was still in the work stand and the trails were too muddy I took my hardtail for a "road" ride, using a loop I normally do at night. It was a good way to start the day, although my legs were feeling it when I took Henry for a walk to the butchers later that morning! Jen was out in the afternoon so I looked after the boys at home and got ready for our pizza and film night!
Friday should also have been pay day for me, but as my parental leave is unpaid, I got one days pay and a bit of tax rebate, but nowhere near what I would normally get. I am fortunate that I have been able to save up some money to be able to afford to take this time off with Henry, but two months wages is a lot of money to miss. What I had not considered was that all my usual direct debits still go out, so I had some frantic shuffling of money to do to avoid being massively overdrawn. Living off savings is not ideal, but it is definitely worth it to be able to spend time with the boys!
Owen had a hair cut booked in Rugby on Saturday morning, so we dropped Jen off at Rugby parkrun and I took the boys to the hairdressers. On the way Owen and I discussed how he wanted his hair – shorter, but with no gel, and he was an extremely good boy, sitting still while he got his hair cut. Unfortunately I didn't take any photos of Owen with his new hair, but I can assure you that he looks really smart! Afterwards, whilst waiting for Jen to finish her run, we walked to "the digger park" – the GEC recreation ground, which has a sandpit with mechanical diggers, which is one of Owen's favourite places to play. As I also had Henry with me, it was difficult to play with Owen, as it meant leaving Henry in his pushchair to watch, but I managed to have a play with both of them. Henry particularly liked it when I bounced on the trampolines whilst cuddling him! Jen's Mum came round in the afternoon, so I was able to crack on with servicing my bike, and Jen was able to do some baking with Owen. As it was Burn's night, we all had haggis for dinner – I was pleased at how well the boys ate their haggis.
Sunday was a rare day off for me! Jen took the boys out for the day, to softplay, then for lunch. I started the morning off with a walk with my camera to a new local nature area. I had planned to go to the pump track after that, but the weather turned horrible, so I had a quiet day at home. I spent some time in the garage working on my bike, and had a nice long stint at my Mac working on my new blog server, which was one of my goals for 2019, but a bigger task than I had imagined. I am now at the stage where I have got the new server set up with WordPress, I just need to migrate my blog over and make sure my caching and backup solutions are working correctly. It felt so strange being at home on my own, it was so quiet and I was able to get loads done! Jen had left a stew in the slow cooker, so the house smelled lovely all day. After a busy day playing, Owen had a short nap in the car on the way home, which ruined all chance of him going to bed at a sensible time, so he came and watched Top Gear with me – he loved the Ariel Atom, but thought the presenters were being a bit silly, which is pretty much what I thought too. It made me think back to when Owen first got back from hospital at three weeks old and seemed engrossed by Top Gear.
What I did not seem to do last week, was take many photos, I also was a bit lax on updating this blog, hence it is a bit late! Definitely something to bear in mind for next week!