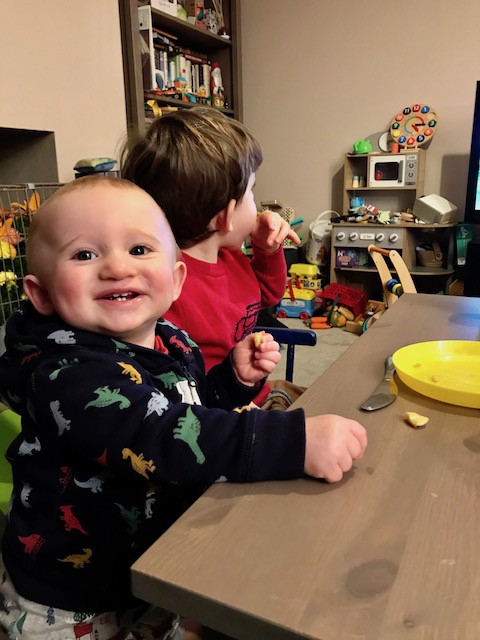 My first week (and a bit) of parental leave had only been a warmup, as Jen was also off work – this week Jen was back at work and I was on my own! Well sort of anyway – I did get some help!
When Jen left for work on Monday morning, Henry burst out crying as soon as the door shut – not like him at all! But at least I knew where I stood in the parental hierarchy. My Mum and Dad come round to help out on a Monday, so they took the boys for a walk and I managed to escape for a short bike ride on very muddy local trails. Henry did not seem to be his usual cheeky self, all he wanted to do was cuddle up with my Mum. I am not sure if he has picked up a cold, or if his sixth tooth is trying to come through. When Henry eventually took a nap, my Dad and I went to Ikea to pick up a unit to house the record player I bought Jen for her birthday. After I had built the unit I got the record player set up properly with our sound bar, which was much easier than when I had tried a few weeks previously – it was good to be able to listen to Frank Turner and Arctic Monkeys records to test it though! My Mum had made a turkey pie for dinner, but Henry was really off his food, and had a temperature, so we put him to bed with some Calpol. I was also shattered by 9pm, so had an early night – so much for my plans to study in the evenings!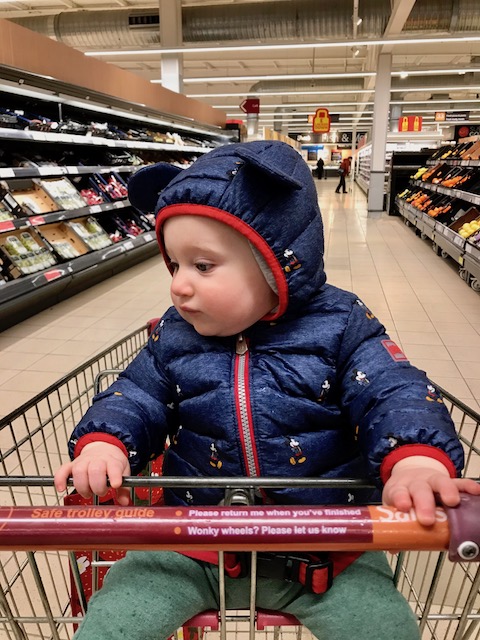 Henry must have also been tired as he had a (relative) lie in. Jen was first up as she went for a run before work, which confused Owen. His Gro Clock said it was still nighttime when she left – not that it stopped him getting out of bed! As Owen does not go to pre-school on Mondays, Tuesday was the first day just Henry and I at home – the house felt so quiet when Jen and Owen had left in the morning! Henry seemed to be more himself in the morning, he was happy to steal Owen's breakfast, but reluctant to eat his own. Jen's Mum, Gill, called to say she would come over and take Henry out for a bit. I got Henry changed and gave him milk, ready for him to go out, then a few minutes before Gill arrived Henry fell asleep in my arms. This is a rare thing these days, but as nice as it was, he always seems to pick the worst moment! I transferred him to his cot and he slept for two hours! Again, usually this would be very welcome, but was slightly frustrating as Gill had come to see him! We managed to get some jobs done before Henry woke up for lunch. He was obviously still feeling poorly as he did not eat much, he also had a temperature again, so had more Calpol. When Gill left, I thought Henry was going to fall asleep in my arms again, but he seemed to get a second wind. We braved the horrible weather to do the "big shop", I could tell Henry was not feeling well as he just sat quietly in the trolley, usually he would be chattering away and smiling at all the ladies in the shop. He even started to nod off as we were finishing the shop, so he was fast asleep by the time we got home, which at least allowed me to put the shopping away without any "help". I was impressed at how Henry woke up just as Jen and Owen were pulling onto the drive. I had decided that this was going to be the week I tackled the Apple Watch "Ring in the new year" challenge, by meeting the calories burned, excercise time and hours moving around targets each day for a whole week, which left me with a 23 minute workout to do in the evening. I completed it and felt good for it – also ticking off my "weekly strength workout" goal from my 2020 post. My December expenses from work also landed today – I had forgotten claiming them before Christmas, so it was a welcome surprise to see my bank balance going up, as I am not being paid whilst I am paternity leave.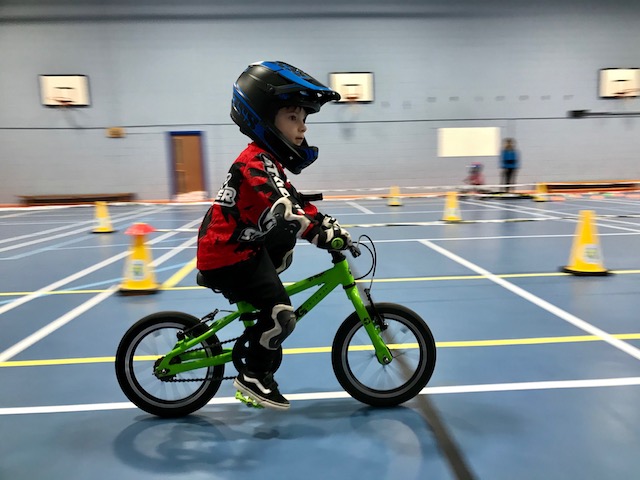 Henry and I walked Owen to preschool on Wednesday, but the excitement must have worn Henry out, as he was falling asleep eating his breakfast when we got back. This gave me a good opportunity to do all my chores, as we had a trip out planned for lunch! My good friend Stevo had a day off and as he was yet to meet Henry we had arranged to see each other. It just so happened that Jen and her friend Jess, who is also friends with Stevo, were meeting for lunch – so we all went to Mod Pizza! It was good to catch up with everyone, and of course eat pizza! Henry was on good form, gnawing on any crusts he could get his hands on and smiling at everyone. After lunch, Jen and Jess had to go back to work, so us boys went to a cafe to chat some more. Henry must have found the conversation boring as he fell asleep. After preschool, I took Owen to his Ready Steady Riders Wheelie Wednesday bike session. This week the focus was on riding the ramps, which he has been lacking in confidence on since switching to his pedal bike. His "level pedals" technique was improving, but he still has more improvement to do before we can hit the pump track.
Pre-school and bike training must have tired Owen out, as he had a long lie in! Unfortunately he was in a terrible mood when he eventually woke up, and refused to cooperate with getting ready, such that we missed my window for taking him to pre-school before getting Henry ready. Owen had to wait for me to clean and sterilise Henry's bottles and make his milk, before I could drop him off at pre-school, on the way to Henry's swimming lesson! I have been taking Owen to swimming lessons for the last couple of years, so it was a bit of a shock to the system taking Henry instead! Owen pretty much gets himself changed now, whereas Henry fights against getting changed. He enjoyed his lesson, did lots of splashing and smiling, and even went under the water twice without crying! All the splashing must have been hard work as he was obviously tired by the time we got back to the changing room and was fast asleep in the car on the five minute drive home. Jen had told me that Henry always had a long sleep after his swimming lesson, so I was surprised when he woke up after half an hour. Unfortunately he was really grumpy, I knew he needed more sleep, but of course he was resisting it. After a few hours, with him mostly screaming at me, I managed to get him settled in his cot again. Whilst Henry had his well needed nap, I was able to crack on with tidying up my desk/work area in the dining room, making space for my radio controlled MX-5.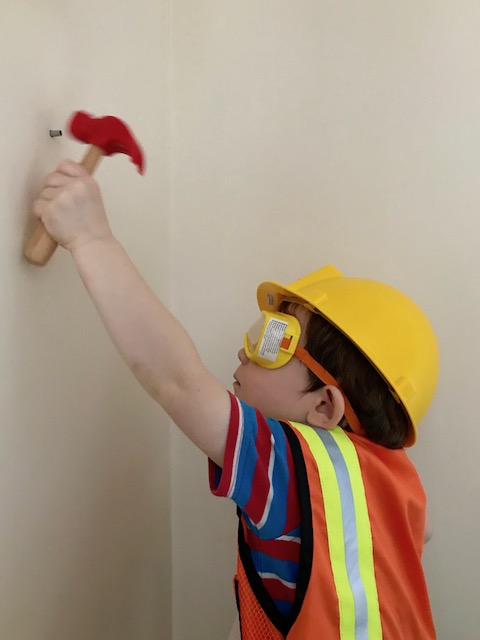 Friday is Jen's day off, so I was able to have a lie in! Jen took Owen to his swimming lesson, and I was planning to take Henry for a walk, but it was raining heavily so we had a chilled out morning at home. When Jen and Owen got back we decided to finally hang some hooks to display Owen's bike medals – of course Owen had to get all his builders kit on and bring his tool box to help! Then Jen's friend came round with her daughters, who are a few weeks older than Owen and Henry respectively. I took the opportunity to do some work at my Mac. When the girls had gone home, I took Henry for a walk to the butchers, where I discovered they had just had a delivery of Scottish delicacies – haggis and Lorne sausage! This was great timing – Jen has delegated food shopping/cooking to me while she is at work and I am at home, so I am using this as an excuse to cook all of my favourite foods! After a rainy morning, it was a lovely crisp winter afternoon, perfect for getting out of the house to burn some calories and log exercise minutes for my Apple Watch January challenge! It also encouraged Henry to have a nap after the excitement earlier in the afternoon. The walk took a bit longer than planned, which had a knock on effect on my dinner plans – I cooked wings, but the recipe I use needs two hours (but is really good), and Owen was already hungry! Jen fed the boys early and we had a late dinner when the wings were ready – and they were worth waiting for!
We were back at Coventry parkrun on Saturday morning! Jen did not want to run with Henry this week, so as I would be wrangling both boys, Owen took his Strider, rather than his pedal bike – he still does not have enough speed control on his pedal bike to be let loose without direct supervision. It was a cold but sunny winter morning, so we all wrapped up warm – there was even ice on the ground at the skate park, which made for tricky riding conditions for Owen. To warm up after our trip to the park, we had bacon sandwiches, well Jen, Owen and I did. Henry stole some of Owen's sandwich – at the moment he seems to be much more interested in eating other people's food than his own. As both cars were at home, along with someone to look after the boys and a gap in the rain I took the opportunity to swap car seats around, making it easier to get Henry in and out of my BMW. I also adjusted the child seat in my MR2 Roadster, so that Henry can come out in it with me, although that will have to wait until the roads are clear of salt. As it was such a nice day, we decided to head to Ryton Pools, so that we could all get some fresh air and Owen could get out on his pedal bike. Owen was riding so much better than on our previous visit on New Years Day, but he kept getting frustrated with himself – I think he forgets that he has only been riding a pedal bike for three weeks! While we were at Ryton Pools I noticed a strange looking aircraft flying overhead – after a bit of online research when I got home I found out it was WZ507 – the only flying de Havilland Vampire in the Northern Hemisphere – a pretty cool plane spot! After two park trips in one day, we treated ourselves to a fish and chip dinner, the photo at the top of this post is Henry looking pleased with himself after successfully stealing some of Owen's chips. My watch informed me that I had completed the "Ring in the New Year Challenge", which was a day earlier than expected, but I was glad to tick that off!

Sunday was for mountain biking – a day I had been looking forward to! I was meant to be going to the Forest of Dean with a friend, but he cancelled. It was another crisp wintery day – so I went anyway! The trails were running surpisingly well, given the conditions on my ride earlier in the week (and all the extra rain since), and I ended up having one of my best days on the bike in ages! First I did a lap of the blue "Verderers" trail, taking all of the red graded optional sections. I felt like I was riding better than my last visit back in November, both on the climbs and descents. After completing the amazing "Dragon's Tail" descent at the end of the "Verderers" trail, I stopped for lunch – a pizza from the shack in the car park! Does it get any better than that? Whilst it was nice sitting in the sun eating my pizza, the temperature was only just above freezing, so I was shivering by the time I got back on my bike to hit the downhill trails. The push/climb to the top warmed me up though. I rode the "Countdown" and "Launchpad" downhill trails – completing each of them in one hit, which I did not manage last time. I am pleased to say I set personal best times on both, which was my goal for the afternoon!
My first "solo" week has gone really quickly – I have kept myself busy and feel like Henry has had a good week, despite teething – the elusive sixth tooth still has not appeared. He is upset when Jen goes, but seems happy enough hanging out with me at home, especially when he gets to roam free. He has started to show an interest in the stairs, so I am going to have to keep a close eye on him! I am getting more into the swing of his routine, although he does sometimes change it up to keep me on my toes!