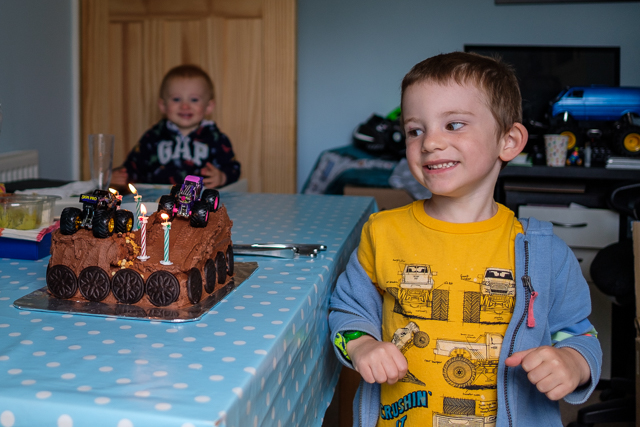 This weekend was Owen's fourth birthday! It was a quieter affair than last year due to lockdown, we did not get to watch any monster trucks, but he did get a monster truck cake and t-shirt! Henry woke up really early, but I could not take him downstairs, as he would have unwrapped Owen's presents for him! When Owen woke up, he rushed in to tell us it was his birthday and asked if he could open his presents. The Lego bulldozer and wrecking ball crane set affiliate link was particularly popular! We had planned to go for a bike ride at Hicks Lodge, but the weather was horrible, so we had a quiet morning at home, building Lego.
As outdoor gatherings are now allowed, both sets of grandparents were able to come round (separately), which the boys loved, even if we were outside in the cold and rain! It was really good to catch up, and it felt like things were getting back to normal. Some of Owen's friends also came to drop off presents on the doorstep, which was really sweet of them. After all the excitement had died down, Owen stayed up late playing with his Lego.
The weather also stopped our back-up plan for a Sunday bike ride – I got out, but got soaked! Instead we had a quiet day at home, Owen played with his Lego some more and I built the boys a castle out of an old box. After dinner, Owen got his wellies on and jumped in some muddy puddles!
It was not the weekend we had expected for Owen's birthday, even given the lockdown, but hopefully Owen had a good day. He will be back off to preschool tomorrow – but in three months he will be starting school!!!