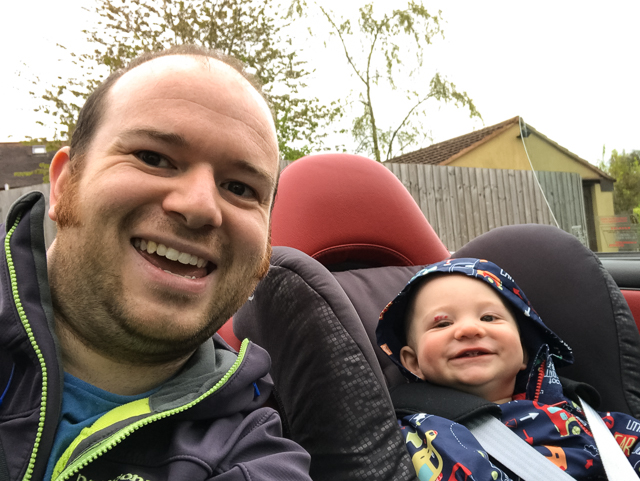 My second week of parental leave was better than the first, we seemed to have more of a routine and kept ourselves busy. Jen only being at work for four days helped too!
The week started off with another hospital visit, this time to UHCW, where Owen was born. The timing of Owen's appointment worked well, as we were able to attend the Neonatal unit's coffee morning. We also had time to pop up to the Neonatal unit to hand in some tiny hats that my Mum had knitted for them, and to see their photowall, which features this photo of Owen, holding a photo of himself when he was on the unit. At his appointment, Owen charmed the doctors, except when they needed to get equipment near to his face, in which case he kept trying to play with it.
On Tuesday my Mum and Dad came to visit, which meant I got to sneak out on my bike – the weather was pefect and I had an awesome ride! I also got to take the MR2 for a drive, unfortunately it was to collect my BMW from the garage, with a large bill to pay. Jen's Mum came to visit on Wednesday afternoon, which meant I could get some jobs done whilst she looked after Owen. There was no swimming on Thursday, due to the school holidays, so Owen and I had a lazy morning, before meeting Jen for a McLunchdate. As it was only a short trip I decided to try Owen in the MR2 with the roof down, as you can see from the photo above – he loved it!
Friday was the start of the bank holiday, so DIY time. We got our jobs done fairly early on in the day, so I managed to escape for a short bike ride. Jen's mum came over in the evening to look after Owen, so Jen & I could go out for dinner. As it was just the two of us we took the MR2 – it has been quite a while since we've been out in the MR2 together! Saturday was more DIY, along with a lunch trip out to see Jen's friend Jo.
On Sunday Jen looked after Owen, whilst I met my Dad at Silverstone to watch the first round of the World Endurance Championship. The LMP1 cars looked so fast and the race stayed exciting right up to the end, with the lead Porsche being caught, and overtaken by the #8 Toyota with only a handful of laps remaining.
Next week is going to start with more work on the 119 Project, but after that I haven't got anything planned when Jen is back to work, but I'm sure Owen will find plenty to keep me busy!