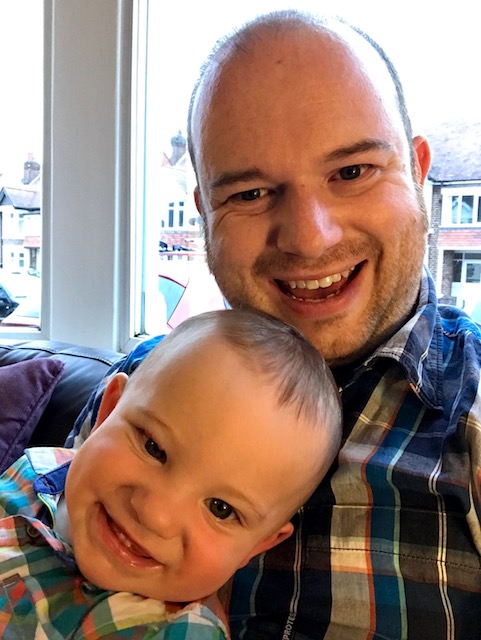 The week started off quietly with a visit from my Mum and Dad. We all went in to the city centre to IKEA and the market – to get Lorne sausage. With my parents looking after Owen, I was able to get some jobs done, including a sub-15 minute bottom bracket service on my bike. Followed by an amazing dinner – Lorne sausage with sweet potato macaroni cheese, one of my favourites! We had another vistor on Tuesday, my old school friend Stevo. We went to Hickory's Smokehouse for a meaty lunch and a good catch up.
After eating well the previous few days, I needed to get out on my bike on Wednesday. So, I put the bike on top of the BMW and drove to my parents' house in the Cotswolds. After a tasty lunch of cheese scones, I went for a 36km bike ride to the east of Chipping Norton. It was hard going, with probably 30 of the 36Km being off road, but the scenery was much nicer than cycling around Coventry! Owen enjoyed his time with grandma and grandpa, so we both returned home tired and happy.
After a two week break, Thursday swimming was back. This is usually Owen's favourite part of the week, but he seemed to be doing everything he could to delay us getting out the house – refusing to eat his breakfast, crying, standing up in his cot then eventually falling asleep, just as he needed to get changed to get to the pool. In the end I had to wake him up and take him out in his pyjamas and got him changed for swimming at the pool. We were late for the lesson, but as soon as he was in the pool Owen was back to his happy self! After our eventful morning, I gave Owen an early lunch, which he wolfed down, because I was off to work in the afternoon for a handover meeting, as one of my colleagues is leaving. It was strange being back in the office – in some ways it felt like I'd never been away, other than the complete lack of knowledge of what had been happening. It was also a lot easier than wrangling a wriggly Owen, but I did miss him. He also seemed to have missed me, as he was all smiles when I got back home.
After a busy week, Friday was a quieter day and we had a walk down to the butchers in the morning. Later, Owen woke up screaming from his afternoon nap. I was about to start cleaning the bathroom, so was glad to have an excuse to avoid it. I gave Owen a cuddle, which cheered him up, and we spent the next hour snuggled up. Six months ago this would have been normal, but it is rare these days, as Owen would much rather be crawling round the house looking for things to climb or eat, or trying to pull my ears off/gouge my eyes out if I'm holding him.
Jen was in London on Saturday, so Owen and I had another quiet day, with a trip out to Leamington to meet my parents. Sunday started off well, with another trip to Hickory's, for breakfast. I left early and cycled to meet Jen and Owen there, so I felt like I'd earned my breakfast. In the afternoon we did some work in the garden, in preparation for the next phase of the 119 Project, then went to Jen's Mum and Dad's for afternoon tea and cake.
I'm now half way through my eight weeks at home and it now feels like it is going very quickly. Going back to work, even for half a day, made me realise just how busy the days are with Owen. Very rewarding though.