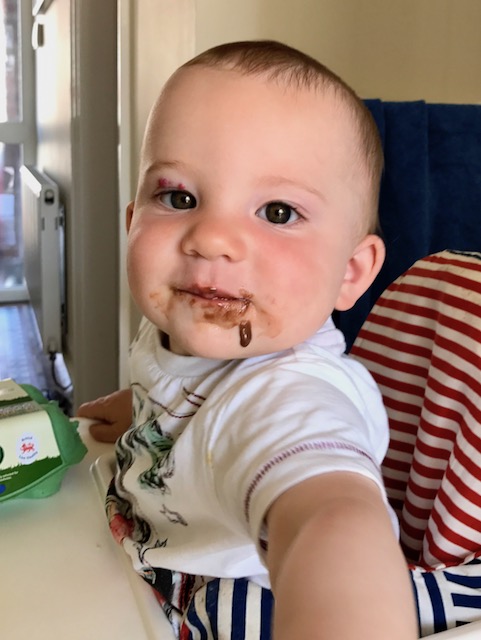 It was back to normal after our week in Croyde, with Jen at work (starting in a new team) and me hanging out with Owen at home. We had a quiet morning, and Owen drank all his milk and ate all his porridge, which rarely happens. When he went for his nap, I logged on to my work PC to see if I had missed anything while we were down in Devon – I hadn't. I haven't really been thinking about work while I've been off, but I don't want to be too out of the loop when I get back. My Mum and Dad arrived in time for lunch. They hadn't seen Owen for two weeks and they could tell that he'd grown and put on weight, he's also learned to wave and clap since they last saw him. I don't really notice these gradual changes, as I see Owen everyday, but how quickly he is growing hits home when other people see him. I managed to get some jobs done around the house whilst Owen was being looked after by his grandma and grandpa – things get done much quicker when I'm not wrangling Owen at the same time as trying to do something. I dropped my MR2 off for a service at Rogue Motorsport, getting a lift back (with ice cream stop) from Dad. Whilst we were out, Mum took Owen for a walk, also with an ice cream stop. With Owen being kept occupied I was free to fire up the BBQ for dinner, something I haven't done as much as I was expecting to during my parental leave. In the evening Jen and I made a start on a photo album we are doing of Owen's first year – he looked tiny and so fragile in the first photos, now he is so strong and climbs all over us.
Owen woke up early on Tuesday morning, so I took him downstairs so we could catch up on the WRC highlights whilst he had his milk. After almost finishing his bottle he wasn't too interested in the rally cars, as he had discovered a box of edible hay, which had been a nest for Easter eggs. As it was edible I thought I'd let Owen play with it, as all too often he tries to eat things he shouldn't, then gets upset when they are taken away. This was a bad judgement call on my part, by the time Jen came downstairs the lounge was covered in edible hay – I'm still not sure how a small boy, with a small box of hay could make such a mess. Owen seemed happy with his morning's work though, so I guess that's the important thing. We then had an unscheduled pre-breakfast trip out to drop Jen off at the station for a work trip to London. When we got home, Owen ate pretty much all of his breakfast – Weetabix with banana and strawberry, making me think that he may be having a growth spurt soon. Either the excitement, or the early start meant that Owen had a long morning nap, allowing me to get some jobs done, including converting his buggy from winter mode to summer mode (swapping the foot muff for a sun shade). When he eventually woke up, Owen had a bath, then half his lunch. In the afternoon we went to Asda to stock up on nappies and beer. As the sun was out, it would have been an ideal errand to run in the MR2, but as it was still with the garage we had to make do with the BMW. At dinner time Owen was just eating everything I offered him, toast, a whole avocado, a yoghurt and lots of strawberries. He then tried to eat some of our dinner too.
Wednesday started off with a trip to Owen's nursery, for Owen to meet and play with the staff and us to do some paperwork. When we sat Owen down in the nursery he seemed happy enough, although apparently he did have a little cry when he realised that we'd gone and again when he got moved from the main nursery to the food room. We'd chosen a time for our visit that suited Jen's work schedule, but on reflection it may not have been the best idea timing our visit over Owen's breakfast and nap times. We came away with a list of things we need to get for Owen's nursery bag by the time he goes for his two settling in sessions next week – then the week after it will be his first full day! Being out over breakfast and nap time threw the rest of our day out, so we had a quiet few hours at home before Owen's nanny came round to look after him for a few hours whilst I did some more veranda painting. Owen had a trip out to the supermarket and DIY shop, then a ride back on the bus. Later in the afternoon I needed some more DIY supplies, so took Owen with me, unfortunately he fell asleep in the car. As I didn't want to wake him up, I went for a drive through McDonalds to get an ice cream, which was well needed after a long afternoon toiling in the sweltering heat! Owen must have been in a deep sleep, as he didn't detect that there was ice cream to steal! As Jen was out for the evening with her colleagues I put Owen to bed – he must have been a sleepy boy, as he was in a deep sleep within minutes of his head hitting the pillow.
On Thursday, once again, Owen fell asleep just before we were about to leave for his swimming lesson. I don't know why he only seems to have a nap at that time on Thursdays, but it is frustrating. After a short cry, due to being woken up, he enjoyed swimming. We tried a few new things, including Owen resting on my chest, whilst I swam backwards. Jen had the afternoon off work and took Owen to buggy workout, while I collected my auntie from the airport. She hadn't seen Owen since September, so he was a lot bigger this time and much more active. He liked having someone new to make a fuss of him, especially as she'd bought him some lovely presents. After I'd collected the MR2 from the garage, thankfully with only a small bill, we sat outside for a BBQ, then after Owen was in bed I got out on my bike – pretty much a perfect evening in my book.
The builders made a start on the landscaping part of the garden project on Friday morning. This was exciting for Owen, especially when they were ripping up the old patio, he sat quietly in his highchair watching them. I had to take him out for a walk so that he would have a nap, as there was too much excitement at home. Owen was helping me unload the dishwasher, handing me the cutlery etc, but then got himself into trouble by unloading cupboards and smashing one of Jen's Royal Doulton bowls. We met Jen at KFC for lunch and then went food shopping. Owen was the star attraction, everywhere we turned in the shop there was someone fussing over Owen. I'm not sure he was too impressed with the attention as he was acting all shy. As it was such a warm day I had an ice cream Mars Bar to cool down, I offered some to Owen and, as you can tell from the photo at the top of this post, he loved it – taking after his grandpa. After Owen's dinner we all went out for a walk to the park, as it was such a lovely evening. By the end of the day I had done over 16,000 steps.
We spent Saturday at my Mum and Dad's house. My brother and sister in law were up from London and my auntie was down from Scotland, so the whole family was there. This was exciting for Owen as he was the centre of attention,with lots of people to fuss over him. We had a BBQ, but the weather wasn't as warm as earlier in the week, so we ate indoors. Owen was particularly well behaved at the table, and seemed to enjoy being sat at the table with everyone else. Once the garden project is finished we will get our dining room back (it's storing the garden chairs and DIY equipment at the moment) and make more of an effort to all eat together as a family.
Sunday was a quieter day, Owen missed his chance for a trip in to town with Jen by having a particularly long nap. I got out on my bike to ride to Warwick and back for a Flying Cows burger. When I got back I gave Owen a bath then a nap. Partho cycled over from Birmingham to see us, arriving when Owen was still asleep. When he woke up, Owen didn't seem too sure about Partho, I'm not sure if he was grumpy because he was still sleepy, had forgotten who Partho was or simply didn't like Partho's lycra cycling gear, but he was a bit out of sorts. He soon warmed to Partho again, it was funny seeing Owen climbing up Partho, as it made me think back to last summer, when Owen would snuggle up on Partho's shoulder and stay there for hours.
Owen seems to have come on a lot in the last few weeks. His temper seems to have calmed down – he went through a phase of having a melt down whenever he didn't get his way. Mostly because he is trying to eat something he shouldn't be and we take it away from him, but also if he can't do something he is attempting, such as reaching an object which is a little bit too far away. Since he got the hang of clapping last week, he has been clapping at every opportunity and can clap on command, he looks so pleased with himself when he does it. He has now almost completely ditched his seal-like crawling and crawls everywhere in the traditional style.
Since we got Owen back from hospital I've had rough, dry skin on my knees from kneeling down to change Owen's nappy, or playing with him on the floor. I have discovered that this ailment has the everso macho name of "Mummy knee"!