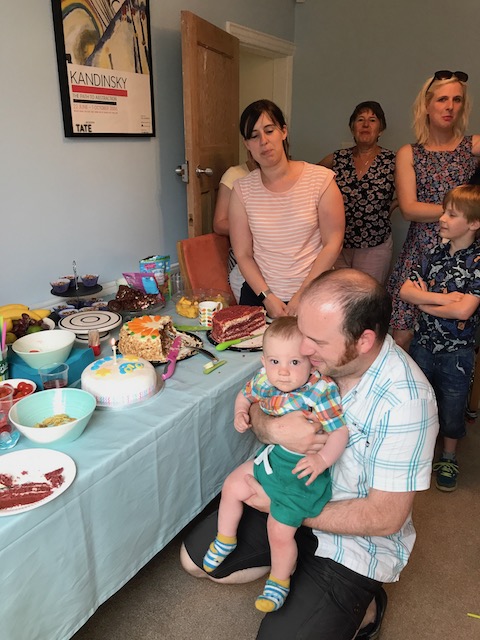 Another bank holiday Monday! I'm getting poor value on my nine weeks off, as they include so many days that I would have off anyway. Having said that, this is my last week of parental leave, the nine weeks have flown by! As is traditional on bank holidays I had to fit some DIY in, more painting on veranda bits for the garden project. However the main activity for the day was a wedding reception in the evening, which meant we had to drop Owen off with my Mum and Dad – for the night! We drove down to Chipping Norton for lunch, then stayed with Owen to make sure he was settled in, not that it was a problem, as he is used to visiting them. We snuck off whilst he was having his afternoon nap…
We both had a lie in on Tuesday! The first one in almost a year! Jen had the day off, as it was an extra holiday for civil servants and I didn't have Owen to wake me up. We were just about up and about when the builders arrived to continue work on the garden – in our defence they did get here earlier than expected. What did we do with our new found freedom? We cleaned. We cleaned the house from top to bottom, sorted out the clothes that Owen has grown out of and, after 4 years living here, I finally hung some photos on my office walls (mainly to get them off the floor so I could vacuum). Who says that having children changes people? Owen got home late morning, having enjoyed his Cotswold mini break with his grandma, grandpa and great auntie by all accounts. I was relieved that he seemed happy to see Jen and I when he got back though. We had an indoor picnic, which Owen enjoyed, as from his little chair he could drop his food on the floor, then pick it up again (and repeat…). In the afternoon we had some errands to run, collecting the last few bits for Owen going to nursery. Jen took Owen shopping with her, which I think he found a bit boring as he did a lot of screaming. I got my bits done quickly so I could get out on my bike. As Jen was off work the evening was relaxed, we both had a good play with Owen. We had chilli for dinner and, as seems to be the way these days, Owen wanted to try it. He seemed to like it, as he kept coming back for more!
Owen woke me up at 4:30 on Wednesday morning, but I didn't hear from him again until after Jen's alarm clock had gone off! Naturally, Owen's lie in coincided with him needing to be at nursery for the first of his settling in sessions at 9:00. I can tell that he will be trouble as a teenager, he seems to have inherited my sense of urgency for this sort of thing. He seemed happy to be back at nursery, until he realised that Jen and I wouldn't be staying with him this time. He had a bit of a cry, but we were told that he was fine almost straight away. Whilst Owen was busy exploring his new surroundings, playing with toy cars and throwing balls out of the ball pit, what did I do? More cleaning, this time in the kitchen. Owen was asleep when I collected him from nursery, so he wasn't too impressed at being woken up and had a little cry. He was happy enough by the time we got home. After his lunch I continued his Scottish food training with some Tunnocks Teacake, which went down very well! When Owen woke up after his nap, we had a frustrating afternoon, with Owen doing a lot of screaming. If he was in his high chair, I tried leaving the room for a bit and waiting for him to calm down. He seems to be getting the message, as he calms down much quicker now, but it is still frustrating. I think it will get easier when he can articulate his frustrations. When Jen got back from work we all had quick dinners, then I went climbing, at the new climbing wall in the city centre.
On Thursday morning I risked letting Owen feed himself Nutella on toast, it didn't turn out to be the chocolate coated disaster I was kind of expecting. Owen didn't even finish it, possibly because he'd scavenged too much of our breakfasts. There was no swimming, due to the school holidays, so I gave Owen a bath, so he could still have his Thursday morning splash. This must have tired him out, as he had a long nap, allowing me to crack on with some jobs. Jen had the afternoon off to go to buggy workout, so I took the opportunity to get out on my bike.
Owen had another settling in session at nursery on Friday morning. He obviously remembered it from Wednesday, as he realised that I was going to leave him and he had a little cry. While he was at nursery I cleaned the inside of the BMW, as it was full of mud and sand from our holiday. I had planned to clean all three of the cars, inside and out while I was on parental leave, but only managed to clean the outside of the 500 and the inside of the BMW. The guys finished the landscaping, so I sorted a few things out in the garden before collecting Owen. He was tired and grumpy when I collected him, but I was told that he'd had a good time, especially in the jumperoo. I wasn't surprised to hear that he didn't eat his lunch, but had eaten cake and custard for pudding! We spent the rest of the day preparing for the main event…
Saturday was Owen's first birthday party! We started the day off with a trip to Costco to get supplies. Owen was his usual cute self and had people fussing over him. He was absolutely in his element being wheeled around the shop, especially as they were doing tastings of his two favourite foods – avocado on toast and cake! Owen seemed a bit confused when people started arriving for the party, he wasn't used to seeing so many people at home, but he was soon crawling around seeing everyone. All the fuss must have tired him out, as he needed to have a nap – skillfully avoiding the bit of the party where both his girlfriends were there! After his nap we sang happy birthday to him, which he didn't seem too bothered by, but certainly looked like he enjoyed the cake that Jen had made him! Towards the end of the party all of the remaining children (aged 9 months to 7 years) gathered in the tent on the lawn – it was good to see them all playing together so nicely. Some of our friends had travelled down from York with their children for the party, so we spent the rest of evening with them, visiting the city centre to catch the end of Motofest, then having a takeaway. Owen seemed much happier with a smaller group and stayed up with us well past his usual bedtime.
After a busy week and getting up at 6:00 with Owen everyday I was glad to have a Sunday lie-in! I also got out on my bike again, taking my total distance for the week over 90km! After playing with the older children at his party, Owen has gained confidence, he is exploring around the house and climbing more, this has meant a few knocks, but it is interesting to see. While he was crying after one of his falls I spotted that he's now got a fifth tooth! As Jen had over-catered for the party, we all had party food leftovers for lunch. I think the fact that we were all eating the same things made Owen try a few new foods, although some of them ended up on the floor. We had planned to go back into town for Motofest in the afternoon, but it was raining, so we all ended up having naps. It was good to have a day of doing nothing, it is so rare for us.
This is now my paternity leave over, I'm not quite back to work yet though, so I'll be concluding this series of posts next week.