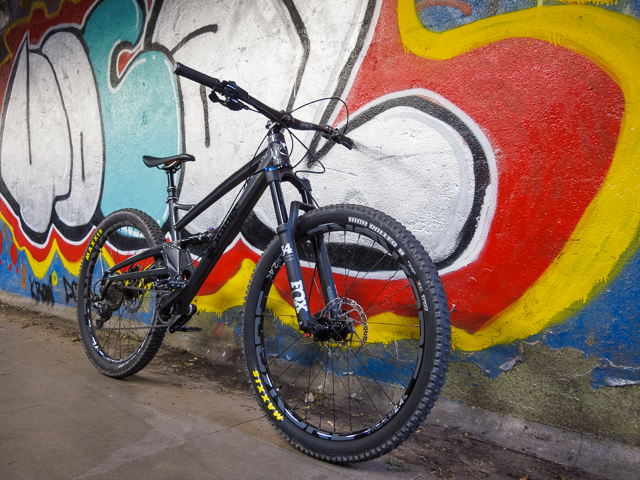 After almost four and a half thousand kilometers on the cheap hardtail bike I bought back in 2014, I have treated myself to a much better bike – an Orange Four Pro. In my post about trying one out earlier in the year, that I said the Orange Four was my dream bike, but I couldn't afford one. In the three months since posting that I applied some man maths, working on the basis that it was worth paying a bit more for a bike hand built in the UK. In the end I found a really good deal from Sunset Cycles, the only downside is that I was restricted on colour, so ended up with my third choice colour. A fresh factory order would have been built just for me, but cost significantly more and would have taken a month or two to arrive. Even I am not fussy enough to have gone for that option! It is a similar situation to when I bought my MR2, the best deal had metalic grey paint, so I just went with it, despite it not being my first choice. At least with an Orange bike it is easy to send it back to the factory for a repaint.
The Four is the baby of the Orange full suspension range, but perfect for the type of riding I do – more cross country exploring with the odd trail centre visit, than extreme gravity riding. It is a big jump up from my old bike, which I will be keeping for riding around with Owen on the back, or running errands into town etc. The upgrade is of a similar magnitude to when I went from my Rover Metro to my first MX-5. Although in that case the Metro went to the scrap yard. Since ordering, I have discovered that there is a whole commintiy of Orange fans out there, on Facebook and on the trails. I've even had other Orange riders chatting to me about it!
A massive box got delivered on Friday, whilst I was at home looking after Owen. I was like a kid before Christmas waiting to open it and get the bike built, however I had to wait until Owen was in bed. By the time I got the bike built I only had enough light left for a very short shakedown round the block, which was enough to tell me that there was an awesome bike a few small set up changes away.
On Saturday, after fiddling with the suspension settings, I managed a blast round my urban woodland loop. These are trails that I know well, including a short test loop I use in Plants Hill Wood, which packs a lot of varied terrain into 500 metres. A rooty downhill section, which smooths out to a twisty flat section then a short technical climb back to the start – perfect for comparing different suspesion settings. After the ride I did some fine tuning to the suspension and cockpit setup, but I was pleased overall. I even stopped to take some photos, including the one at the top of this post. The only problem I encountered on the ride, was that handlebars are wider than on my old bike and don't fit through some of the anti-motorbike gates on the trails. I do have the option to cut them down, but I want to ride with them as they are for the time being, as cutting them is permanent.
The shakedown and local test ride were needed as I was taking the Four to Cannock Chase on Sunday morning, the trails there are much more challenging than the urban woodland loop. I did a lap and a bit of the Follow the Dog trail, I didn't have enough time for a lap of the Monkey trail as my cute alarm clock (Owen) decided to have a Sunday lie in, so I slept in too. I was a bit reluctant through the first section, "twist and shout", as it twists between trees and I was concious of the wider bars – it is only 2cm extra on each side, but some of the gaps are pretty tight! I was feeling much more confident when I got to "cardiac hill" – my nemesis. The Four has lower gearing than my old bike and I was able to make it all the way to the top, without stopping and even overtaking someone on the way up. I felt broken at the top, but I still consider it a victory and had some celebratory jelly babies. What goes up must come down – and the Four was brilliant on the next downhill section, much more composed than my old bike, the dropper post meant I could throw my weight around to control the bike better too. I now fully realise why dropper posts are widely claimed to be the best invention in mountain biking. The next section had been remodelled since last time I rode it, cutting out a fireroad climb, which I consider to be a result. The next section, over toward the campsite was perfect for the Four, gently undulating terrain with rock gardens and the odd raised wooden section, I enjoyed it so much I looped back to ride it again! The last section from the campsite back to the car park was where I demo'd the Hope Four earlier in the year. My Four felt just as good as I remembered the uber high spec one I'd tested, which I am pleased about. With a few more small suspension tweaks, tidier routing of the cables and some thicker grips it will be perfect!