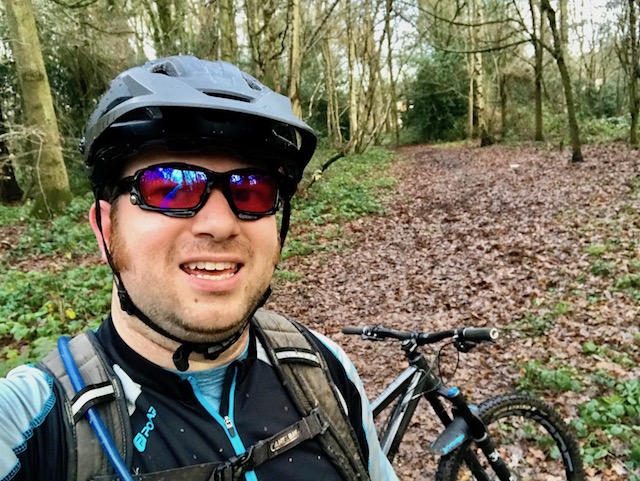 Happy new year! 2018 started quietly for us, at home with Jen's best friend, whilst Owen slept upstairs. It wasn't a wild night, I knew that I would need to get up with Owen in the morning. I've always been more excited about New Year's Day than New Year's Eve. I prefer getting outside and doing something to an expensive and overhyped night out.
Owen let me have a relative lie in – until 7:30, although later would have been nice. Jen had a slightly longer lie in, but had to get up for park run. After porridge for breakfast, we all set off for Kingsbury Waterpark, for Jen to do Parkrun. Owen fell asleep in the car on the way, which wasn't ideal. When he woke up we had a walk around the waterpark to cheer Jen on at various points on her run – well, I pushed Owen in his pushchair. I had some proud dad moments, as Owen seemed to get excited whenever he saw someone on a bike – pointing at them and shouting "bike" excitedly. We had planned on going to the playground, and I'd brought my camera along to take some cute photographs of Owen but it started raining and it was cold, so we came straight home. Typically, the weather had improved by the time we got home.
I took advantage of the nicer weather to get out on my bike – just a local ride around my urban woodland loop. It was hard work as the trails were particularly muddy and I really felt like I'd ridden more than 16km by the time I got home. A cup of tea and slice of Jen's Christmas cake was very welcome after I'd removed the covering of mud from both my bike and myself. We spent the rest of the afternoon hanging out with Owen. A great start to 2018!
Last year will be a tough act to follow, but there is still plenty to look forward to: a trip to France with my family, our usual visit to Croyde and a weekend in Chester to visit the zoo. Most excitingly we will be going to San Sebastian in Spain to meet up with our friends Nicki and Mat, who we haven't seen since our wedding in 2015, as they live in Australia. Jen and I visited San Sebastian on our first holiday together, in 2010, and have been wanting to return ever since. We loved the food and the atmosphere in the town, it just felt like our sort of place. The main beach is in a sheltered bay, but there is also a surfing beach across the river – a great set up for a family holiday. I'm also planning a mountain biking trip to Scotland with my friend Ali. We have done some groundwork for most of these trips, but we will have the excitement of finalising plans over the next few weeks. Aside from all of these trips away I'm heading back to work after the Christmas break with some exciting projects to get my teeth into, although I will still be having Fridays off to hang out with Owen – which is usually the highlight of my week.
At this time last year I set myself some goals for 2017, which gave me focus for the year, so thought I'd do the same for 2018:
Get my weight down to 85kg
I made good progress in 2017, so I want to continue and get to the weight I was when I was 18. I think it is doable, as I've been losing weight consistently over the last six months. Jen got me some Withings (now Nokia) connected scales for my birthday in 2016 and they have been a great motivator to losing weight.
Get my fitness back to where it was in October
This is a difficult one to quantify, but when I got back on my bike after six weeks off I could feel that my fitness level had dropped. Hopefully it won't take too long to get back to where I was. I kept up my training schedule while I was injured, replacing my usual exercises with knee strengthening exercises, so I've already cleared the first hurdle.
Improve my MTB skills
2017 was the year of improving my fitness, I want 2018 to be the year of improving my bike skills. I'd like to learn wheelies, manuals, endos, bunnyhops and other trials type skills that can carry over to trail riding. Owen will be getting a balance bike in the summer, so hopefully I'll be taking him to the pump track/skatepark – a good opportunity for me to improve my riding too! I had intended on getting some skills training three years ago, but felt I didn't have the fitness to back it up – I do now!
Conquer the Tom, Dick and Harry section at Cannock Chase
The "Harry" rock garden is where I had the crash that injured my knee. I've never felt like I can ride that section confidently, and it has now replaced "Cardiac Hill" as my nemesis. Hopefully the skills training mentioned above will help with this.
Ride at a new trail centre
I liked this goal from last year, so added it again. My trip to Scotland with Ali should give allow me to complete this goal.
Ride more natural terrain
In 2017 I enjoyed my rides in the Cotswolds and the North York Moors, and I know there is even better natural terrain in places like the Peak District and the Long Mynd. Both are nearer to Coventry than a lot of trail centres too.
Do some trail maintenance
I've enjoyed riding my mountain bike for the last few years, but aside from removing the odd fallen tree I haven't put much back in for everyone else. Whilst I'm not up to full riding fitness I'm going to join a trail maintenance session at Cannock Chase – the trails there are all maintained by volunteers! I'll also have a few rides locally where I focus on improving the trails.
Drive the MR2 more
Last year the MR2 took a bit of a backseat, when I had any free time I was out on my bike.  This needs to change in 2018 – even if it does mean riding my bike less. Last year I wanted to do a track day at a new track, but I think just doing a track day will be difficult enough, hopefully I can squeeze one in.
Take more photographs on my DSLR
My iPhone takes decent photos, but whenever I use my DSLR I'm reminded just how much better the picture quality is! Last year it was mostly used for taking pictures of Owen, but I'd like to take it out with me on a bike ride to take some landscape shots.
I would like to get some photos of myself riding – I've only got one, from 2015. It would also be nice to get my Orange Four in the GMBN Bike Vault, along with my Vitus (and Owen).
Learn to juggle
I've noticed that both Nino Schurter and Jolanda Neff use juggling as part of their training – so if it is good enough for Mountain Bike XC world champions…
There is also the showing off aspect, I'm sure Owen would be very impressed if I could juggle! He bought me some juggling balls for Christmas, so I've already made a start on this goal. I'm at the stage of throwing one ball from my right hand to my left hand, and back again – with my eyes closed. It is a lot harder than it sounds! However, I'm sure juggling is the sort of thing where it is important to get the fundamentals right – such as accurate repeatable throws.