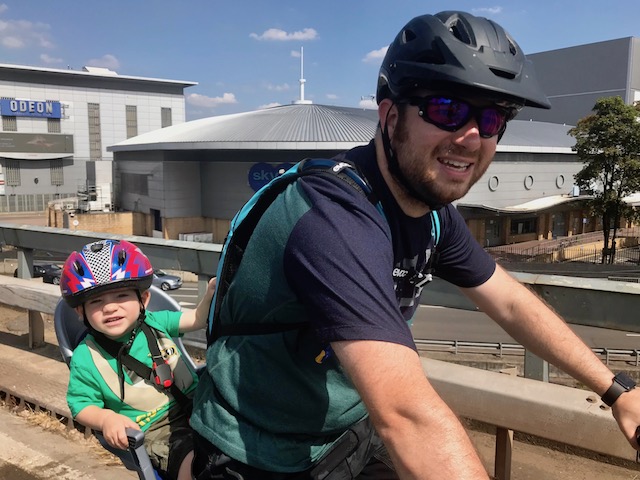 Today was the annual British Cycling Let's Ride event in Coventry, and it couldn't have been any more different to my ride with the Orange Riders last week! It is a family ride around the Coventry ring road, with a festival atmosphere in the city centre. Most importantly, it wasn't raining! It was a warm sunny day, I was dripping with sweat after returning from a short warm up ride, on my Orange Four, to clear my head after a stag do the previous evening.
Both Jen and Owen joined me for the Let's Ride event, although Owen was on the back of my bike, rather than on his Strider. We rode to town via the woods on Hearsall Common, Owen was disappointed not to see any dogs, after seeing loads up there a few days ago. We joined the event outside the Transport Museum, where they had a fun looking track for kids to ride round and a more technical track for a mountain bike trials demonstration. We watched the trials riders for a bit, they were impressive and made me want to work on my basic bike handling skills. They were balancing their bike stationary on a thin rail, I can't even stop at the traffic lights without having to put my foot down!
We set off round the event route on the ring road, and it was good being able to see all the places we usually whizz past in the car. Owen was particularly excited to see all the construction equipment on the building sites. After half a lap of the ring road, the route took us back into the city centre, to the festival zone on Broadgate. We picked up our event vests, but didn't hang around as it was pretty busy and we were getting hungry! In a change to the route from last year, we actually rode through the ruins of the old cathedral, before dropping on to University Square, which was the street food area.
I was initially disappointed to only see three vendors, until I noticed that one of them was The Flying Cows. These guys make the best burgers I've ever tasted, and I have tasted a lot of burgers! Their "Flyer" burger has also been crowned best street food burger in the UK. Jen and I both had burgers, which were utter perfection. Owen even had a few bites, and he's never shown interest in burgers before. He also had a massive hotdog from the stand next door, and did really well eating it. I had a bite or two and it had a strong smoky taste, almost like a peated whisky, I was surprised that Owen ate it, as he can sometimes be fussy. There was also a churros stand, so we had to share a bag of those too, even if it wasn't really churros weather. We'd found a shaded spot to sit to eat our lunch, and it was good to just hang out watching everyone riding past. Owen enjoyed climbing the steps and watching the skateboarders too.
With full bellies, we got back on the bikes and rode through the university and back onto the ring road. Owen and I took part in the "Sir Chris Hoy Speed Challenge", we must have gone pretty fast, as Jen didn't see us and we had a long wait for her to catch up. Our speed was 19mph, which I was pleased with, bearing in mind it was on the flat, from a standing start with Owen on the back of my bike. Before returning home, we did another half lap of the ring road, back to Broadgate. Riding round I was impressed at how many people were out enjoying bikes, but especially some of the kids who were probably only a year or so older than Owen and riding really well. Hopefully Owen will be up to riding it himself if they have one next year!