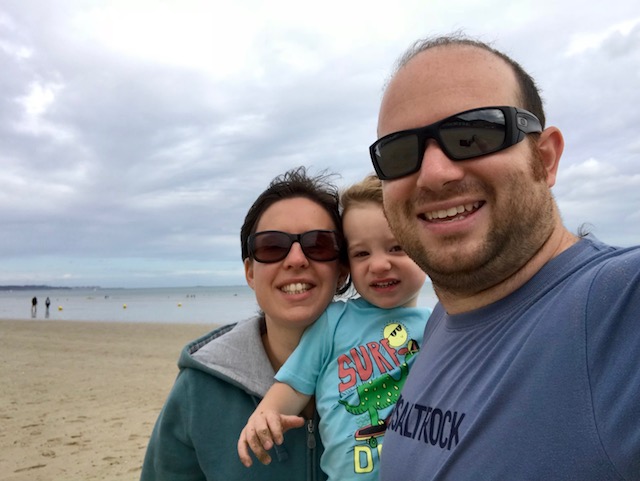 We woke up to rain, not ideal on holiday. After a good breakfast at the hotel in Coutances, we loaded up the car for the drive to Brittany. It was still raining. At least it was a good opportunity to test the new wipers and RainX on the windscreen of the BMW. My main niggle with the car since getting it, is that there is no intermittent setting on the wipers, only an "intelligent auto" setting. Which isn't that intelligent. Even on the most sensitive setting it waits until you can't see anything ahead, then wipes the screen. I found an old bottle of RainX in the garage and thought it would be worth a try. I wish I'd thought of that a few years ago, as it worked a treat! Even in the heaviest rain I could leave the wipers set to auto and I could see the road ahead clearly!
Just because I could see where I was going didn't mean that the journey went smoothly. Our first stop was in St Malo, and we had been sent directions to the car park we were meeting everyone at. However the directions opened in Google Maps, and we find that whilst the directions are usually spot on, they aren't communicated well. It seems to be a lottery if it tells you the road name/number to turn on to and doesn't show the number of the exit from roundabouts. To be fair we also didn't have the audio mix tuned, so I could barely hear the turn by turn instructions, so we took a few wrong turns. I think I'll stick to using Apple Maps.
When we arrived in St Malo the car park that we were looking for was full, so ended up parking somewhere else anyway. It was still raining. The plan had been to have a walk around the old town, but no-one really felt like it, so we followed my Dad straight to his favourite ice cream shop – Sanchez. He seems to have a favourite ice cream shop in every town we visit! 11:00 isn't really ideal ice cream time, but it was somewhere we could sit in the dry, and I'd heard Dad saying how good this place was for a few years,. So we had to try it out. I had a giant sundae, with coconut, white chocolate and banana ice creams. It was good, but even I struggled to eat it! The plan had been to get "galette saussice", for lunch, but I was so full of ice cream I couldn't face one, so shared with Owen. For those that don't know, a "galette saucisse" is a buckwheat pancake wrapped around a sausage. It is a typical Breton street food and one of my favourite lunches in France.
From St Malo we drove an hour along the coast to St Brieuc, where fortunately the weather was better. We were staying with my Mum's cousin Michel and his wife Collette. We saw them in the UK last year, but it is probably 25 years since I last visited them. I didn't really remember their house, but it is lovely, with the living areas (and a massive garage, with workshop) downstairs, then the guest bedrooms upstairs. The downstairs is very modern, with each of the guest bedrooms decorated with a different theme. Jen, Owen and I were in the historically themed room, with a Louis XIV wardrobe that Michel restored in his workshop. The wardrobe was an ideal place to hide all of the breakable ornaments from Owen – as it is very much the sort of house that a two year old could cause trouble in! Michel is also a petrolhead and has a lovely classic Simca 1000, that was manufactured in the year he was born, so we did some tyre kicking. Owen liked the "old car" too.
We drove into the centre of St Brieuc for a walk around, then down to the harbour, where the Rosengart car factory used to be. We had a little walk around, looking at the boats and one of the cars made in the factory. On the way back, we stopped at the supermarket to pick up some essentials: milk for Owen, chestnut puree for me and wine for Jen! Owen was disappointed that this supermarket didn't have a tank of live crabs/lobsters, unlike most other French supermarkets. Michel did a BBQ in the evening – french sausages and merguez (a spicy north African sausage), which was one of the foods we particularly wanted to eat on our trip – result! Michel and Collette are great hosts (they used to run bars), and we had a lovely three course meal, with the sausages/merguez as main course. Owen loved watching the sausages being cooked on the open fire, and wolfed his sausage down. Then stole some of my Mum's merguez too! We had to break our "no iPad after dinner" rule, as toddlers and extended French meals are not an ideal combination – something I remembered from when I was a little boy. He sat happily on my Mum's knee playing tractor/digger games whilst the grown ups chatted, mostly in French.
After his late night Owen had a short lie in, and when we got downstairs Michel had just arrived with croissants for breakfast from the local bakery – they were still warm! They were the best croissants I have ever eaten, they were so light. Nothing like the croissants you get in the UK. The bread was amazing too, and this is just from their local neighbourhood bakery. After breakfast we went to the beach at Les Rosaires, as we hadn't really done anything aimed at Owen and digging holes at the beach is his favourite thing to do. We were there about an hour, Owen made sandcastles, paddled in the sea, explored rock pools and generally had the time of his life! However, we had to leave, as we had to fit in a three course lunch before our afternoon excursion!
Collette made us an amazing lunch – cockles, pot roast pork and raspberry panna cotta – I think they also grew/caught everything in the dinner apart from the pork and the milk! As is the way with French meals, it took a wee while, so we were late leaving for the pink granite cliffs at Ploumanach. The drive took just over an hour and Owen slept for most of it. When he woke up we were in a little seaside town that reminded Jen of Lulworth Cove in Dorset, and me of 17 Mile Drive in California. We had to carry him past the ice cream shop and the beach ("sandpit" in Owen's words), then up the hill to the pink granite outcrops. He absolutely loved it there! Climbing on the rocks and posing for photos. I also like to think he was taking in the amazing views and wondering what geological and ocean forces were at play to form these amazing rock shapes. As the grown ups were taking their time walking back, I sat Owen on my shoulders and carried him to the beach, to do more digging in the sand. I'm not sure where he learned to do it, but he has taken to using my head like a steering wheel if I'm not walking the way he wants to go. Then if I mention it, he tries to steer me off the path or into something. He is such a cheeky little monkey!
Michel led us back the scenic route to St Brieuc, so it was already past Owen's bed time when we got back. Collette made him egg and toast for dinner – his favourite. He had also asked for baked beans, not understanding that you don't really get them in France. As we'd had a large lunch I was expecting a light dinner, but it was a 6 course job, including the aperitif and cheese! Aperitif (nibbles), mackerel pate, mussels, cod in white sauce, cheese and fruit salad! We were all stuffed after that. After his dinner, Owen had perked up a bit and didn't want to go to bed, he sat quietly on his iPad, until the fruit salad came out. He took a liking to the homegrown blackcurrants, stealing them from my Mum's bowl, then requesting more from the serving bowl! He actually stayed up later than his grandpa!