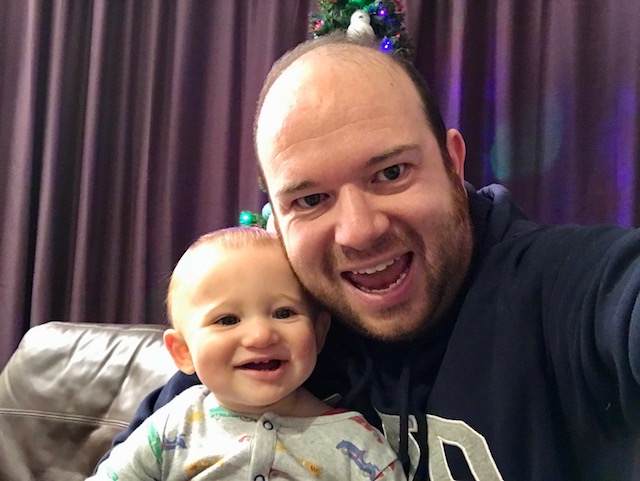 As I mentioned in my 2020 post yesterday, I will be taking nine weeks parental leave to look after Henry, when Jen finishes her maternity leave and goes back to work. Today marks the start of my nine weeks! Technically I have already had two weeks off work, but that was annual leave/bank holidays. In some ways the timing has worked well, allowing me to run it back to back with the Christmas break, but on the other hand the weather will not be as nice as when I took parental leave with Owen during April and May 2017. Bike rides and open top car adventures will be a bit trickier this time around, so here's hoping for some unseasonably warm months!
There will be a few differences for my parental leave this time, the obvious one being that I will also have Owen to look after – although he will be at nursery three days a week. Jen has delayed her return to work by a week at the start of my parental leave, in all we will have had three weeks at home together. Unfortunately we will not be taking a week to go on holiday – having said that, I am not too sure that a week at the seaside in February would be all that appealing. Lastly, this time I will not be checking my work emails – I kept getting drawn into them last time, but this year I have told work I will be fully offline for the duration, luckily I am confident that the guys covering my role will do a good job!
Since my parental leave with Owen, I have noticed a few other Dads taking parental leave, but it is still far from the norm. So, like last time, I will be publishing weekly posts about my experience and what Henry and I have been up to. Officially my leave runs Thursday to Thursday, but I will most likely post on Sunday evenings, with a long first week! Hopefully my posts will inspire other parents to take up the option of shared parental leave!
Reading back through my posts from parental leave with Owen, as research for this post, has brought back some great memories and made me realise that Henry is more advanced than Owen. For example I wrote in the first week that Owen's new skill was "going from lying on his belly to sitting up" – Henry has been doing this for over a month! And likewise in the ninth week I noticed Owen's fifth tooth – Henry already has five teeth! It will be interesting to see which developmental steps Henry will take while I am looking after him – will he be walking by his first birthday?