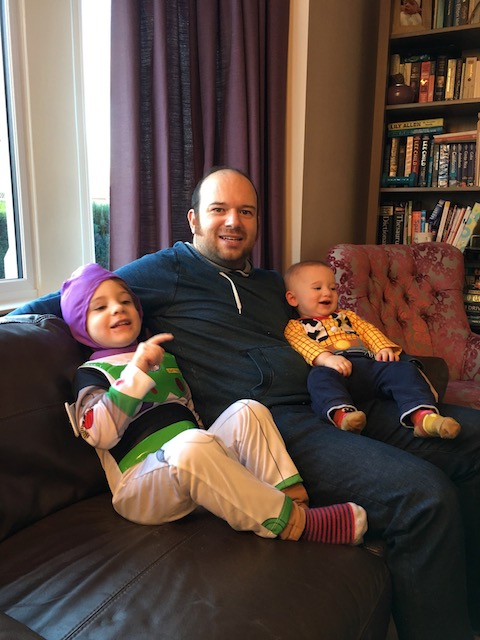 This first week of parental leave has felt long, but only because it has actually been eleven days! Jen also had last week off work, our third week off together in a row – it has been amazing spending all this time together! This post has ended up a lot longer than I was expecting, I guess we managed to cram a lot into our week (and a bit)…
The week (and a bit) got off to an ominous start. When I gave Henry his first nappy change of the day he weed on me, and then I had two dirty nappies to deal with by 9:00. We spent the morning hanging out at home, then in the afternoon I managed to get out for a bike ride – definitely better than being back at work on the the second of January!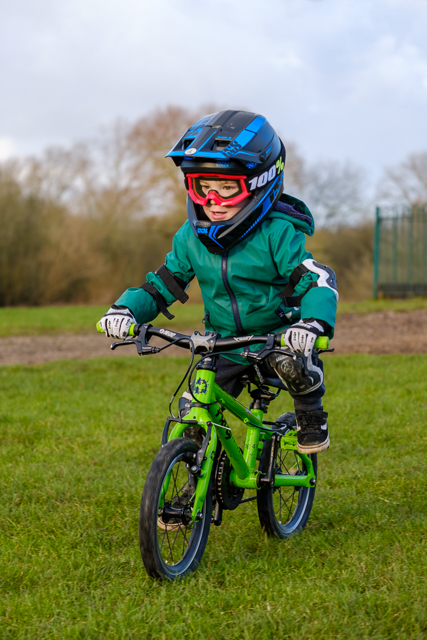 One of the downsides to being off work looking after the boys, is that my friends are at work. However in these first few days of the year our friends Ali and Jaymi were off work! So after a quiet morning at home, we met them for a walk at Kingsbury Water Park. We brought Owen's bike and he rode round the park – his confidence on the pedal bike is coming on leaps and bounds! He was standing up on his pedals and at times we had to run after him! I also got to use my new 55-200mm lens – the photo of Owen above is one of my favourite photos, and now the lock screen on my iPhone. My friend Partho needed some help fixing his bike, so after the boys were in bed I thought it would be a good excuse to take the MR2 for a spin to help him… Henry even cooperated by falling asleep as soon as his head hit the pillow, but unfortunately the MR2 did not cooperate. The battery was flat – totally my fault for neither driving it recently, nor plugging in the battery conditioner. In fact the battery was so flat that the battery conditioner would not recognise the battery. So I stayed at home and printed some photos for Owen's pre-school homework instead.
Getting back into our regular routine, on Saturday we went to parkrun at the War Memorial Park in Coventry. Jen ran with Henry in his running buggy, so that I could concentrate on helping Owen on his bike, and as he was gaining confidence we decided to hit the skate park. Owen soon discovered that switching to a new bike was a bit of a learning curve – where he would be whizzing round the skate park on his Strider, he struggled to get up the ramps on his pedal bike. I am sure he will get the hang of it soon enough though. The boys and I have also been featured on the War Memorial Ramp Renovation campaign blog. After parkrun Jen went away for the weekend with her friends,  and I had to take Owen to a party, so my Mum and Dad came round look after Henry. I had so far managed to avoid children's parties, so was not sure what to expect. Owen was also confused when we got there – it was a superhero themed party and all his friends were in fancy dress, so he was unsure of who was actually there! He still got stuck in on the bouncy castle though. There was an entertainer, a clown/magician, which Owen loved – he was the first to get involved with any audience participation, including volunteering to assist with plate spinning and magic tricks! After the show, the kids were allowed to play with the circus equipment, Owen made a beeline for the pedal gos and I impressed him by showing him that I could do plate spinning. Owen almost stitched me up, by telling everyone that I can juggle – which I cannot, despite learning to juggle being one of my goals for 2018 – fortunately nobody asked to see my skills. After the party food, there was more running around and bouncing on the bouncy castle – which especially after the bike ride in the morning was showing positive signs for an easy bedtime routine! Well, for Owen at least – Henry had been asleep in his cot the whole time Owen and I were out! After my failure to fix Partho's bike the previous day, Partho and his wife Marilena, came round to see us. It was good to catch up, as they had not seen the boys for a while. Owen was keen to show off his new toys and not to be outdone, Henry busted out his best climbing up the the coffee table moves! Partho and I, with help from Owen, managed to get the cassette off his crashed wheel, so he can fit it to his indoor smart trainer – his latest tactic to attempt beating me on our annual Strava distance challenge!!! I cooked a gourmet dinner for the boys – fish fingers, chips and beans – which seemed to go down a treat! I let Henry try a bit of a fish finger, and he ended up eating all of it! Jen and I usually put one boy to bed each, swapping each night, it is a routine that works well for us, but means that solo bedtimes can be especially tricky as the boys are used to undivided attention! I got Owen to read Henry and I a story whilst Henry drank his milk, then I read them both stories after cleaning their teeth. After the stories Owen seemed much more tired than Henry and took himself off to bed, whilst I stayed with Henry, who thinks climbing up in his cot is hilarious! Owen was fast asleep well before Henry, unsurprising given his busy day!
Fortunately the boys gave me a Sunday lie in, well relatively speaking… We just had a quiet day at home waiting for Jen to come back, we had planned a trip to the woods, but by the time Owen had finished messing about Henry was asleep, so we stayed at home watching Disney films – I have been really impressed with the Disney Life subscription service, it is definitely getting more use than Netflix and it is great introducing Owen to some of the films that Jen and I watched when we were children, and of course watching the Pixar back catalogue! The downside to a relaxed day at home is that Owen woke when I went to bed and was awake for hours, yelling for his Mum and being disappointed whenever I went to see him. After three changes of pyjamas he finally went back to sleep.
Of course the disrupted sleep meant that Owen had a lie in, which always seems to happen on the odd occasion when we have somewhere to be in the morning! As it was Owen's last day of holiday before returning to pre-school we decided to go to Birmingham to visit the Legoland Discovery Centre and the Sea Life Centre – hoping that as it was termtime they would be quiet. We made it to the Legoland Discovery Centre just before opening time, to discover that we were not the only people with that plan – there was a queue to get in! Owen loved it though – first we went on a ride, where we had to zap baddies! Next we visited "Miniland" a Lego recreation of Birmingham's main attractions, which was particularly impressive. Then it was on to the main room, with softplay, cafe, Duplo area and Owen's favourite the "Lego Racers: Build and Test". Normally you cannot get Owen out of softplay, but all he wanted to do was race his car down the ramps – we started off building our own cars separately, but I ended up helping Owen to modify his and we ended up with the two fastest cars there (the key is to get the wheels locked onto the axle to avoid rubbing). Henry liked playing in the Duplo area where they had some big soft bricks in addition to the usual Duplo. Unfortunately Henry much prefers knocking things down to building them! We ended up spending well over two hours there, and I am sure Owen could have spent more! Naturally we had to exit via the gift shop, so we treated Owen a little Lego monster truck, which he has been playing with a lot, and I managed to find the elusive mountain biker Minifig! Before crossing the canal to the Sea Life Centre, we went to Ed's Diner for lunch, the plan had been to meet Partho, but he was stuck on a conference call. Owen and I had hot dogs – Owen did really well eating his, as it was a lot of food for a little boy. Henry was being his usual self trying to steal chips – he did not seem to care that mine were covered in chilli!
The Sea Life Centre was great – Owen really liked the penguins, chatting to them through the glass. I thought this was interesting, as he has never seemed that excited by penguins when we have been to zoos previously. Henry particularly liked the clown fish (Nemos!!!) and the octopus, he was just staring at them and smiling! The boys both seemed to enjoy the 4D cinema, I sat with Owen, but Jen said that Henry was smiling and clapping along with the songs. After the 4D cinema I think Owen was getting bored of fish, as he just wanted to rush through the rest of the exhibits, so we only got a brief glimpse of the turtle and sharks in the underwater walkway. As one of the enclosures was being refurbished, in anticipation of sea otters arriving later in the year, we got a ticket for a free return visit -which I am sure we will make use of. Jen and I loved seeing the sea otters when we were in Monterey on our honeymoon! At bedtime Owen was keen to have a bath, to try out the turtle bath toy we had bought for Henry, but despite all of the excitement during the day Owen struggled to go to sleep…
While Owen struggled to go to sleep it was Henry that was waking up in the middle of the night, the only thing that would settle him was bringing him into our bed – usually he is a pretty good sleeper. With Owen back at pre-school, and Jen enjoying her last week off, Henry and I had a quiet morning at home, Henry enjoyed watching the bin men – giving them big smiles when they waved to him. In the afternoon Jen wrangled Henry, whilst I made some progress on my 2020 goals, before picking up Owen from pre-school.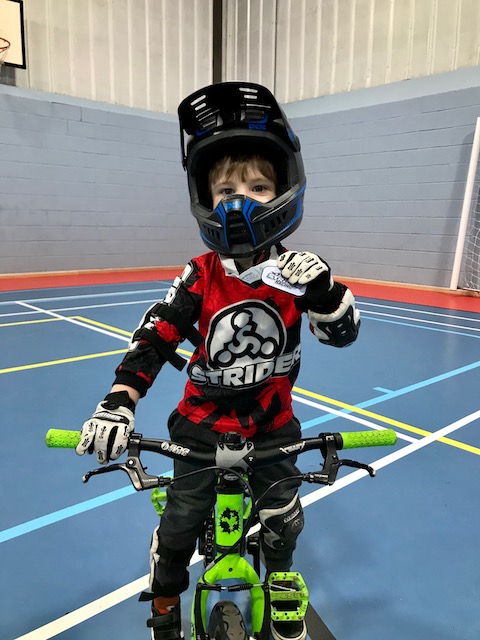 On Wednesday, we all walked Owen to nursery. Then Jen, Henry and I carried on to Earlsdon, to call in at the butchers, the bike shop and to stop for coffee. We walked back via Go Outdoors, to buy Henry a bag for nursery (their £3 "Freedom trail" rucksacks are just the job) and a sledge – probably guaranteeing a snow free winter for Coventry! It was nice being able to spend the morning together. Jen's Mum came round in the afternoon, so Jen and I were able to spend an hour tidying up the veg plot in the garden, then I managed to change the brake pads on my hardtail, bed them in and squeeze in a quick bike ride round my Earlsdon Loop before picking Owen up for Ready Steady Riders Wheelie Wednesday indoor bike training! This is Owen's favourite bike session, but usually we cannot go, as I would need to leave work at 16:00 to get to Sutton Coldfield in time, so this is something I had been very excited about being able to do. Especially this first week as Coach Kazzi was not aware that Owen had learned to ride his pedal bike since she last saw him! Owen rode well, I found it interesting that he did not want to ride over the ramps, as he did not feel confident enough over them on his new bike – he did try a few times with Kazzi's help though. At the end of the session Owen got his "Pedal Medal" for successfully learning to ride his pedal bike, he had a proud coach and an even prouder Dad! After all the sleep issues, and a full day at pre school on top on an hour riding his bike, I was expecting Owen to fall asleep in the car on the drive home, but he must have been so excited for riding that he stayed awake the whole way chatting to me! Whilst Owen and I were out the tiny jump start box that I had ordered to fix the MR2 was delivered.
After the success of Wheelie Wednesday, Owen asked if he could take his bike to nursery, but as he is still not fully confident at stopping, and he is getting quite fast at riding, I did not think it was a good idea. However, we agreed that he could take his balance bike – which he had not touched since getting his pedal bike at Christmas. He rode it to nursery and I had to run to keep up with him! As this was Jen's last Thursday off work, we decided to delay swapping our swimming lessons routine, so Jen took Henry to his lesson, whilst a used my new jump start kit to revive the MR2 and take it for a long drive – I had to drop some tools off at my in-laws, so took the long way and enjoyed hooning the MR2 down some b-roads – it was good to be back in the little roadster! The drive charged the battery, so it was just down to lack of use. Jen, Henry and I spent a lazy afternoon together at home, before I went to collect Owen from pre-school – having to run all the way home to keep up with Owen!
On Friday morning I took Owen to his swimming lesson, he did really well, putting his face in the water and blowing bubbles whilst kicking his feet, and swimming round the pool floating on a woggle. After swimming we made the most of our last weekday all off together by taking Owen for lunch at his favourite restaurant – "McDonalds with the softplay", we have to drive past at least three other McDonalds restaurants to get there, but Owen loves the softplay – and Henry is happy wherever there are chips to steal. As Henry is a bit more active than on our last visit, he got to play in the softplay too, but he was happiest stuffing his face! On the way home from lunch we ran a few errands together, then I went out in the MR2 for more errands – I was happy that the MR2 worked perfectly on my four stop trip around Coventry, proving that it was lack of use, rather than a duff battery to blame for the issues. After dinner, Owen helped me rebuild the front suspension on my radio controlled MX-5, he has been keen to drive it since seeing it in the box, and he seemed to enjoy helping me – slotting bearings into place and tightening screws. Once the boys were in bed I pushed ahead with the rebuild, sorting the rear suspension and regreasing the gearbox. Usually I would have felt like a massive geek working on a model car on a Friday night, but Jen and some of her friends were in the other room doing jigsaw puzzles…
Rather than going to parkrun or Ready Steady Riders Super Saturday, on the Saturday morning we had other plans – breakfast at Hickory's to celebrate Partho's birthday! He thought he would just be meeting myself, Jen and the boys, but his wife (who Partho thought was at work) and a group of his friends also turned up, including Baby Evan, who is even younger than Henry. Henry is used to being the smallest, so it was funny seeing him watching Evan, particularly when Evan was having his bottle of milk (identical to one of Henry's bottles) – Henry looked jealous! We all had a good breakfast, followed by birthday cake, so it did not matter that it was well past lunchtime when we got home! After such an exciting morning, we just had another quiet afternoon at home.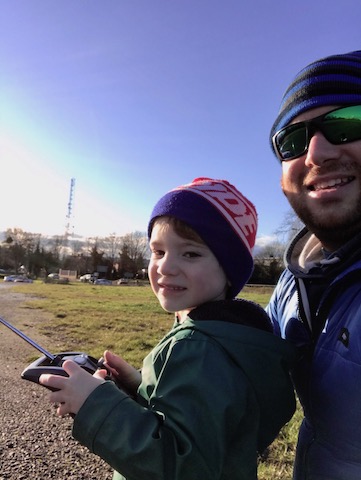 Sunday morning is usually my time to get out on the bike, but the weather was rubbish, so I stayed at home and did a few bits on the little MX-5, in between helping Owen rebuild his Lego monster truck, which seems to shatter into loads of tiny pieces whenever it does a stunt – hours of fun for Owen, but we do need to be careful to make sure Henry does not get his hands on it! When the rain stopped, Owen and I went up to Hearsall Common to test the radio controlled car and to do some bike skills training. I packed Owen's marker cones, to lay out tracks for both car and bikes. Owen started off doing the throttle for the radio controlled car (whilst I controlled the steering), and he did surprisingly well! There were definitely fewer crashes when Owen was in charge of the speed, than when I was driving on my own! I offered to let Owen do the steering too, but he was not interested. The car seemed to be running well, so that is phase one of the rebuild complete. The bike skills training was not quite as successful, Owen was not interested in learning to use the brakes on his bike, or to roll with his pedals level. We go through this sort of thing whenever we teach Owen to do something new, once he masters the key skill he is not interested in making any further improvements. At least I felt like my manuals were improving – I was trying to roll through a section of cones on one wheel, while Owen was meant to be rolling through without peddling! Owen was just happy riding round the course as fast as he could. When we got home, we had tea and cake, then watched Toy Story 3, with Owen dressed up as Buzz Lightyear and Henry dressed up as Woody (the photo at the top of this post). Henry did not quite last the whole film though, falling asleep half way through…
This first week (and a bit) has not really felt like I have been on parental leave, it has felt more like a holiday, as Jen was off work too. Spending time together has been great – I think we had one day of handover with parental leave for Owen, and that was only because he had a hospital appointment in Birmingham, so the extra time together as a family has been great and I would recommend any parent taking shared parental leave to consider it!