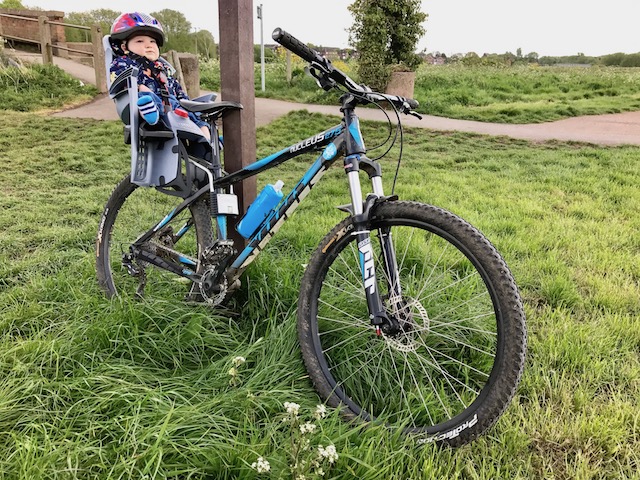 Another bank holiday! The excitement for me being that Jen is at home, rather than not going to work. However, as Jen had been away on Saturday, it felt like the weekend had just been shifted back a day. The day started off with more bank holiday DIY in prepatation for the garden project kicking off. Then, in the afternoon, we went for our first family bike ride at Kingsbury Waterpark. Owen didn't seem too bothered by being sat on the back of my bike, I can't say he seemed to enjoy it either though. I can see that a front mounted bike seat would make it easier to interact with him whilst riding along, but as my seat was free, I can't complain! Hopefully with more rides Owen will start to enjoy it more, as I have a few longer rides I would like to do as a family.
On Tuesday the guys arrived to start the first phase of the garden project, so my morning was split between making cups of tea for the builders and baby wrangling. My Mum and Dad arrived at lunchtime, so I was able to run some errands whilst they played with Owen. Wednesday was a day at home for Owen and I, whilst the builders made progress on the veranda. Owen managed to climb into the coffee table in search of Jen's iPad – nothing seems to be safe in this house!
Thursday was a much busier day! Like last week, Owen decided to take a nap just before we were meant to leave for swimming. Fortunately he didn't seem too upset when I woke him up and we were only a few minutes late. Owen really enjoyed himself at swimming, with lots of splashing and squealing. Jen was on a half day and took Owen out after lunch, which was when the plumbing disaster mentioned in the new veranda post happened. After that panic was sorted I detailed Jen's car – my plan is to detail all three cars whilst I'm on parental leave, so I thought I'd better get a move on! I started with Jen's car as I'd borrowed it for ten months and returned it filthy. I didn't feel too guilty though, as Jen returned my BMW in limp home mode and requiring an expensive trip to the garage.
On Friday Owen wasn't keen to eat his breakfast, but made up for it by stealing some of my chips when we met Jen for lunch at McDonalds – this was after he'd eaten his own lunch! He was also on top form when we went round Sainsbury's, chattering to staff and customers and enjoying a sample of samosa from the deli counter. After all that food and excitement Owen had a long afternoon nap, only waking up as Jen arrived home – at that point the trouble started. I think it was Owen's way of showing he'd missed his mummy. I was able to escape out to run some errands in the MR2, which hasn't been getting much use these last few weeks.
Saturday was a DIY day, Jen was away on a hen do, so my Mum came up to look after Owen, whilst I was perched up a ladder painting the veranda. I actually managed to get a fair bit done, despite the weather conspiring against me. Owen had a good sleep, not waking up until 7:15 on Sunday, and behaved well in the morning, which I was thankful for as Jen didn't arrive back until early afternoon. Owen was adament that he didn't want to go to sleep when I put him in his cot for his morning nap, but after sitting up and voicing his displeasure to me for a few minutes, he fell asleep, sitting up with his face resting on the bars of his cot. When Jen got home I got back up my ladder for more painting, at least today the weather was much nicer – I had to change into shorts, it was so warm! I'm now about halfway through the painting, so hopefully I'll have it all done before we go to Croyde next weekend.