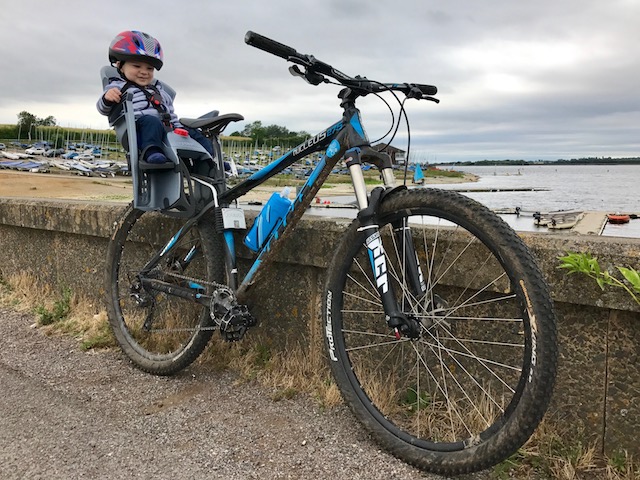 We had a fun family trip to Draycote Water at the weekend. Jen is training for a 10km running race, so we thought that the 5 mile tarmac path would be ideal for her to run round whilst Owen and I rode round on my bike. I figured that Owen and I would be able to do two laps in the same time as Jen could run one – so we had a bit of a race!
Team Bike were caught napping, literally – Owen had fallen asleep in the car on the drive over. Jen was able to get a good head start, whilst I got the bike and child seat ready and waited for Owen to wake up. When we got going I wasn't sure how long it would take us to catch up with Jen, but we made good progress along the first dam thanks to a decent tail wind. However, when we hit the north shore the pace dropped, I'd forgotten how hilly the route was, the fact that I'd done a hilly 35km ride the previous day and was carrying an extra 15kg made the hills feel harder. I was still expecting to see Jen around each corner, but we eventually caught her up around the halfway point, and had a quick stop to have a drink and fuss over Owen.
Leaving Jen, we continued our lap now into a headwind on the west dam I pointed out the wildlife to Owen, we saw geese, swans, rabbits and even a heron! On completing the first lap, we stopped for some photos, and to look at a swan and her cygnets by the dam. The second lap felt quicker, but taking a break had been a mistake, Jen was waiting for us at the end. As Owen had been such a good boy sat on the back of my bike, we took him to the playground, where he particularly enjoyed "driving" the jeep on springs.