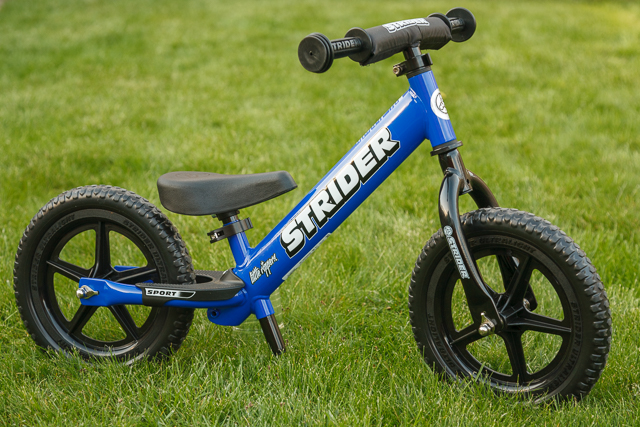 As both my Vitus hardtail and Orange Four got "new ride" posts on the blog, I thought Owen's new Strider should too! I've actually created a new section on my blog for kids MTB posts, hopefully there will be a lot more of them in future, as Owen gets through new bikes as he grows in size and becomes a better rider!
I probably spent as much time researching Owen's first bike, as I did my Four. Buying a balance bike is a bit of a minefield, there are loads of different options, made from wood, plastic, steel and aluminium ranging from £20 to £200! Fairly early on in the search I decided that I was going to resist the expensive, but clearly better aluminium balance bikes, my logic being that if I'm going to splash out on a bike for Owen, I should wait for his first pedal bike. I also didn't want to go for a cheap rubbish one, Owen probably wouldn't know any different, but I want to nurture his love of bikes, not kill it with a crap, heavy first bike! There were a few options in the middle ground, the Vitus Nippy was an early favourite as it had an aluminium frame, and the bonus of being the same brand as Daddy's bike. However, the more I looked into the Striders the more I liked them and especially the community around them – something which has made my Orange ownership experience even better.
The plan had been to buy it for Owen's second birthday, but Owen seemed ready for it, and I was impatient, so ended up ordering it early. Inadvertently ordering it on the first day the new 2018 models were available. I went for the middle of the range "Sport" model, as it was cheaper than buying the base model, then the upgrades, I had been expecting free entry to a Strider Cup race, but annoyingly that had been discontinued for 2018 (in lieu of a price rise, so I can't complain). The aluminium "Pro" version was just a bit too much of a price jump for me.
I had the bike delivered to work, and managed to sneak it into the garage to build it, which was just a case of fitting the front wheel/fork assembly, fitting the handle bars and tightening up the clamps. I then leant the bike up next to my Orange and went into the house to see Owen, like any other day. Then, just like any other day, Owen asked to go into the garage to look at bikes and "Daddy sportscar" (my MR2) – his little face was a picture when the door was opened to reveal a small bright blue balance bike propped up next to my bike. He knew exactly who it was for!
We got Owen to sit on the bike, he looked very pleased with himself, but he wasn't keen to ride it. For the next few days he was happy enough just spinning the wheels, or asking to borrow my Allen keys, so he could "fix" it. I guess that is what comes from him seeing me fettling my bike more that riding it, as that happens when he is asleep! I was slightly disappointed and concerned that maybe he was too young for the balance bike. To remedy this I thought I'd go through how to pick up the bike and walk along with it, using my bike and getting him to copy – it didn't take long until we were racing each other up and down the garden! After I'd put my bike away, Owen was riding down the path to the house and cracked a massive smile when he realised that he could go so much faster on the path than on the lawn.
Since then he has been getting more confident, but still calling the balance bike "big" or "wobbly", so I have a bit more work to do – especially as I have entered him into a race on the 15th June! Hopefully more garden races and maybe a few sessions on the Strider track at Birmingham BMX track with Ready Steady Riders will prepare him for the race. In any case, I'm sure he will be spurred on by seeing other children on bikes!
As a note, we bought Owen a Scuttlebug trike late last year, after seeing how happy he was sat on our friend's trike when we were in York last summer. Owen called it his "bike", and loved sitting on it, but it is very much a plastic toy, rather than a proper bike, unlike like his Strider – which I am classing as his first bike!