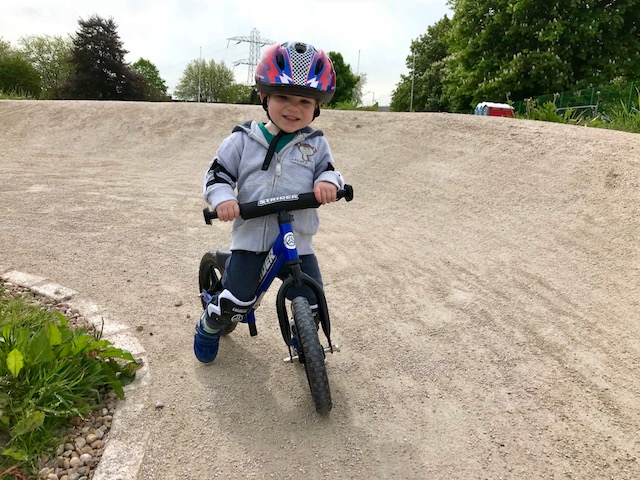 Following on from Owen's bike check post, and wanting to build his confidence on the bike, I put his bike in the boot of the car when we went for our usual Friday afternoon trip to the park. When we got to the park he was excited to put his helmet on and got on his bike, excited for the 100m ride from the car park to the playground. However we didn't get out of the car park, before Owen gave up. He then seemed annoyed at me having to carry the bike all the way to the playground. After a fun session on the swings, slide and roundabout, Owen was again keen to get back on his bike – but this time rode it all the way back to the car park! I was so proud of him, as this was much further than he'd been on his bike before. Owen seemed pleased with himself too, as when he got home he got straight back on his bike to show off to Jen!
The next morning, Jen had a Eurovision party to prepare for, so based on the previous afternoons' success I decided to take Owen to Ready Steady Riders, which is a Strider balance bike coaching session, on a special mini BMX track, next to the Perry Barr BMX track in Birmingham. Owen had a bit of a tantrum when we got there, as I wouldn't let him ride his bike in the busy car park, but he really didn't want to walk! After carrying both Owen and his bike to the safety of the park, I let him set off again on his bike. It was about 200m to the gate for the BMX and Owen made it most of the way, only needing to be carried for the last section. However, when he saw that there were other little boys there on their bikes, he was straight back on his!
The Strider track was awesome, a starting gate, four straights with bumps and jumps, connected with three big berms finishing off with a little banked chicane. Owen was so excited when he saw it, joining the track at the nearest place! Owen's legs weren't quite strong enough to get him up the bumps on the straights, so I needed to give him a helping hand, and also occasionally catch him on the down slopes, but even on this first lap his riding improved from beginning to end, he was getting more confident and obviously enjoying himself. At the end of the lap he was keen to get back for another one, this time tackling the berms on his own and using his feet to brake. We did a few more laps like this, Owen was the slowest rider there, but then 24 hours previously he'd only ever ridden the length of our garden! Kazzi, the coach, took over helping Owen round for a lap, which he seemed to respond well to. By this point he was really enjoying himself, making "wheeee!" sounds down all the slopes and carrying a bit more speed.
I could tell that all the excitement was starting to tire Owen out, he gets very stubborn when he is tired, and it was about his usual nap time, however we still had more of the session to run. About this time Owen started to take an interest in the start gate, the faster kids were using this for the start of their runs and Owen thought it looked fun. So we climbed up the hill and Owen took his place, for the start. 3, 2, 1, go! The riders surged forward towards the first hump on the track. Owen didn't want to go over the hump to start the lap, he wanted to go back to the gate to do more starts. After a few of these, he decided that the bike was an inconvenience. Kazzi knew straight away how to sort this, asking Owen if he wanted to try her daughter's bike – which worked for half a lap!
After a few more starts, and falls on his own bike, Owen decided that he was going to have a go at climbing the first hump on his own, getting upset at my offers of assistance, but even more upset that he couldn't do it. After screaming at the hump, and at me, he decided to ask for his cot! Easier said than done when you are in the middle of a park! Getting a tired and grumpy Owen back to the car, along with his bike and safety gear wasn't an easy task. Every few metres he wanted to be carried/to walk/to go on his bike or to have his helmet or kneepads taken off or put back on – all classic signs of a tired Owen. When we eventually got back to the car, Owen did his usual trick of demanding to "drive" (to sit in the drivers seat), which was handy for keeping him occupied whilst I loaded the car. When I got him into his seat in the back he was asleep within minutes, barely waking up when we got home and Jen transferred him into his cot. I'll definitely be taking him to Ready Steady Riders again, hopefully before the race he's been entered in next month.
On the Sunday, Owen wanted to play in the lane behind our house, jumping in puddles – that bloody Peppa Pig has a lot to answer for… Unlike Daddy Pig, I'm not a fan of puddles, especially in my new Danny Macaskill Five Ten shoes, so I decided to get my bike out and practice some skills whilst Owen splashed around. Seeing my bike made Owen want his bike, so I got it out, got his helmet on and we went on our first bike ride together! It was only up the lane behind our house, but it was a good little adventure, we met some friendly dogs and explored the top section of the lane which is a dead end. Owen fell off his bike whilst turning round at the top, and couldn't be persuaded back onto the bike, so I ended up carrying/pushing the bikes back to the house – I'm sure Owen will learn soon enough that the downhill bits are the fun bits and I'll be pushing/carrying the bikes up the climbs!
I'm so proud of the progress that Owen has made on his bike this weekend and the fact that he now seems to be enjoying his balance bike, rather than being scared of it. The photo at the top of this post has even made it onto the lock screen on my iPhone, as seeing Owen enjoying his bike is one of the best feelings!