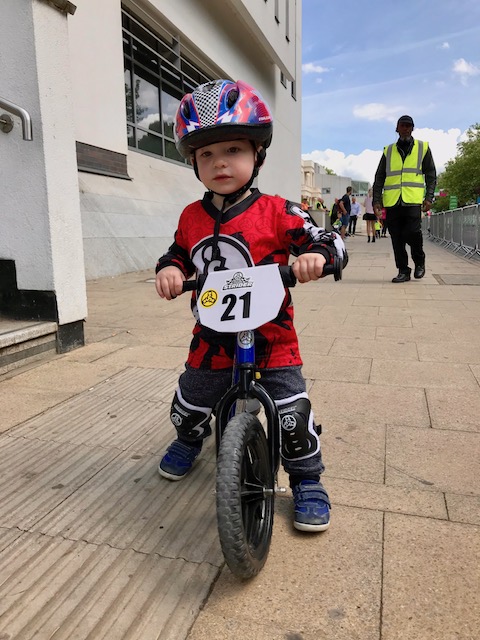 Just nine days after his second birthday Owen took part in his first bike race! Strider UK had set up a balance bike race as part of the warm up for the third stage of the Women's Tour arriving in Leamington Spa. A short oval track was marked out with cones in the finish area and the competitors were given numbers for the front of their bikes – Owen was #21!
First up was a mass start practice, to let the racers learn the track, and to size up the competition. It was pretty clear that Owen was the smallest competitor. He was also the slowest, thanks to his "interesting" line choice. Being a little mountain biker means that Owen isn't interested in riding on flat tarmac, it is much more fun riding over lumps and bumps – in this case the cones marking out the track! He rode over every single one, until he got to the end of the track, then wanted to carry on going, rather than turning back towards the start. Fortunately I'd followed him round and was able to wrangle him round the corner.
The kids were split up into ages groups for the first race, with Owen up first in the two year old category. He was quick off the line, but quickly overtaken by the other riders, most of whom were almost a year older, which makes a big difference when you're only two. Once again Owen rode over all of the cones, and by the time he was negotiating the turn the winner was crossing the line. All of the other racers had finished by the time Owen was on the back straight, but the crowd really got behind him, banging on the barriers and cheering him on – Owen loved it! He finished last, well down on the rest, but with a huge smile! That is what matters most.
After the age group races it was time for individual time trials. I decided to go round with Owen, to make sure he made the turn. The commentator said he could tell Owen was a mountain biker – "the next Danny Hart", as he was hitting all the cones, despite a ten second penalty being applied for each cone hit. The times weren't published, but I think it is safe to say that Owen would have been in last place.
Luckily all the racers got to go on the podium for a medal – especially exciting as they were using the Women's Tour podium, which was on the back of a lorry. Owen was pleased with his medal, but even more pleased with the toy Strider bike he was given too.
Owen really enjoyed himself, which is a good job as he's been entered in another race later in the year, at the Birmingham Strider track, which should hopefully play to his strengths more as the lumps and bumps are mandatory!