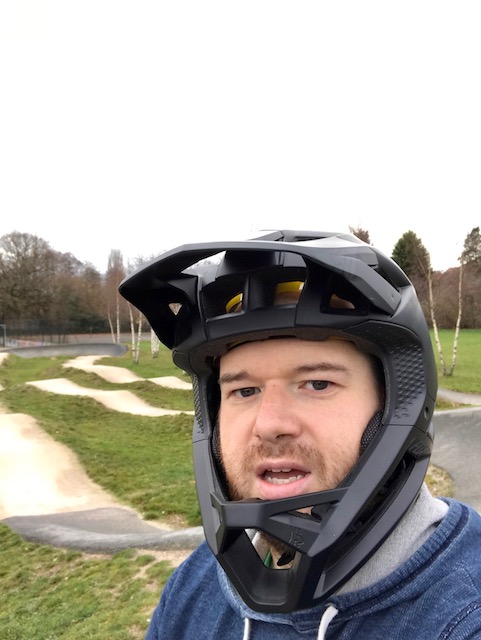 Recently the real world seems to have got in the way of my planned bike rides. Including last weekend when I had planned a day at 417 Bikepark, but still hadn't really got over the cold that had prevented me riding the previous weekend. This was particularly annoying as I had bought myself a full face helmet (Fox Proframe) in anticipation of the higher speeds on an uplift day. A full face helmet was possibly overkill, but I would rather not have to have my jaw wired shut for six weeks, like my best mate did after a big "over the bars" crash on my stag do! Despite my cold, I still wanted to get out for a ride. The helmet would have been a bit over the top to wear on a gentle local ride, but I thought I could get away with it at the pumptrack!
I decided to go to the pumptrack at Olton, near Solihull. I had taken Owen to ride there on his balance bike earlier in the year, and thought at the time it was a bit too big for him, but perfect for me! I had also recently watched the GMBN "How to get fit riding at the pumptrack" video, and decided that I should try to add some pumptrack sessions into my training regime.
This was my first time at the pumptrack without Owen, so I could go all out without having to keep an eye out for Owen (or anyone else, as I had the track to myself). I dropped in for my first run, pumped the downslopes, carved the berms, but still needed to put in a few pedal strokes to make it to the top of some of the hills. The lap took forty seconds, but when I checked my heart rate on my Apple Watch – it was up at 185bpm (roughly my maximum). Not bad for less than a minute of work!
After letting my heart rate drop down below 150bpm I set off again. And again, And again. I could feel my technique getting better after each lap, I wasn't needing to pedal as much, but my legs were getting tired. Who knew that riding round in circles, without pedalling, was such hard work? After eight laps I decided to push through and round it up to ten. By then I was feeling sick – I'm not sure how much of it was down to the lingering cold, or if it was just down to how hard I had pushed myself. Whichever way, adding something new to my training certainly allowed me to get out of my comfort zone and push myself – and the thing is with pumptracks is that the faster you go the more fun it is!