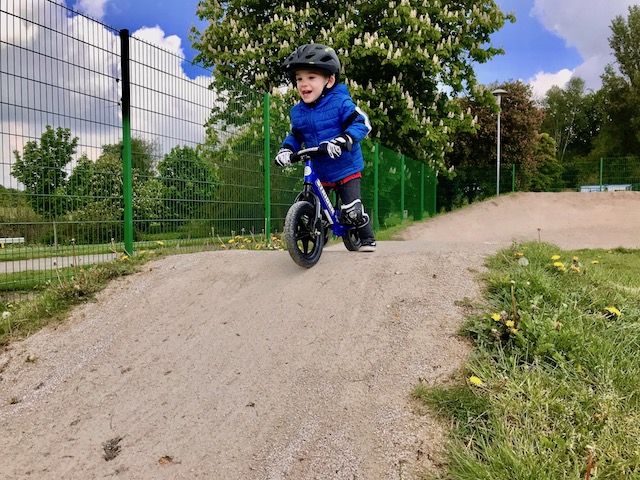 It has been almost a year since I last blogged about Owen's progress on his Strider balance bike and according to my Instagram "Memories" exactly a year since he started riding it. A lot has changed, mostly in the last couple of months.
Since last summer Owen loved riding his Strider, especially on pump tracks. We have become regulars at Ready Steady Riders and it is the highlight of his week. If you live in the West Midlands and have kids under 6 who love bikes, you should really check them out! Like crawling, and to some extent walking, Owen had his own way of doing things (straddling the bike and walking with it, not putting his bum on the seat) which he was happy with, so carried on doing it, rather that making the final step to riding properly. I expect this will be a pattern for other skills he is yet to learn. Despite this, Owen was really enjoying himself and that is the most important thing.
Since the start of this year he started making really good progress, I could tell he was getting more confidence. Then he started sitting on the seat and one Ready Steady Riders session I noticed his feet coming up off the ground, within a few weeks this became a proper balance bike glide – after eleven months he had really cracked it! Like with crawling/walking there was no stopping him!
He had a great Ready Steady Riders session on Easter Saturday. It was a low turnout due to the bank holiday, so for the last part of the session Coach Kazzi asked if the riders would like to sample the "big track" – a full UCI championship spec Adult BMX track. Owen did not need to be asked twice, he was straight round to the big track! The riders sessioned the last part of the final straight, which was bigger than any pump track I have ever ridden. Owen needed help on the very steepest section, but had the rest nailed. He was so pleased with himself every time he rode under the finish gantry. Ever since he has been telling me that he is "big and tough and can ride on the big track". Last week Owen also had a good Ready Steady Riders session, watched by Jen and Henry, and sporting a new helmet. The session ended with Owen being awarded a medal for being "Rider on the week"! Yet another proud Dad moment!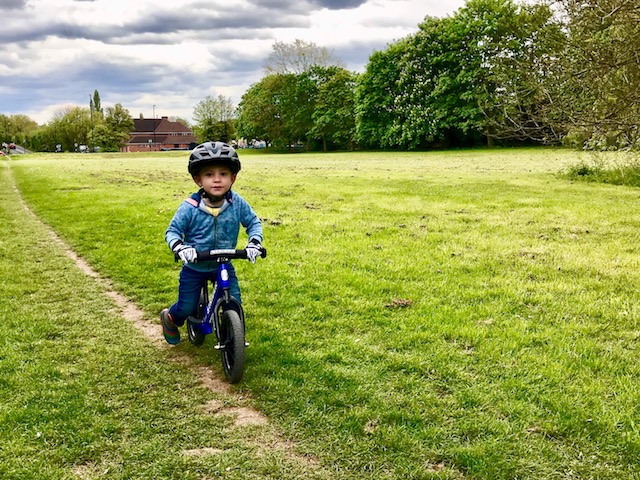 He has also been using his Strider around our local area, riding to the shops, or to nursery etc. He has been great at staying on the pavement, stopping at crossings and looking out for cars. On Bank Holiday Monday, Jen suggested that Owen should ride his Strider to Earlsdon Festival, by far his longest ride. It did not start well, Owen seemed to be struggling with riding and talking at the same time – a real problem for a chatterbox like Owen! He was stopping every few metres to tell me something, or ask a question (he has reached the "why" phase). I ended up having to carry the bike for a bit, in any case he would not have been able to ride through the festival crowds. But after an ice cream, he was back on the bike for the ride home. We went back through our local woods, on a rooty trail we had ridden on the Mac Ride the day before. Owen enjoyed this and seemed to get a second wind. Then we got to his favourite ramp in the woods – a feature we always visit when we're in the woods. He had to hit it multiple times before even considering riding back home. Even though I carried the bike for a lot of the time, it was still easily double the longest ride he had done with me.
This afternoon, after a ride to town on the Mac Ride, Owen asked me to go for a ride round to the woods with him. After his success last week, I risked taking my own bike along too. After we had ridden over Owen's favourite ramp, he asked if we could go to the cycle speedway track further along Hearsall Common. The shortest way to the cycle speedway was along the rooty singletrack from last week – our first singletrack ride together. Owen loved the cycle speedway track, I had said he could do five laps, but I had to practically drag him away screaming after fifteen! The ride back home showed that Owen has got the bike skills, but is still lacking a bit of the discipline needed to be able to come out on bike rides.
Owen has got the hang of his Strider just in time – next month he has two races: at the Malverns Classic mountain bike festival and the Strider Cup at Kingsbury Water Park. Unfortunately these are both just after his birthday, so he will be the youngest racer in the three year old class. Hopefully his ability to follow instructions has improved as much as his riding, after his performance last year. Once the racing is out of the way, we will try some more sessions on the big track and possibly even start looking for a bike with pedals…