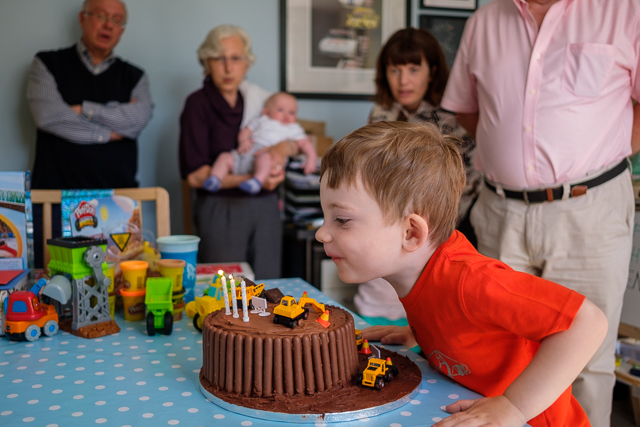 I can hardly believe it has been three years since Owen was born unexpectedly early, but it was his third birthday last week and we had an extra long weekend celebrating it!
On his birthday he rushed into our bedroom first thing in the morning to remind us that it was his birthday and ask if he had any presents! Fortunately "Henry" had bought him a Playmobil Mountain Biker, which kept him entertained for a while. I find it cute how Owen still refers to it as "the bike that Henry got me". Then we came downstairs and Owen discovered the big pile of presents, which he unwrapped over breakfast. By far his favourite were the Playdoh Wheels sets – one of the only things he has asked for after seeing it on an advert. But Playdoh and construction vehicles is pretty much heaven for Owen, so I can understand why! Unfortunately he had to go to nursery in the morning, so had to leave his new toys. He did ride his bike to nursery though – it is only a kilometre away, so even Owen riding is quicker than driving, despite me carrying Henry in his baby carrier, meaning I could not really run after Owen. While Owen was at nursery, Jen and I got the house ready for his party, then I snuck off to the pump track for a few laps.
Owen had a good morning at nursery and was excited to see that his Grandma and Grandpa had joined us to collect him. I was proud that when Owen realised both Jen and I were there without Henry, who was waiting with my parents, his first thought was to ask where his little brother was. Of course, when we got home there were even more presents from Grandma and Grandpa! Later in the afternoon his guests arrived for the party, it was only a small affair, with both sets of grandparents and Owen's best friend, Cara. Owen and Cara had fun playing together with Owen's new toys. Then it was time for the cake – Jen had excelled herself here, the chocolate "construction site" themed cake looked amazing and tasted even better!
Friday is Owen's swimming day, so I took him to his lesson as usual. He has been doing really well recently, but did particularly well this week, putting his face in the water, jumping in and insisting on swimming on his own when the pool noodles were given out. He was swimming lengths of the pool on his own with his arms over the noodle. After swimming Jen's friend came round with her little boy, so Owen had another fun afternoon playing. For dinner we went to Owen's favourite restaurant – "McDonald's with the softplay", which is right at the other side of the city, but Owen always asks to go there. Incidentally, the last time Jen and I were there was about ninety minutes before Henry was born. Owen ate his dinner like a good boy, then was let loose on the softplay! It was interesting watching him, as he has obviously grown so much in confidence since our last visit at the start of the year. Usually he just does laps of the same section, but this time he went exploring – right to the top of the softplay structure! Maybe it is time to try taking him climbing again?
Owen's usual Ready Steady Riders session was cancelled on the Saturday, due to the poor weather, so we just had a quiet morning at home – because in the afternoon we were going to Monster Jam! Monster Jam is a huge touring monster truck show, and Owen loves monster trucks almost as much as diggers. So when I heard it would be coming to the Ricoh Arena in Coventry on Owen's birthday weekend I knew we had to go! Monster trucks are too loud for Henry (Jen had an excuse not to come), so my Dad joined us – we have talked for years about the three generations watching motorsport together, so this was a good opportunity. As soon as we got to the arena we saw the monster trucks in the pits, along with some construction vehicles that made the track – Owen's day was already made!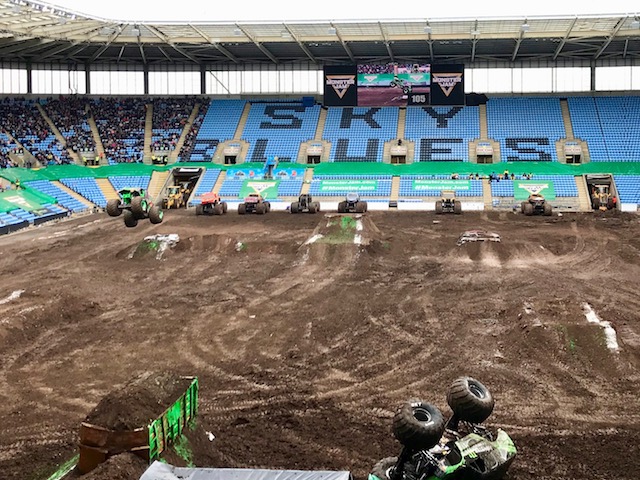 Once in the stadium the first of the monster truck events was a series of head to head races – Owen loved it! He was cheering on the trucks and clapping excitedly at the end of the races! I was glad that he was wearing his ear defenders, as even quite high up in the stadium the trucks were really loud. Owen was less excited by the next event, the donut competition. He was upset that the monster trucks were not jumping! I enjoyed the donut competition, especially as most of the trucks did their donuts at our end of the stadium. I also liked that the scores were voted for by the fans in the stadium on a special website. After the donuts the trucks went back to the pits and the construction equipment came out to redo the track and prepare it for the freestyle motocross riders – which Owen enjoyed almost as much as the monster trucks! The freestyle motocross riders were as impressive as ever and hopefully Owen did not take too much inspiration.
When the monster trucks came back out they had a two wheel skills competition, which was not that impressive, possibly because the track was so slippery due to the rain meaning most of the trucks failed to do their stunts. One truck, Max-D, ended up on its roof – which prompted lots of questions from Owen. "Why is it upside down? Why did it land on its roof? Why did the stunt go wrong?" etc. However the final event, the freestyle competition was by far the highlight of the show. The trucks each had two minutes to perform stunts on as many of the obstacles in the arena as possible. There were huge jumps, donuts and even a backflip – right in front of us (albeit with the truck landing on its roof)! It was a great afternoon out for all three generations of Craik and I would certainly go again.
After the excitement of Monster Jam on Saturday, we had a quieter Sunday. I dropped Jen and the boys off at Jen's friend's house in Nuneaton, then went for a bike ride at Pooley Country Park, near Tamworth (and even used my GoPro for one of the runs). Jen and the boys had gone for a walk/bike ride to the park when I got back to Nuneaton, so I rode to meet them and rode back with Owen for lunch. We had a few errands to run on the way home, including stopping at Jen's parent's house for tea and cake, which was a nice way to wind down after a busy weekend. Next weekend is also going to be exciting as we are going to the Malverns Classic mountain bike festival, where Owen will be racing dual slalom on his balance bike! Does anyone know how to explain slalom to a three year old…