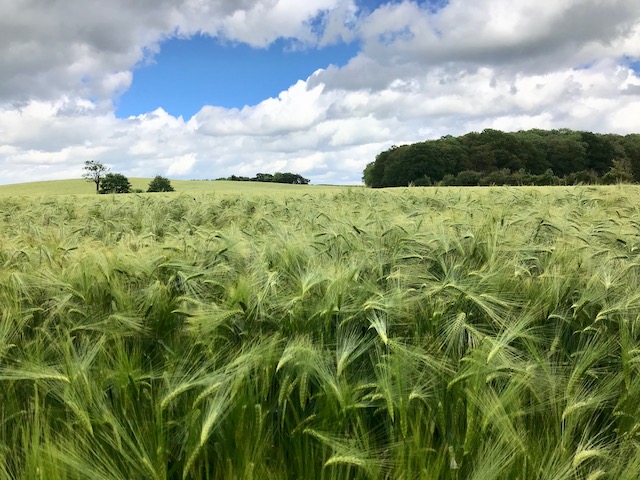 Owen woke me up at 6:30 on Father's Day, with a gift of matching pyjamas – fortunately he let me go to back to bed for a bit, before we went downstairs for a very light breakfast in our matching pyjamas. The reason for the very light breakfast was that we would be meeting my Mum, Dad and brother for brunch at Dough and Brew in Warwick. The breakfast pizzas are my absolute favourite breakfast anywhere. It seems to have become a regular Father's Day thing for us. Previously I have cycled both there and back – as the route from Coventry is mostly off road. However, with the recent rain, which cancelled the Malverns Classic MTB festival we should have been at yesterday, I figured I would be too muddy to sit in a restaurant if I rode there. So I strapped my hardtail to the roof of the car and so I could at least ride back.
The only problem with having a massive pizza is feeling a bit sluggish on the ride home – especially as it is mostly uphill back to Coventry from Warwick. Riding out of the town centre I felt pretty fresh, so decided to add in an extra loop around Hatton to include a fun section of bridle way that I missed by not riding down – which is where I stopped to take the photo at the top of this post.
I was really enjoying being on a leisurely cross country ride on my hardtail, the sun was out, the trails were running well and my bike was feeling super fast without Owen on the Mac Ride! I also felt a bit naked riding without knee pads and wearing a short sleeved t-shirt, rather than a jersey, but it was only a gentle ride! Then the clouds came over and it started to rain gently at first, so I kept going. As I was approaching a farm it got heavier, so I took shelter next to a barn to put my jacket on. When I turned around I noticed a whole field of cows walking towards me – fortunately on the other side of a fence. They must have been after my jelly babies! By the time I left the cows the rain had almost stopped again, but I knew I was about to ride through the muddiest section of the ride, so kept the waterproof on until I was out of the mud. The rest of the ride, on familiar trails,
went without a hitch and with my extra loop I clocked just over 34km.
As we were seeing my Mum again the next day, Owen went home with her for a mini break in the Cotswolds. With only a chilled out Henry to deal with, Jen was keen to crack on with the DIY when I got home. Seven years after starting, we are now at a phase with the #119project where we are redecorating rooms, although to be fair some of the bits we are doing in the kitchen weren't really finished in 2012… We pulled the fridge freezer out of the pantry, I got to work chipping the ice out of it (and sucking it up with my wet and dry vac), whilst Jen repainted the pantry walls which were looking a bit scruffy. Given we started this project after the shops had shut on a Sunday afternoon we were lucky to have found a pot of the right paint stashed away! I had to keep having Henry cuddling breaks, although he did spend most of the time sat in his bouncer supervising – I had put him in his dungarees, but he decided not to get his hands dirty. We finished just in time to watch the new Top Gear and eat some amazing Moroccan lamb (one of our favourites from our local butchers. Henry spent his first night in his bedroom (my old office which he annexed).
It was a busy, but fun day. I hardly spent any time with Owen, but I have got the next week off work, so will make sure we do plenty of fun things together!