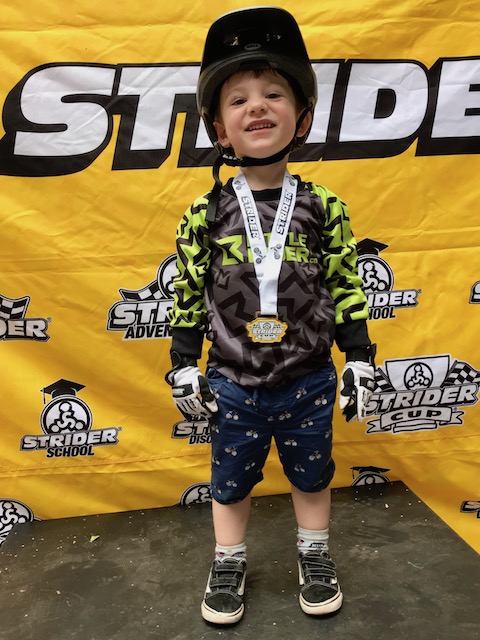 Last weekend was the 2019 Strider Cup race, held at Kingsbury Water Park in Warwickshire – one for our regular haunts! Unfortunately Owen did not have any home advantage as the track was only laid out on the morning of the race. It has been over a year since he last raced, as the other two races he was entered for were rained off. However Owen's riding has significantly improved in the meantime. Given Owen was one of the youngest in the three year old category (it was less than a month past his third birthday) I was treating it as more of a fun day out than a serious race. We brought a picnic with us and my Dad and some of our friends had come along to cheer for Owen. Knowing that the race would be held at pretty much the furthest point from the car park, I took my hardtail along too, with the Mac Ride fitted to whisk Owen from the car to the event. This also gave me the impetus to work out how to ride with both Owen and his Strider on my bike – this is going to be useful for future adventures!
It is a good job we were not taking the racing too seriously! We ended up running a bit late and the event was running a bit early. By the time I had signed Owen in, they were already calling his first heat! As we were on the Mac Ride, Owen already had his gloves and helmet on, so it was a case of sitting him on his bike and asking Coach Kazzi where the track went! Not an ideal start to the first race. Unsurprisingly Owen came last, after al he had to follow the other riders to know where the track went and ended up stopping before the finish line after the other riders had disappeared. It was at this point that I realised other parents had been going round with their kids to encourage them. Doh.
The good news was that Owen really enjoyed it and wanted to go again! It was difficult to stop him joining each heat whilst waiting for his number to be called! Fortunately, my Dad, Jen and Henry arrived, so we were able to keep him occupied. His second heat started much better, he was one of the fastest off the line, before stopping to pose for photos. Which he ended up doing at each photographer! He was last again. There were only four riders in his last heat, and Owen rode a much better race – coming in third! Which was not quite enough to qualify for the final. After the trophies were awarded to the top three riders in the closely fought final, all the riders were given medals and had their chance to stand on the podium – which Owen loved!
I have come to the conclusion that Owen is going to be more of a freerider than a racer, like me, he does not really have that competitive instinct, but unlike me he is a bit of a show off! Howeverthe most important thing is that Owen had a great time. I also enjoyed seeing all of Owen's friends from Ready Steady Riders racing – Coach Kazzi must have been so proud! After the racing we went to the playground and had a picnic with our friends, Owen got to run around and impress us with his climbing – it is brilliant seeing how independent he is becoming!