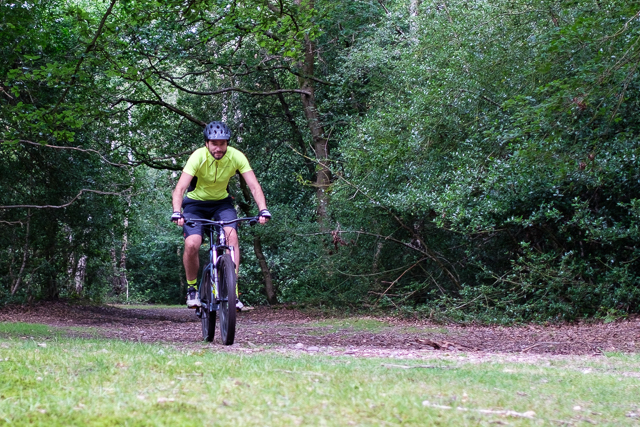 International Ride MTB Day did not start with a mountain bike ride, nor did it start with our usual trip to Birmingham BMX Track for Ready Steady Riders #supersaturday. Instead Jen ran Coventry Parkrun, and I took the boys to spectate. The previous evening Owen and I had fitted new wheels to his balance bike, so he had to do a few laps of the skatepark to test them out – all was good! So good that whilst waiting for Jen at the end of her run, Owen learned a new skill – riding down hills with his feet on the footpegs.
After we got home I was planning where to ride my bike, and I asked my best friend Partho if he fancied joining me. He did! Due to injuries (his) and babies (mine) this would only be our third ride together this year, we were slightly restricted for time, so arranged for a quick blast around Sutton Park.
I usually ride on my own, or with Owen, so it was great to catch up with Partho on the ride from his house to the park, it certainly made the road section and the cimb up to Four Oaks Gate fly by. From there we dropped into a fun chute, bringing us back out at the bottom of the steepest part of the climb. Repeating climbing sections sucks, but this piece of trail is well worth it. Rainwater has carved gullies in the trail, so you have to pick a line and commit to it. There are also some small drops and tree stumps to hop over, a really fun section of trail.
After climbing back up the hill, Partho took me for a tour of the trails around the perimeter of the park. On our previous ride there, we only covered a small corner of the park, so it was interesting to see more. I was surprised at just how different the scenery looked when we crossed under the railway, the south side seemed much more open. It was also hillier than I expected, although the trails were not as exciting as the first section down from Four Oaks. I started to struggle on some of the climbs, I am unsure if it was the bike (I still need to fettle the suspension), not having eaten enough lunch, or simply that Partho is faster than me, but nonetheless is was a great way to spend the afternoon! Bike riding is fun, but it is even more fun with friends.