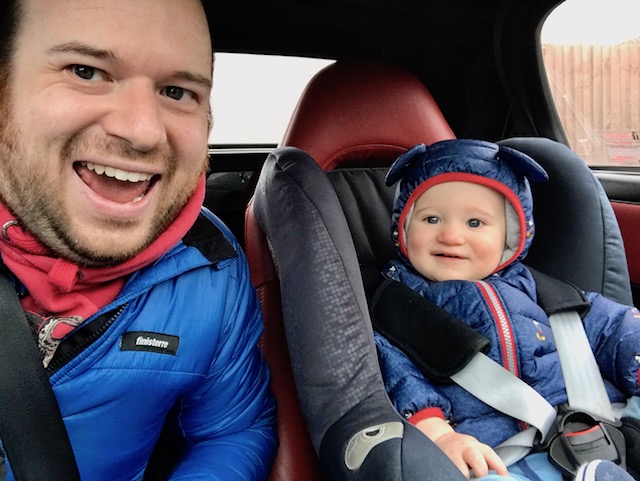 I am almost halfway through my parental leave and really enjoying myself. The week started, as usual with my Mum and Dad coming round for the day to look after the boys. So after I got my jobs (clean Henry's bottles and make his milk etc) done, I managed to escape for a bike ride. As the local trails are so muddy, I thought I would go for a road ride to avoid the mud, however my plan failed – the roads were really muddy and I ended up filthy. It was nice exploring some different areas on the outskirts of the city though. In the afternoon I worked on setting up my new blog server, before making dinner (gammon, corn in cheese sauce and roast potatoes) for everyone. After the boys were in bed I also made a haggis lasagne to eat on Tuesday. Probably the most cooking I have ever done in one day! Even though I did not spend that much time looking after the boys I was shattered by bedtime!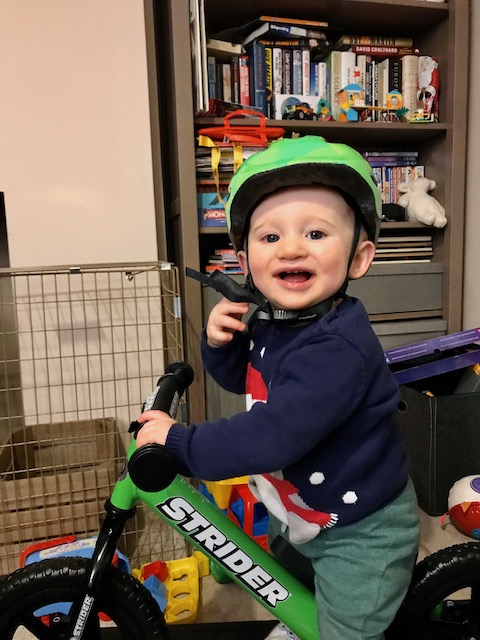 On Tuesday Owen went back to preschool, so to start with it was just Henry and I, then Jen's mum also came round to look after Henry. With Henry being looked after I took the opportunity to nip out to the supermarket, but as I was getting into my car I noticed a man on the opposite side of the road who did not look in a good way – swaying and struggling to stand up. As I walked over the road to see if he was OK he just fell over backwards, cracking his head on the pavement. In the time it took to finish crossing the road there was already a pool of blood forming under his head and he looked like he was having some sort of fit. I dialled 999 straight away! As I was speaking to the operator, some more neighbours and passers-by also stopped to help and got the man into the recovery position when he stopped fitting. After what felt like ages, but was probably only ten minutes he came round and tried to stand up, obviously very confused. Fortuately the ambulance arrived at this point and the professionals were able to take over looking after him. After explaining to the paramedics what happened I left to carry on with my shopping. I really hope the guy is OK, because it was a big hit, and there was a lot of blood, however I expect I will never know how he is doing, as it was not someone any of the neighbours recognised. Last year I took a similar fall, off my bike, whilst wearing a helmet, and had definite signs of concussion, including a two week headache – so I dread to think of the outcome without a helmet. After all the drama, I got my shopping done, there was some building work going on in the Cannon Park car park – Owen would have loved watching the excavator. Henry and I picked Owen up from preschool, and ended up walking back with one of his friends, who lives a bit further down our road. It was quite sweet watching the two of them together, although Owen did not seem too keen to hold hands. Chasing each other down the road also made the walk home significantly quicker, which was a bonus. Henry's Giro Scamp bike helmet arrived, so before bed I attempted to get him to wear it so I could adjust the fit and of course get some photos of him looking cute! In the evening Jen went to running club, so I had to put the boys to bed on my own. It turned into a bit of a disaster, with neither boy being asleep by the time Jen got home. Eventually Owen went to sleep, but Henry took much longer.
Wednesday was a quieter day, I think Henry was tired from his late night, so after dropping Owen off at preschool we just had a quiet morning at home – it is nice just pottering around at home the two of us. Henry is in to everything now, most of the time it is great watching him crawling around investigating things, but you also need to be careful, as he loves opening and closing drawers, usually trapping his fingers in them. He also seems more excited about eating food that he has thrown on the floor than anything I try to feed him. It was a lovely sunny winter afternoon so we took a walk to Go Outdoors to buy my Mum a birthday present. Then I took Owen to his Ready Steady Riders Wheelie Wednesday session. He rode well again, he is getting better at coasting with level pedals and using his brakes, hopefully if he carries on progressing we will be able to hit the pump track together soon!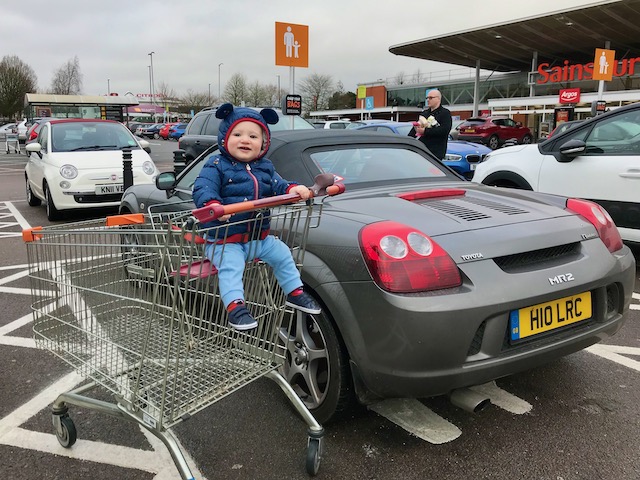 Jen was heading out after work on Thursday evening, which meant she could start late and help with Owen. This was very welcome as the last few Thursday mornings have been a bit fraught getting Owen out of the house for preschool. He loves his Wheelie Wednesday session, but he is always so tired on Thursday mornings. Henry had a great time at his swimming lesson, there were only three babies in the lesson – and for the first time since I started going with Owen dads outnumbered mums! Henry had a long nap after swimming, I was able to get loads done, it almost got to the point where I was unsure what to do with myself! When he had woken up and I had fed him his cauliflower cheese for lunch I had a treat planned for him (us) – a ride in the MR2! We were only going to the supermarket to pick up a few bits, but I thought it would be the ideal short journey to try with him – especially as it was to a destination that did not require a pushchair. Henry seemed a bit confused as I carried him out to the garage and strapped him into an unfamilar seat, but his face lit up when he heard the engine firing up behind him – always a good sign! As this was both his first journey in a forward facing seat and in the front of a car he realised that the steering wheel and gear stick must do something and started reaching out for them – fortunately he was well strapped into his seat and his arms were too short. I always enjoy parking the MR2 in parent and child spaces (only when I have a child in the car with me of course), as it looks so tiny next to the usual large family cars. In the evening I was on my own for dinner and bedtime. As Henry had liked the omelette he stole from Owen last week, I though I would try him with his own. Unfortunately his did not seem at all interested in it, he also managed to crawl off, despite being strapped into the little chair with tray table – leaving a trail of squished omelette behind him. I tried a different strategy for bedtime, leaving Owen downstairs drinking his milk and watching YouTube and taking Henry up to bed. After a busy day Henry went to sleep fairly quickly. Owen was the same unfortunately and fell asleep on the sofa before I had taken him upstairs to bed!
Jen took Owen swimming on Friday morning, so Henry and I had a quiet morning at home – before an exciting lunch of falafel pittas! While the boys were finishing their lunches I escaped for a haircut – usually something I can fit in on the way home from work, but trickier while I am off with the boys. Jen took Owen to the dentist after lunch, then I had a couple of hours to do some work/studying before pizza and film night! Owen loves putting the pepperoni on his pizza, then picking it off to eat before eating the rest of the pizza. Henry just loves stealing slices of pizza off anyone's plate that he can reach! We watched Brave, which none of us had seen before, Owen and I both thought the Scottish clans were funny, although I expect for slightly different reasons. While we were watching the film Henry learned a new skill – taking his trousers off! He has been able to take his socks off for a while and it is rare to see him wearing any, so I hope it is not the same sitation with trousers! Once again I took Henry up to bed, leaving Owen downstairs – but this time I told him that he had to come upstairs after one programme – which he did! Even though he was a good boy getting ready for bed, it was quite late by the time I had finished reading him some books. After reading to him, he always asks me to stay in his bedroom with him, even though he usually falls asleep pretty quickly, it is nice lying on his bed with him, often the most relaxing time of the day – and quite difficult to get back up and crack on with some work!
The boys both had a good sleep, and I woke up naturally at 7:45, without being called for or jumped on. Of course this was a morning where we had somewhere to be… Not only was Jen doing parkrun, Owen was doing the Kids Run Free Park Kids event, which starts next to parkrun at the same time, but only on the first Saturday of each month. I was surprised at how keen Owen was to run, but I guess that he sees Jen running as much as me riding my bike. Henry looked like he wanted to join in, but we had to watch from the sidelines. After the warm up Owen ran six laps of the 250 meter course, which I thought was impressive for a three year old, especially as he had to do the first four by himself, as I had to stay with Henry. Jen joined him for the last two after she had finished her run. I could tell that Owen felt really pleased with himself afterwards and deservedly so! After all that running/standing around outside, we had eggy bread and bacon for lunch.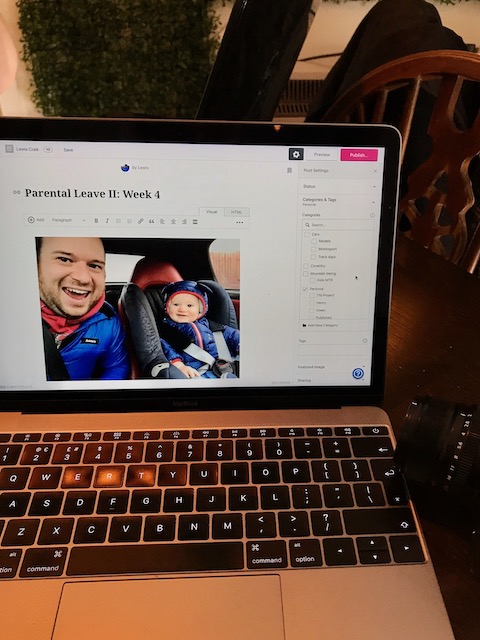 In the afternoon I cycled in to town to meet up with some of the other Coventry Bloggers, at Ziferblat, a new community/co-working space on Spon Street. It is an interesting concept, where you pay for your time there, by the minute, but get free drinks/snacks/wifi. It is the perfect place for a group of bloggers to spend an afternoon chatting and working on their blogs. It felt a bit like being in someone's cosy front room, even down to the hosts making sure we had enough hot drinks/biscuits. I managed to get most of this post written whilst I was there, which was a good job, as I had been a bit lax during the week and had not updated it. The ride back home, which is all uphill, felt like a bit of a struggle, as there was a strong headwind and I was carrying a 6kg rucksack (with camera, laptop and bike locks) – it was still quicker than driving though and good to get out on the bike!
I had expected Owen to sleep well after all his running, but he, and consequently Jen and I, had a rubbish nights sleep, and he seemed to be in a foul mood in the morning. To the point that when he started calling for Jen to help him, whilst she was dealing with Henry, we both thought that it was something trivial, as he had been doing all morning. I finished my yoga and went downstairs to find Owen with his finger stuck in piece of wooden train track. We tried all the usual ways to get it off, cooling his fingers, using oil etc, but if anything his finger was swelling up more. So we decided to cut it off – the piece of track, not the finger! Owen was not too impressed when I said I was going to the garage to get my saw to chop it off. Jen wanted me to use my electric saw, to get it over with quicker. However, I chose the far safer option of clamping the track in the Workmate, more to prevent Owen wriggling, then cutting carefully with a hacksaw, until I was about halfway through the wood, then snapped the rest off using pliers. Not what was needed before I had even had breakfast on a Sunday morning! Owen seems to have made a full recovery, but we have had to change the layout of his trainset, due to a gap in a key section of track…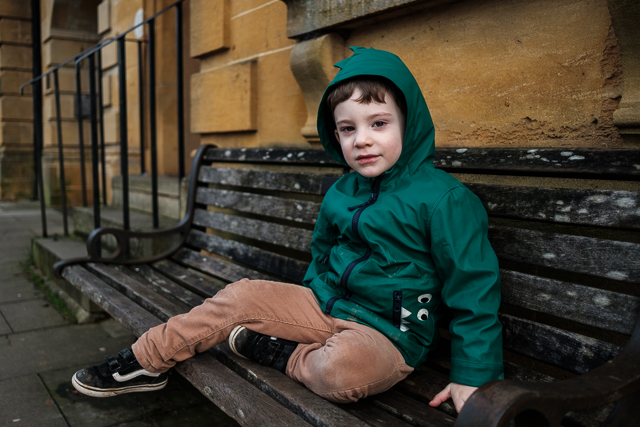 After the morning's excitement, we drove to my Mum and Dad's house to celebrate my Mum's birthday. I thought Owen seemed reflective in the car, and was in a much better mood when we arrived. My brother and sister-in-law were there, it had probably been six weeks since they last saw the boys – Henry has changed so much in that time. We had another haggis dinner, but disappointingly neither of the boys seemed to like it, despite both eating it last week. The both ate plenty of raspberries to make up for it though. Mum had made cranachen for dessert, which was lovely, but Owen refused to eat his and kept asking for some whisky on it! After lunch we had a nice walk around Chipping Norton, where I took the photo above. My mum had found some toys, probably from the early nineties, which somehow survived at least four house moves. Owen especially loved playing with the Micro Machines! Henry was his usual cheeky self, crawling around, seeing what he could put in his mouth. Jen and I left the boys with their grandma, for a well needed night off! We did not have anything planned, but after completing some jobs at home (tidying/sorting is much easier without our two small "helpers") we took a walk to Street Asian restaurant in Earlsdon. As we had eaten a big lunch, we chose some small plates from the Asian tapas menu, all of which were delicious! It had been quite a while since we last ate there – certainly before Henry was born – but I doubt we will wait that long again!