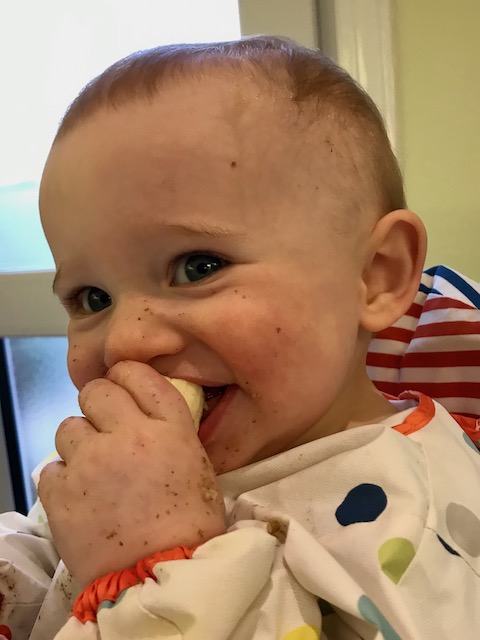 Week five started where week four left off – with the boys at their grandma and grandpa's house! In theory this meant a lie in for me, but I still woke up at 6 o'clock! With the house to myself I managed to get lots of jobs done – general tidying up, sweeping the drive, painting the kitchen ceiling where the bath had leaked last year. As usual, I still had more jobs on my list than time, but I also wanted to get out for a bike ride! The trails were muddy, and my tyres still had too much pressure in after the bike service, so these are the excuses I am using for why I fell off… After my ride I met my parents to collect the boys, I would like to say they were pleased to see me, but they were both asleep and unimpressed to be disturbed when I swapped their car seats in to my car.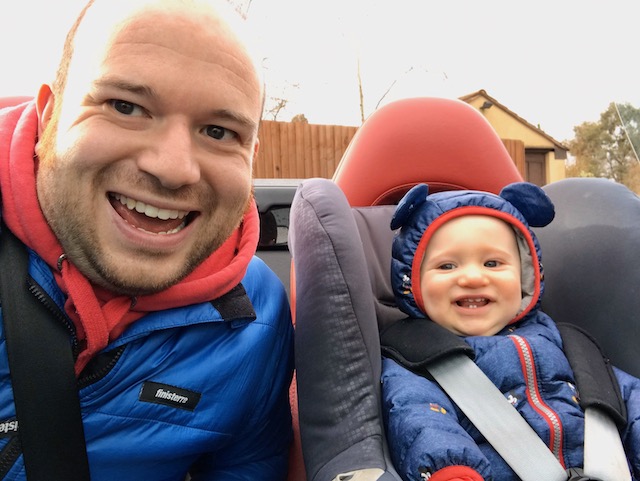 After the excitement of the boys' mini break in the Cotswolds, Tuesday was back to normal – pre-school for Owen and a quiet morning at home for Henry and me. In the afternoon we went to the supermarket, in the MR2 again, but this time we had the roof down! Henry seemed to like this, looking all around. Jen had tasked us with getting some dried porcini mushrooms, we did a few loops around the shop looking for them. Little did we know this would become a saga that dragged on all week!
Whilst dropping Owen off at pre-school on Wednesday morning, I booked Henry's settling in sessions at the nursery – as unwelcome sign that I will be going back to work in the not too distant future. Another sign that Henry is growing up is that I caught him red handed taking my credit card out of my desk drawer – I thought I would have to wait at least a few more years before I had to deal with that sort of thing! Whilst Henry had his nap I managed to book a weekend away mountain biking with Partho, in addition to the usual jobs I try to fit in whilst he naps. In the afternoon we got out in the MR2 again, this time to do a tip run, a much longer trip than to the supermarket – of course we had the roof down again! We called in at another supermarket looking for the dried porcini mushrooms, again with no luck. After pre-school I took Owen to his Ready Steady Riders Wheelie Wednesday session. The focus of the lesson was looking around corners – definitely something that Owen needs to work on, as he was crashing into the tape marking the course most laps. Purely because he was not looking round corners properly. I spent most of the session fixing the track as Owen crashed into it.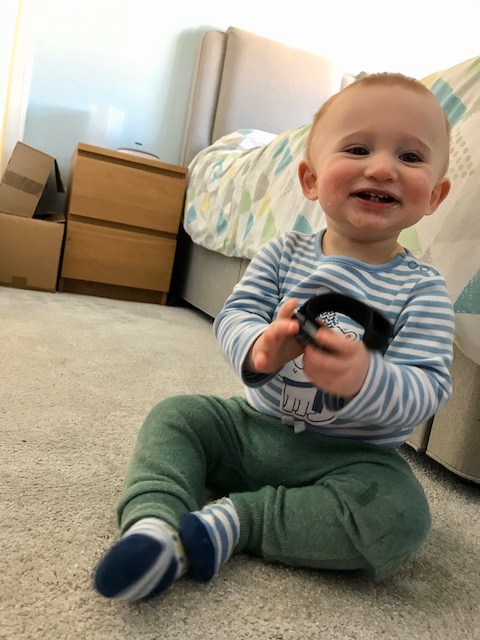 Thursday is swimming day for Henry! Jen took Owen to pre-school, so I managed to avoid the chaos from the previous weeks and got to Henry's lesson on time. Henry was on good form, splashing and kicking his legs – he even behaved in the changing room! He had a good nap after swimming, then played upstairs for a bit. My Apple Watch was charging on the bedside table, Henry grabbed it and crawled off. I crawled off after him, and this continued for a while, both of us giggling away. Until Henry started to take it too seriously, biting my arm (with all six of his teeth), then trying to put my watch in his dirty nappy bin. After things had calmed down, we went for a drive to get petrol in the BMW and pick up a few bits in Leamington Spa. The trip to Leamington was only partially successful, I picked up a camera strap from London Camera Exchange, but the petrol station I had planned to go to was closed and I still could not find any dried porcini mushrooms…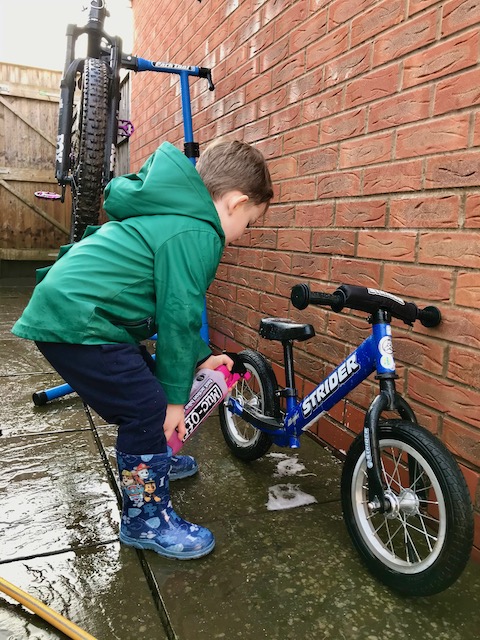 Henry and I had a quiet Friday morning, whilst Jen took Owen to his swimming lesson. After lunch I went out to run some errands and finally got hold of those pesky dried porcini mushrooms! When I got back, Owen and I cleaned our bikes. I adjusted the rear brake lever closer to the handlebar on Owen's bike – hoping it would encourage him to use it more. He went for a ride around the block and the adjustment seemed to work – Owen was stopping using the brakes, rather than his shoes! The reason I had been searching for dried porcini mushrooms all week was that Jen had invited some friends round for dinner, and was cooking giant pasta shells with a sausage and mushroom filling. For dessert Jen and Owen made cookie dough pots, ready to go in the oven and be served with ice cream. Dinner for the boys was not quite so gourmet – I made them omelettes! Based on previous experience I had expected Owen to eat his and Henry to spit his out, but Henry surprised me by eating his, whilst Owen messed around – meal times can be a bit of a lottery with these two! At least Owen did get to try one of the cookie dough pots that he helped make! When I eventually got the boys into their beds, we got to tuck into the pasta, both the wait and the mushroom hunting were worth it!
Saturday was my day to do what I wanted – so I went mountain biking at the Forest of Dean with my friend Partho! Despite everywhere else being so wet, the trails were running really well and it was great to be riding them with a friend. It was also good to catch up on the long drives there and back. Jen and the boys had a fun afternoon visiting Jen's parents!
With Storm Ciara battering the country on Sunday, we had planned a quiet day. In the afternoon we braved the weather to visit Resorts World (the outlet village by the NEC). On the short drive there Jen's Yaris was being buffeted by the wind, and at one point we had to slow right down on the A45 as the visibility was so poor due to the heavy rain! Fortunately we are able to park inside, so did not get wet on the way to the shops! It was only a quick stop – we picked up some bits for the boys in Gap, and Jen got some new trainers, but after that Owen was making it obvious that he had had enough of shopping! Or maybe he was just tired – as he fell asleep in the car on the way home, just as we were about to turn in to our road. He was in a very deep sleep – to the point where he barely noticed being transferred into the house. I lit the fire and settled in for the evening, watching "The Love Bug", which was the first time I had ever seen any of the "Herbie" films. It was a nice way to spend a stormy winter evening. Owen slept for a few hours – unfortunately this meant that bedtime was going to be a nightmare. So once he was ready for bed, we let him come back downstairs to watch Top Gear, which he thoroughly enjoyed.
Whilst this series of blog posts has gone through a lot of the things Henry and I have done together whilst I have been on parental leave, there has also been a lot of downtime together at home, the picture at the top of this post is pretty typical – Henry with a mouthful of banana after having smeared his Weetabix over his face! He may not even be one year old yet, but Henry certainly knows what he likes – banana is certainly a favourite. It is no wonder that his is a cheeky little monkey…