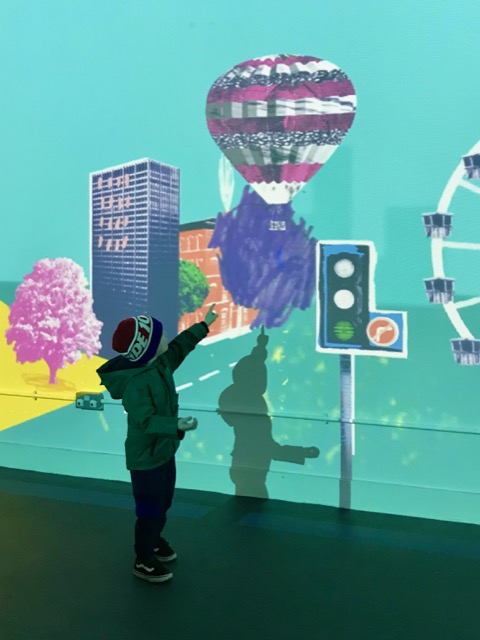 With my parental leave rapidly coming to an end, the weeks just seem to be getting busier – I do not know how I will be able to fit everything in when I go back to work! The week started with my Mum and Dad coming to visit/look after the boys. Before they arrived I managed to get Henry to take a few steps whilst holding on to his hands. Unlike Owen, who would walk everywhere when I held his hands, Henry takes more convincing. I have found the best way is to be on my knees facing him, holding his hands and shuffling backwards as he walks towards me. I had a few jobs to do in my garage, mainly clearing out the BMW, before trading it in. Owen and my mum had their wellies on and were splashing in puddles, until Owen managed to fall in the mud, needing a trip straight to the bath! After lunch, and all cleaned up, my dad and I took Owen to Coventry Transport Museum to check out the Taking Flight exhibition. Owen had been hoping to see some Spitfires, as I have been telling him about them whenever we drive past Spitfire Island on the way back from his Ready Steady Riders sessions, but unfortunately he had to make do with jet engines. There was a cool installation where visitors could design their own flying machines on to pre-made templates, which were then scanned and added to a skyscape projected onto the wall. The different templates gave different flying characteristics – Owen based his on a hot air balloon, because "Daddy and Grandpa used to fly hot air balloons", which he made sure to tell everyone! I chose a rocket, because it looked like the fastest! Owen's balloon floated over the virtual landscape, which he really enjoyed, whilst my rocket-powered design whizzed past! We also checked out the rest of the museum, as even though we visit regularly there are often new exhibits. As we were walking out of the museum Owen said he wanted an ice cream – he has learned that we usually go to Sprinkles Gelato opposite the museum afterwards. Naturally neither Dad or I took much convincing…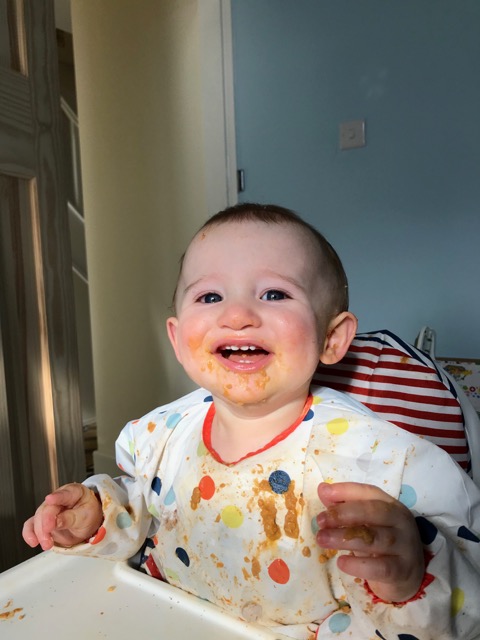 On Tuesday morning Henry debuted his newest skill – as Jen and Owen were leaving for work/pre-school he started waving! Then continued when I carried him through to the front room to wave out of the window. He is such a clever boy! We had a quiet morning at home, and just as I finished my morning jobs and was wondering if I had time for a shower Henry woke up from his nap. Walking in to his room I could smell that he would be needing a bath, so decided to risk having a bath with Henry – killing two birds with one stone. It worked surprisingly well, other than Henry tickling my feet the whole time! He loved splashing me and was contained in the bath whilst I got dried/dressed in the bathroom. Bathtime is Henry's favourite time of day, he loves being in the water! Maybe he was angling for another bath when he spread his lunch all over himself within minutes of being washed and changed into clean clothes… After a quick wipe down with a flannel, which Henry seems to hate, we went to the supermarket for the big shop, then collected Owen from pre-school. I made chilli nachos for dinner, one of my favourites, however Owen was not quite so sure – annoying as he loves eating tortilla chips and chilli separately.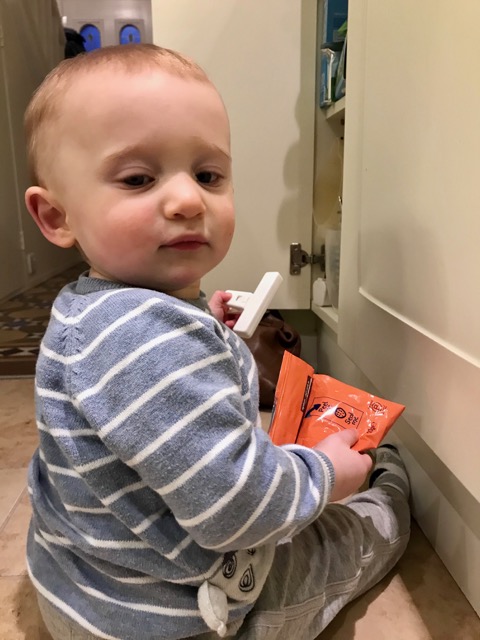 Wednesday started with a lie in – a rare treat! It meant that Owen was a bit late getting to pre-school, but as there was no Ready Steady Riders session (due to half term in Birmingham) we were in no rush, so I let Owen ride in on his pedal bike. Henry had some more tricks to show off this morning, first he started copying me when I stuck my tongue out at him. He threw my iPhone over the back of the sofa, then reached over to retrieve it, with the inevitable fall (with me holding on to his feet), he thought this was fun, so has kept trying to do it. I expect he has learned this from Owen, who needs to be reminded daily about the "no climbing on the sofa" rule. Then, when I was preparing his milk for the day, he crawled into the kitchen, made a beeline for the cupboard where we keep his food, opened it, grabbed his bag of baby crisps, opened them and started feeding himself! I was not sure if I should be proud at his independence, or shocked at his cheekiness! He repeated this stunt later in the day too, confirming it was not a fluke! Unfortunately he also tried it with our Royal Doulton crockery, breaking three bowls in the process – I seem to remember Owen doing something similar when I was on parental leave with him too. As a side note, I have enjoyed looking back through the posts I wrote in 2017 and seeing how similar the boys are, they seem to get up to the same tricks. I will try to do a comparison post with pictures of them at the same ages. The excitement continued when I took Henry upstairs to "help" me set up Owen's new airbed, in advance of our weekend away. The normal airbed mattress goes in an outer section, I assume to stop small children falling off, so when I had inflated this outer section, which looks a bit like an inflatable boat, I put Henry in it and added Owen's squishy sloth toy, creating a wrestling ring – Henry loved it (and was contained for a while for me to do some other jobs). After lunch Henry succeeded in one of his main missions in life – he pulled the drawstring out of one of my hoodies, afterwards he sat there with it in his hands and mouth with a look that said "so what do I do now?". Hopefully he is less successful in his other goals which are crawling out of the front or back doors, or rubbing his hands on the toilet seat. We had another shopping trip, to Aldi (pizzas, nappies and wipes), Screwfix (tools), B&M (Creme Eggs) and Smyths Toy Shop (birthday presents), Henry slept through most of the excitement though. At bedtime, Owen wanted to try out his new airbed by sleeping on it, it must have been comfortable as he managed to sleep through Henry screaming for a few hours! Usually Henry is a good sleeper, so this was very out of character, eventually we got him to settle down by giving him some Calpol.
With no swimming lesson this week, due to half term in Leicestershire, where the teacher lives, Henry and I had a quiet morning. The main thing of note was that Jen had bought Henry a special new reusable nappy, this was the first time that Henry had worn it – so of course he christened it with a mega poo! We had planned an early afternoon trip to collect my new van, but the van was delayed by a few hours. In some ways this worked well, as Henry had a really long nap – it almost got to the point where I did not know what to do with myself! Swapping cars coincided with the boys both hitting the weights needed to move up a grade of car seat – in Owen's case, I just needed to convert his seat from using the integral five point harness to a booster seat using the car's three point seatbelt. Henry was really good when we went to collect the van together, especially as there was a bit of waiting around due to my bank blocking the payment, until I had called them to release the funds. The downsides to the delay were that we missed picking Owen up from pre-school (he had been looking forward to a ride in the van) and we also hit rush hour on the drive home. As it would be Henry's last ride in his rear facing infant seat, I had him up front next to me (with the airbag turned off) which he seemed to enjoy!
On Friday we went on a road trip to York. Despite having just purchased the perfect vehicle for a road trip, we took Jen's Yaris. We did not take bikes etc, so all our stuff for a weekend away, including beds for the boys, just about fitted. Henry was promoted to the forward facing child seat – he had used it in my MR2, but this was the first time on a long journey. He seemed to like it and I appreciated being able to see his face in my rear view mirror. We were going to York to meet up with Jen's university friends and their families, it was great that all the children, ranging from ten years old to Henry, played together nicely. Although Henry struggled to join in, he seemed to enjoy being with all the others. The girls particularly liked having a baby to fuss over. I had to take Henry out for a walk, as there was too much excitement for him to have his afternoon nap. We do not see these friends as often as we would like, but it is always great when we do see them, especially watching the children playing together. When Jen first introduced me to her friends, the eldest child was about the same age as Henry is now. Now he is 10 and he is a nice young man, who was particularly good playing with Owen, showing him all of his toy cars etc.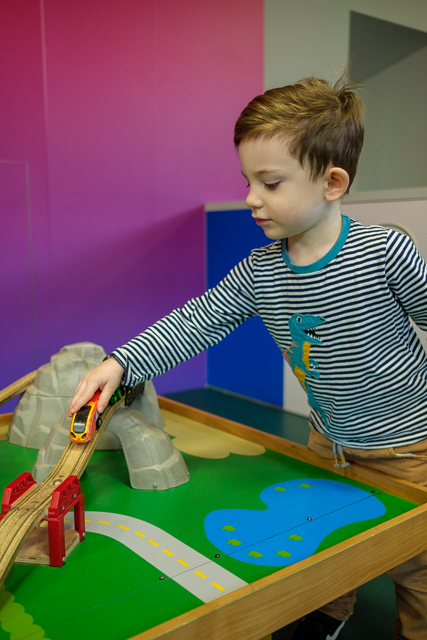 Despite allowing the boys to stay up later than usual, they still woke up early. I guess the unfamiliar but exciting environment did not help. After breakfast (and more playing for the boys) we walked to the National Railway Museum. Owen liked it, his favourite train was the recreation of Stephenson's Rocket, but his favourite bit was playing with the wooden trainset in the play area (despite having one at home). There was so much to see, but it was tricky with an excitable small boy in tow, however I am sure we will visit again in the future. From the museum we walked in to town for lunch – it seems like everyone had the same idea, so finding a table for eight was a bit tricky. When we eventually found a restaurant our food took ages to arrive, we were all ravenous by the time the food came out. The wind had really picked up when we were walking back to the car, I was finding it tough to walk against, so it must have been even worse for Owen! We were later leaving York than we planned and it was no surprise that the boys both slept for most of the drive back to Coventry.
Sunday was our first family trip out in the van! Jen and the boys had a first birthday party to go to in Nuneaton, from where they would walk to Jen's parent's house. I loaded my bike into the back of the van, and dropped them off on my way to Hick's Lodge cycle centre. Owen and I had been previously, but did not even make it to the start of the trails, so I wanted to do a solo trip to find out if it would be suitable to take Owen on his pedal bike. I had also been told that it still runs well in the wet, which is more than can be said for my usual trails in Coventry! I did a lap of the blue trail, which I found to be quite flat but with lots of standing water. The full trail was too long for Owen, but shorter trails could be made. Next I went for a lap of the green (easy) trail – not something that I would usually ride, but I wondered if it may be more suitable for Owen. However, I thought it was too easy/simple for Owen, the corners were all flat, rather than bermed – which looks less intimidating, but offer no support, making it trickier to carry speed. Not my usual Sunday ride, but given the recent weather is was nice to get out on the bike! After the ride it was good to be able to get changed in the back of the van, although I had not worn my waterproof shorts, nor packed a change of pants, so had to drive back with a soggy bottom. We spent the rest of the afternoon at Jen's parents house. Gill had made an amazing Victoria sponge and the boys got to play with their Auntie Heather. We had pizzas when we got home and Owen and I watched Guy Martin's Spitfire. Owen really enjoyed the programme, there was even a piece to camera filmed at Spitfire Island, which Owen really appreciated, because it was seeing the statue there that sparked his interest!