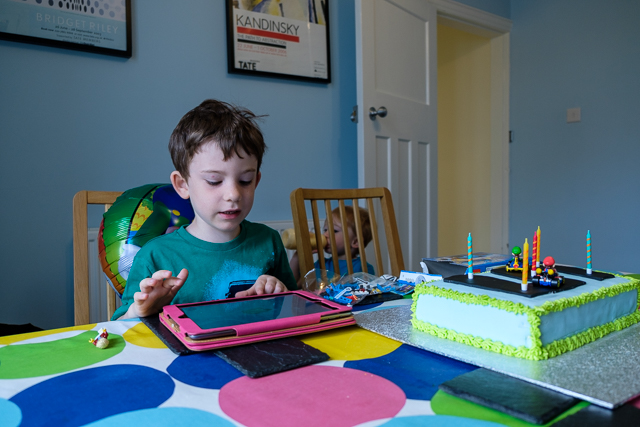 Today was Owen's fifth birthday. For once the boys actually gave us a bit of a lie in. Just before 7:00 we heard shouts of "it's my birthday", "I'm five" and "wake up Henry, it's my birthday". To say Owen was excited would be an understatement! Owen was a lucky boy and had lots of presents, the Lego being a firm favourite yet again (in the photo above he is using the Lego iPad app for instructions) and he spent the morning playing with some of his new toys.
Unlike last year, we were able to have a few of Owen's friends round for a small party in the garden. There were four of Owen's friends and a little sister who is friends with Henry, so it was good to watch them all playing together nicely. As it was the last day of the school holidays they were probably all pleased to see each other again. Jen had made another amazing birthday cake, this year with a Mario Kart theme.
After the party it was nice to hang out at home with the boys Nanny and Grandad. All the excitement had tired Henry out, so whilst he had a nap and Owen played trainsets with his Grandad I managed to see to a few jobs in the garden. With all the excitement, the boys ended up having a busy day, so I think Owen will be going back to school for a rest tomorrow, before birthday part two, with Grandma and Grandpa tomorrow!