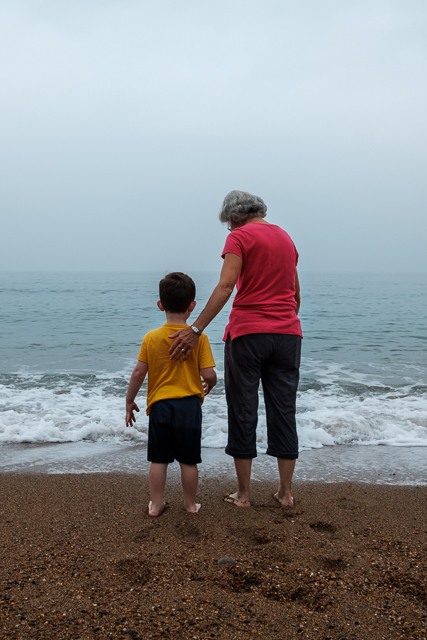 This time last year, we were on holiday in Dorset, with my parents, brother and sister in law. For some reason this post has sat in my drafts since then, so before we head back to Bluestone for our 2021 summer holiday I though I had better publish the post from our 2020 holiday…
Even before "the virus" our summer holiday plan for 2020 had been a staycation – a trip to Dorset with my family. After our trip back to Bluestone earlier in the year had to be cancelled, we were glad to be able to get away at all. This was exactly the sort of trip I had bought my van for, and we were glad of all the space – packing was a lot easier than for our trip last year, despite taking way more stuff. Given the rubbish weather and traffic on the way down, we gave up on our plan to stop for a bike ride en-route and ended up having a van picnic. The photo below, taken on my iPhone on our picnic stop is one of my favourites of the year. It was a long drive, but the boys were good, and it was totally worth it when we saw the lovely house that my parents had booked for the week and we tucked into our fish and chip dinner.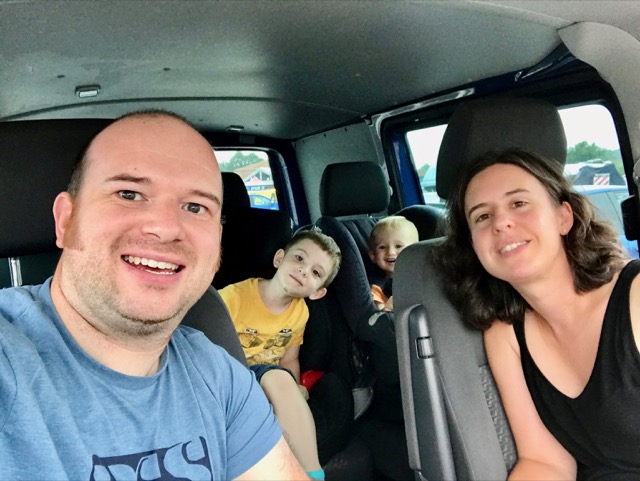 The house was in Burton Bradstock, and we spent the weekend around there, checking out the beach – which the boys loved. I even went for a swim in the sea! I also got out for my usual Sunday morning bike ride. Not knowing the area, I had planned a route on Komoot. It was not great, the bridleways I followed existed on the map, but they were not trails, so it was a bit of a slog riding across fields. Then the path I was following disappeared, the gate between fields must have grown over, as I spent ages searching round a field for a way out. It was also raining. Whilst I was out, my parents and Owen had gone for a walk along the coast path to West Bay, the next village along from Burton Bradstock – it was a long walk for Owen, including some steep climbs and descents, and he had done really well getting there, but my Mum did not think he would make it back. So when I got the call to come and collect them in the van, I did not feel too bad about abandoning my planned route and and heading straight back to Burton Bradstock along the mostly flat valley road. It was probably my hardest ride of the year, but still good to get out somewhere new.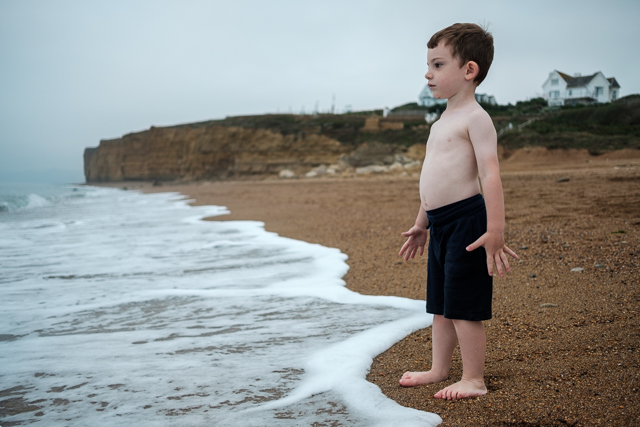 After collecting my Mum and Owen from West Bay, we all went to the beach again, as the weather had improved slightly – although, as you can see from the photo at the top of this post, it was not exactly sunbathing weather! I made the most of the "atmospheric" light to take plenty of photos. We also used a big flexible builders bucket to make a giant sandcastle! As always, the boys absolutely loved the beach – to them it was like being in a limitless sandpit!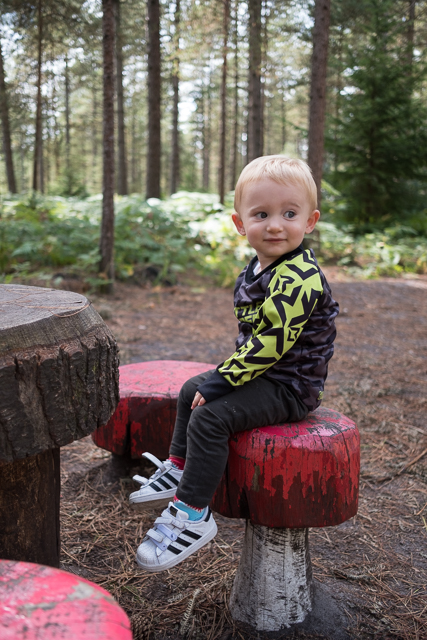 After a few days with the whole family at Burton Bradstock, the four of us decided to get in the van for a day out. The plan had initially been to have breakfast and then a bike ride at Symondsbury Estate. We had a nice breakfast, albeit somewhat spoilt by Owen getting stung by a wasp. After breakfast we looked around the shops, and at the animals, the pigs being our favourite, but ultimately decided that the bike trails there were unsuitable, the bike park was closed and the mountain bike route was too long and hilly for Owen. Our back up plan was Moors Valley, which I have covered in another post. We enjoyed our morning at Symondsbury and would definitely go back if we are ever in the area again.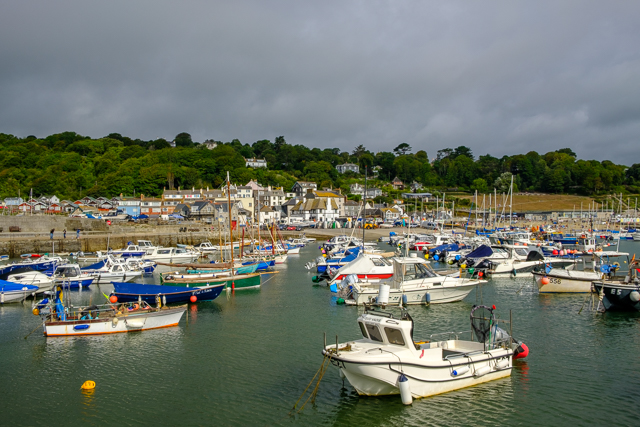 We also had a trip to Lyme Regis, which felt a lot more "traditional seaside town." The boys enjoyed another beach to play on, whilst I walked around "The Cobb" (ancient harbour wall) for some photography. We also had ice creams and Cornish pasties. We did look at heading to the fossil beach, but with two tired boys, we decided it would be better to head back to the van to give them a chance to nap, as we drove round to the other side of the fossil beach at Charmouth. Owen and I tried to find some fossils amongst the millions of pebbles on the beach, but I am convinced that people who know what they are doing would have already got the good ones before the hoards arrived! So instead we bought one from the gift shop, after eventually managing to convince the boys to leave the beach! That evening, my parents looked after the boys, whilst Jen and I went out for dinner at the village pub with my brother and his wife. The food was good and it was nice to spend some time with them, as they would be driving back to Kent in their Morris Minor the next day.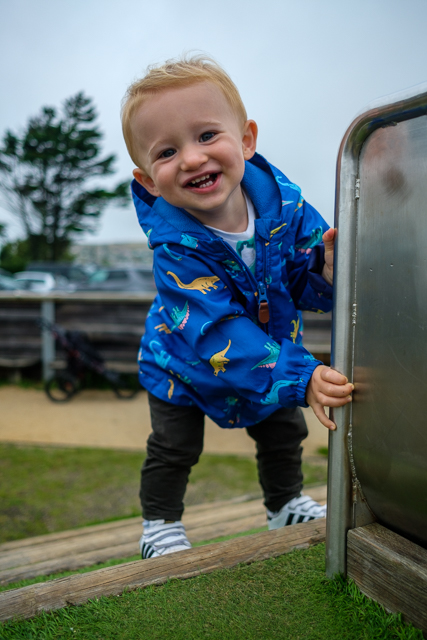 Simon and Sophie chose a good time to leave Dorset – the weather had turned for our last few days! It would not be a British summer holiday without some rain, but as I braved the rain for a solo clifftop walk, I could not help but feel sorry for the fields of campers that I walked past, in the knowledge that as wet as I was, I would be returning to a warm shower! We did venture over to West Bay and had a lovely ice cream at Cherries Ice Cream Parlour, which almost made up for the rubbish weather! Along with the ice cream, my highlights of the day were: parking my van in a line of other VW Transporters, and taking one of my favourite photos of Henry, who was not bothered by the weather!
Our last full day started with an ill-advised trip to the beach, the rain had stopped, but the sea was particularly rough. Rough enough to knock my Dad over! Fortunately he was able to get out, as later on we saw on the news that there had been people swept out to sea in that area. In the afternoon, the boys stayed with my parents, whilst Jen and I went to the beach cafe for afternoon tea – something we had been looking forward to all holiday! We walked back along the cliff top. Once again, a few days later we heard that the cliff we were walking on had collapsed – it does make you think about the power of the sea/nature, that even in the summer a popular holiday destination can still be dangerous.
On the way home from Dorset we stopped at Ashton Court in Bristol to break up the journey with a bike ride. Owen rode really well for the most part, but my lasting memory is being last in line, behind Owen and Jen, with Henry on the front of my bike, and seeing Owen expertly ride down some rocky drops, Jen stopping before the drops as she was unsure about riding them, then just hearing a wail as Owen sailed over the top of a berm further down the trail. Fortunately he was not hurt, but it served as a reminder to both of us that his confidence exceeded his skills on the bike! Given how much his riding has improved since then, we will have to get back one day so that he can conquer that section.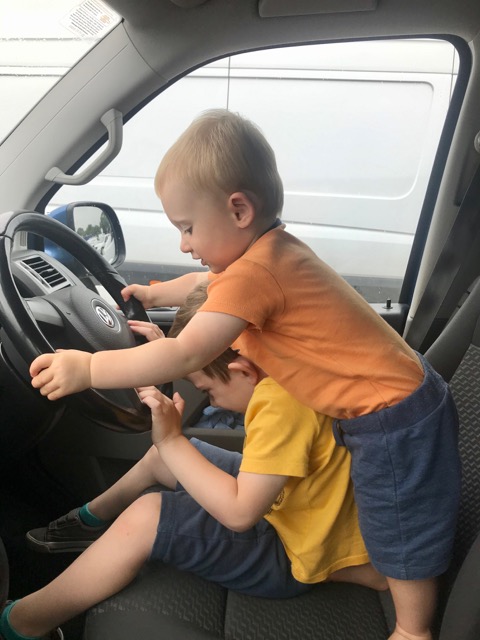 I enjoyed our trip to Dorset, and despite the significant increase in people holidaying in the UK, it did not feel as busy as Devon or Cornwall, even away from peak season. We did not even scratch the surface of the activities on offer, so I would be more than happy to pay a return visit. Possibly staying further inland, as despite being in a coastal village we were still a long way from the sea – and up a huge hill. It was also good to get away with my extended family, the boys see their grandparents regularly, but rarely get to spend quality time with their uncle. As our first big trip in the van, I am pleased to say that it worked really well, naturally we managed to fill the cavernous boot, but were still able to get the bikes out en-route. Having space to move around inside was especially handy when hanging around waiting for the rain to stop. In fact, I am pretty sure that it was this trip that started Henry's obsession with "driving"…