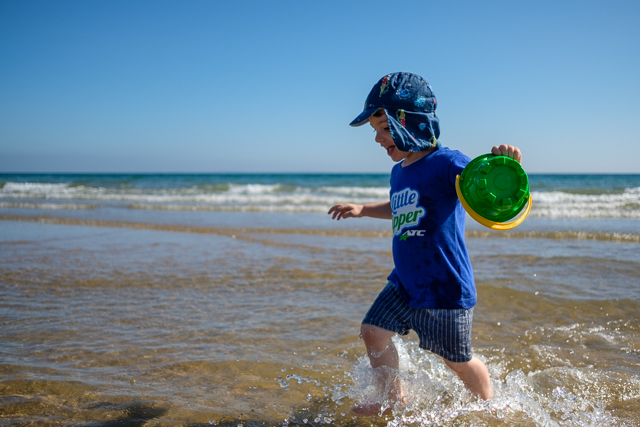 I have been visiting Croyde in North Devon annually for ten years, but last year felt different. Jen and I decided that in 2019 we would like to try somewhere new for our family holiday. As we would be travelling with a six month old baby, we also wanted to go somewhere that would be easy, with lots to occupy the boys, especially if the weather was bad! A few people had recommended Bluestone in Pembrokeshire, a part of Wales I had never visited. It seemed to have plenty of onsite activities and was fairly close to the seaside – so we booked up!
The drive from Coventry to Pembrookshire is about three and a half hours, roughly the same as to Croyde – easily the longest car journey of Henry's life. I planned our first stop at Flyup 417 Bikepark, as I had been wanting to take Owen to the indoor pump track there for a while, which I covered on another post. The rest of the drive went well, with a brief McPitstop to coincide with Henry's next feed, and we arrived at Bluestone late afternoon, in time to settle into our little upside down house (bedrooms downstairs/living area upstairs), check out the resort and get fish and chips for dinner.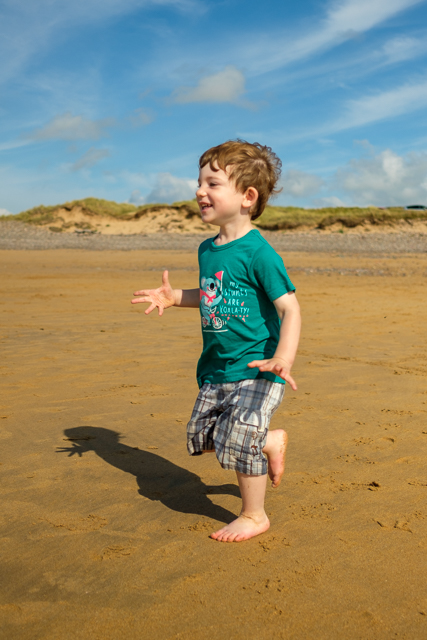 Our first full day in Wales looked like it would have the best weather, so we headed to the beach! Barafundle Bay had been recommended, but when we got there both boys were asleep and we thought that the long walk from the car park may have been a struggle, so we drove to Freshwater West, a surfing beach, instead. Owen had a great time paddling in the sea and building sandcastles, while Henry hid out in our beach tent and tried to eat sand. We finished the afternoon sat in the dunes over looking the beach eating ice cream sundaes from Cafe Mor (I would love to go back and have lunch there).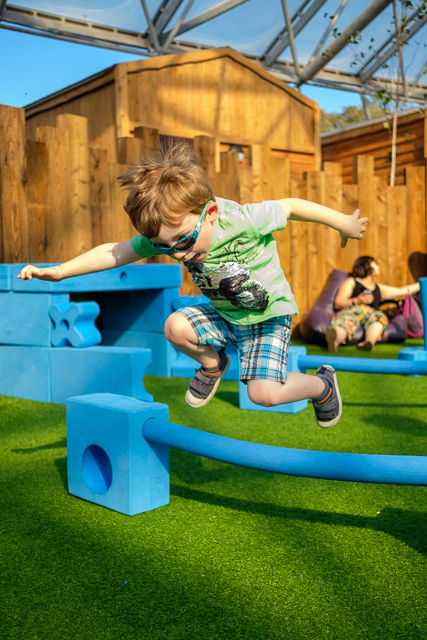 On Sunday morning I managed to sneak out for my usual Sunday morning bike ride, but Canaston Woods, next to Bluestone, was more fun than my usual trails in Coventry! Even better, I met Jen and the boys in the Bluestone village for a post-ride milkshake. The afternoon set the tone for the rest of the holiday – we visited the Serendome, Bluestone's large undercover activity area. Owen absolutely loved both the sand play and the building blocks area – we spent a lot of time in the Serendome, filling buckets of sand or building assault courses, robots and dens with the building blocks!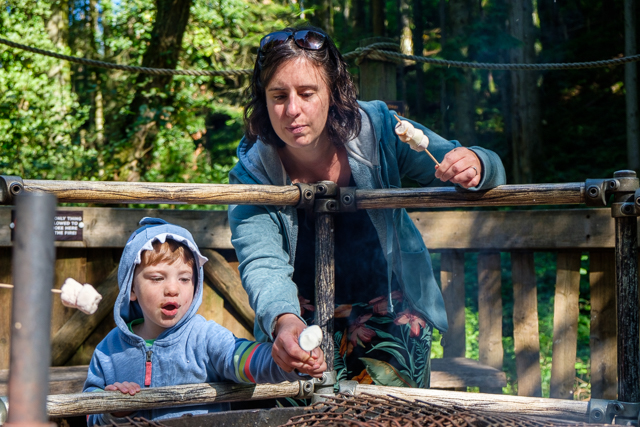 The other main attractions at Bluestone were the Adventure Centre, which had a couple of softplay areas, including one for babies, which Henry enjoyed, and the Blue Lagoon waterpark, which we visited a couple of times. There are a selection of restaurants in the village, but my favourite was Camp Smokey, a Wild West themed shack at the bottom of a ravine specialising in BBQ food and with a fire pit for toasting marshmallows. The best thing about the resort was that, other than checking in/out, it was car free! You can hire golf buggies but we just walked or cycled everywhere – with Owen either on his Strider or on the MacRide. There was an autumnal theme to the resort when we were there (mid September), with Halloween themed scarecrows around the resort – with a challenge to find them all – Owen particularly enjoyed this. I think there was also a festival/parade linked in to it too. Pembrokeshire Wakepark is right next door to Bluestone, so I managed to fit in a wakeboarding lesson, which I will write about in another post soon!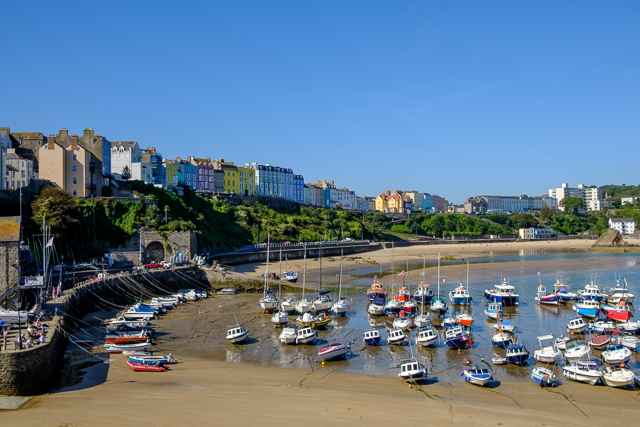 We could easily have spent the whole week without leaving the resort, however it would have been a shame to visit Pembrokeshire, which is a really beautiful part of the world, and not explore further! So, on our last day we visted Tenby. The weather was lovely, so after exploring the old town, we grabbed some food from The Stowaway – a funky underground cafe/takeaway, and sat on Castle Hill for a picnic with a seaview. Then we went to the beach for more paddling in the sea, digging in the sand and eating ice cream bought from a Land Rover ice cream van! We all had a great time in Tenby and it is definitly somewhere we would like to visit again! On the way back to Bluestone we stopped in Narbeth, however the boys were both asleep, so I stayed in the car with them whilst Jen had a quick explore.
We had such a great time that it was disapointing to leave. To lessen the blow I had planned an exciting stop on the way home – at the Forest of Dean, which I have already posted about. We also took the "Head of the Valleys" road, rather than the motorway – not much longer, but far more interesting. Henry was not pleased to be heading home, it felt like he was screaming most of the way back from Ross-on-Wye.
I am a bit late publishing this post – life has been busy! However it has given me a chance to reflect on the holiday more than if I had blogged whilst I was away. It was great being able to spend time together as a family of four, with very little planned, nor needed to be planned. Travelling with two young children can hard, so I am glad that we had plenty of options, even if the weather was bad, mostly within a five minute cycle! Jen and I also had a good time, the boys being occupied goes a long way to achieving that, but we also got to do some exploring, fit in some training and ate some nice food. After wrangling the boys all day I was happy to chill out in our little upside down house in the evenings, sorting through my photos from the day etc before turning in for an early night.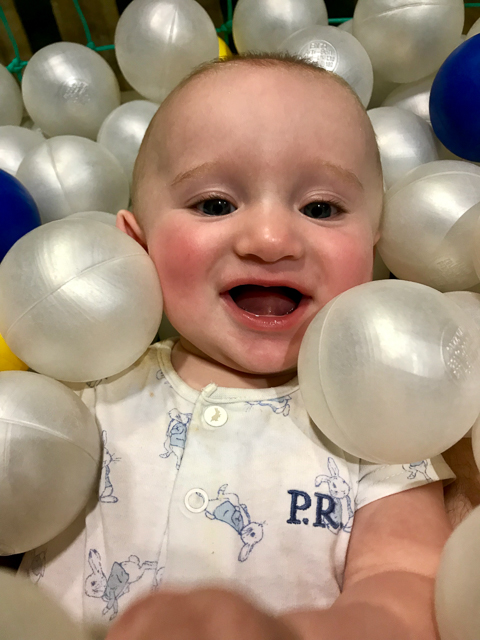 I think this will be the first holiday that Owen remembers – he had such a great time, and regularly asks when we will be going back to "our holiday house with the sand play". At six months old Henry just went with the flow, he did hit one developmental milestone while we away though – he rolled over for the first time, then quickly realised that he could link rolls together to traverse a room! It will be good to go back to Bluestone again when the boys are slightly bigger and can do more of the activites, I think Owen will also like the familiarity of it. There is also a lot more that I would like to see in Pembrokeshire, so I have a feeling we will be returning…