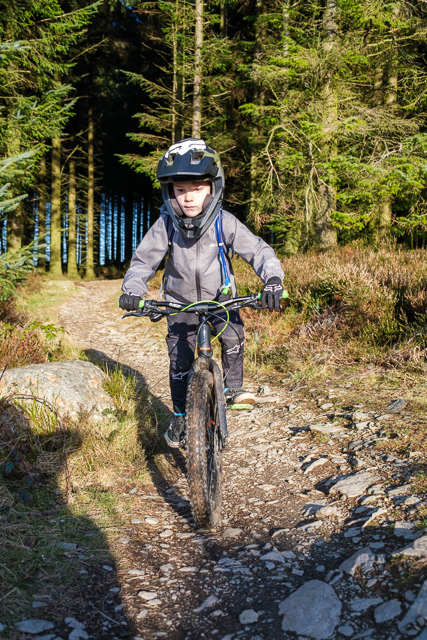 Owen and I were meant to go for a long ride at Sherwood Pines today, as Owen's goal for 2023 was to better his previous longest ride (16km). We had decided that Sherwood Pines would be the sweet spot of fun, but without too many hills. However, plans changed, and I needed to collect a Facebook Marketplace purchase from near Stafford, which is in the opposite direction for us, we could have gone to Cannock Chase, but fancied somewhere new for Owen, so we decided to continue northwest to Llandegla. After a long drive we arrived at Llandegla around lunch time, so had a quick ride around the skills area, green trail and pump track before getting lunch at their excellent cafe – bacon sandwich for Owen and a burger for me.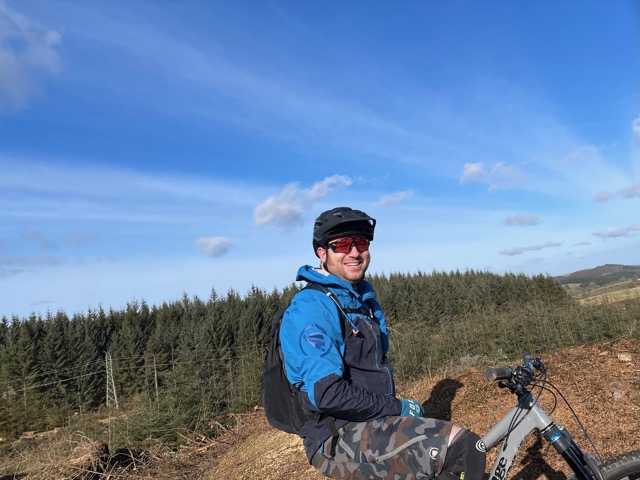 The real fun started after lunch – we headed back up the climb past the skills area, and where we had turned off for the green trail. As Llandegla starts with a long climb, we took it easy with plenty of stops, to admire the view and take photos, such as the one above that Owen took on my iPhone. A highlight was when we were able to watch a forester machine chopping down trees and cutting the logs to size – the impressiveness of the machine was only surpassed by the obvious skill of the operator, stacking the logs by size as they went. Each giant tree took no more than a couple of minutes to cut, process and stack. What really struck me on the climb was how different everything looked from my last visit in 2019, it is a working forest, so some areas of trees had been felled, and in others, the trees had grown loads, it gave the ride a completely different feel.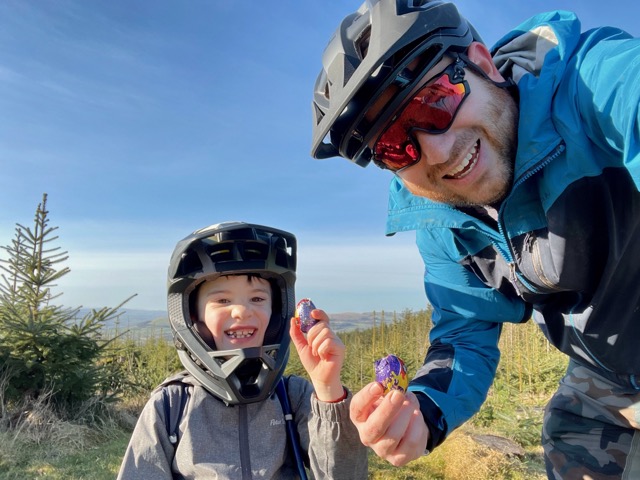 At the top of the climb (519 metres above sea level, having started at around 350 metres above sea level) we treated ourselves to Creme Eggs – we had earned them! However they were quite hard to eat, as although it was sunny, it was a cold day and they had gone hard in my bag. Then we dropped in to the "Rollercoaster" traverse, which is shared with the main red-graded trail, before turning off down "True Blue", what was already one of my favourite bits of trail anywhere was further improved by being lined with "Christmas trees", Owen said it felt like we were in a video! It is safe to say that he also enjoyed this section of trail!
I felt a bit guilty after the next few sections of trail, as I had forgotten that there were more climbs, after the long initial climb – I always get caught out by this when visiting Llandegla, but Owen coped really well. As we made our way back to the van it felt like we were climbing more than descending, but as we were drinking our hot chocolates at the cafe after our ride, Owen told me that it was one of his favourite days on the bike ever! I was so proud of how he had ridden, not only on the climbs, but also on the fairly rocky downhill sections, which could not have been east on 20" wheels. As a bonus, it was also his first 18km ride, even though we had not set out for him to do his longest ride, and despite the climbing, he smashed his 2023 cycling goal!