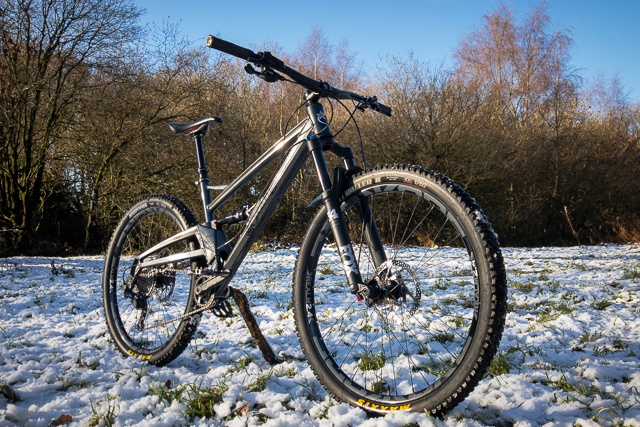 I came off my bike at Cannock Chase last month, aggravating an old knee injury (ruptured ACL), which has kept me off the bike for six weeks. I kept myself busy with some geeky projects, exercises from the physio and servicing my old hardtail, but what I really wanted to be doing was blasting down some single track on my bike. I had decided that I would wait for the OK from the medical professionals before restarting any exercise, unless it dragged on past Christmas…
With the festivities out of the way, and no update on even when I'd get the results from my MRI, I decided to head out for a gentle local ride. The only slight problem was that snow from the day before was still on the ground and there had been a hard frost. However, it was a lovely sunny winter day and it would have been a shame to waste it by staying inside. Usually I would have taken my old hardtail for this sort of local ride, but despite having had six weeks to work on it, it was still in bits in the garage, awaiting some spares – but that is a whole other story. In any case my Orange Four was probably more suitable for this particular ride, with suspension to reduce the stress on my knee and knobblier tyres for the muddy trails. Who cares if I was totally over-biked for a gentle ride around the city!
It felt good to be back in the saddle, even just riding along the lane behind my house, crunching through frozen puddles. However, I knew the first real test would be the climb up the bridleway next to the Co-op, known as "Dog Poo Alley". As I got into the climb I could feel a slight reminder from my knee that it wasn't right, but I wouldn't describe it as pain. I was more concerned by my legs and lungs! A combination of six weeks off the bike, freezing temperatures and lack of warm up before a climb meant that both my legs and lungs were burning – on a climb I usually breeze up! The low winter light coming through the trees in Hearsall Woods necessitated a stop for photos – I still need to get my Four into the GMBN Bike Vault with my Vitus hardtail. I then had the brilliant idea to check out a clearing in the woods, which I hoped would still be covered in snow – as you can see from the photo at the top of this post, I was in luck! Riding away from the clearing I found a fun bit of trail with roots and berms – I couldn't believe that I'd been missing out this section for years.
The next section of my ride was uneventful. At Canley Ford I opted to miss out the "Milkbar trail", as it is quite rooty and twisty, so I stuck to the tarmac lane. My plan had been to ride round the Memorial Park, as an easy way to add some distance to the ride. When I got there the perimeter path looked like an ice rink, so I decided that the muddy trail through the woods would be safer. I haven't had much luck with this section of woods this year – a tree fell onto the main trail in the spring and thus far I haven't found a way through without having to get off the bike and climb over fallen branches – this ride was no different.
After crossing the Kenilworth Road, I resisted the temptation of the dirt jumps and followed the trail to Earlsdon Avenue South, where I had to stop for a breather. I was really feeling the six weeks I'd had off the bike. From there it was road to Hearsall Common, where I had fun breaking through the ice on some frozen puddles – something that never gets old. Then back through Hearsall Woods and down Dog Poo Alley. As I was near the end of my ride, I decided to drop my seat and really push on the pedals to see how my knee would react. It coped, but it wasn't happy about it, most of the ride my knee felt fine, but when I was standing on the pedals it didn't feel right. It didn't hurt, but it was more a reminder to not push things too quickly.
I rolled back home, covered in mud, but happy that my knee had held up and that I'd survived the icy conditions. It is also good to know that my knee is recovering, I won't be heading back to Cannock Chase to conquer the rock garden that caused the injury for a little while, but hopefully I should be able to get out and rack up some base miles to get my fitness back to where it was at the start of November.