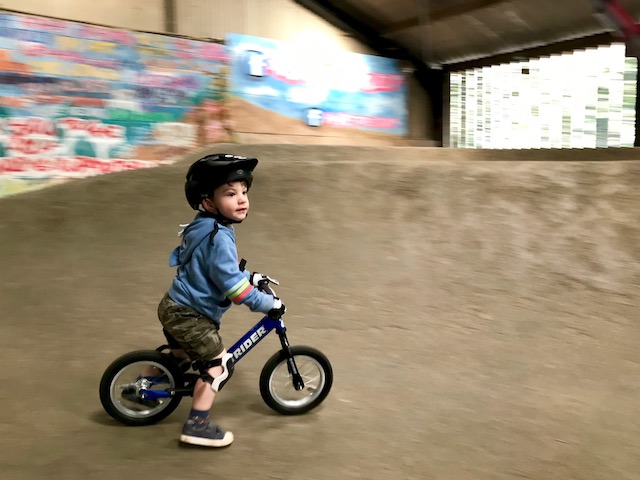 Since my first visit to 417 Bike Park I have wanted to bring Owen to their pump track barn. I decided that it would make a good pitstop enroute to our family holiday in Wales, Owen and I could burn off some energy and Henry could have some milk, get out of his car seat and spectate.
The pump track is a full asphalt Velosolutions track – pretty much the best you can get! It is also under cover in a barn, with steet art on the walls and a bike shop above – I find it hard to imagine a better pump track!
I led Owen round his first few laps, to make sure he knew where to go, the only section he struggled with was getting the line into the big bowl/180º berm. He was taking the correct line out of the previous (right hand) corner, which was putting him into the centre of the bowl, when he should have been over to the right to take the high line.  He got there with some coaching though.
With Owen sorted, it was time to get on to my bike. I had never ridden a proper looping pump track before, only BMX style ones, which have a defined start/finish. However on this track once you get going you can keep going round and round – until your legs turn to jelly, or you catch up with your tiny riding partner! Fortunately Owen and I had the track to ourselves so we could go at our own respective paces. I felt like I was getting good speed out of the main berm, along the full length of the barn to the first lefthander, which I could then carry through the next few turns, before needing to brake for the fourth corner. The next two corners were righthanders, with the first almost immediately after the previous lefthander, with a hump in the middle – this was the section I found trickiest. Timing pumping and changing direction correctly takes more coordination than I have on the bike!
All of these back-to-back laps was also hard work, at least for me – Owen was fine! Every time I stopped for a breather, or to take photos, he would shout "Daddy, follow me!" Each time I started with Owen, it would take me two or three laps to catch him back up, athough passing was difficult with the back-to-back corners and Owen's unpredictable lines through them. About halfway through our hour-long session, Jen and Henry returned from the cafe to watch – I took the opportunity to grab some snacks from the car to refuel and rest my legs, for a final twenty minutes on the track!
As the end of our session was approaching I challenged Owen to another race – except that when I caught him, that would be the end of our session. However, he was enjoying himself so much he snuck in an extra few laps! I have no idea where he gets the energy from, as I was shattered! Even Jen thought that the pump track looked fun, which is good because before long I am sure that Henry will be riding too and it would be great if we could all ride together!
Before we left the bike park, Owen insisted on being taken to the bike shop – what have I created? It did mean I got to see how the smallest Fox Racing gear would fit him, unfortunately for him, but not my wallet, he still has a bit of growing to do! I was also able to show him part of the Blue Racoon trail, which hopefully he will be able to try out once he has mastered riding a bike with brakes. In all, 417 Bike Park was the perfect place to break up our journey and burn off some energy – Owen slept like a log for most of the rest of our drive to Pembrokshire. It worked so well that we planned a pump track stop on the way home too…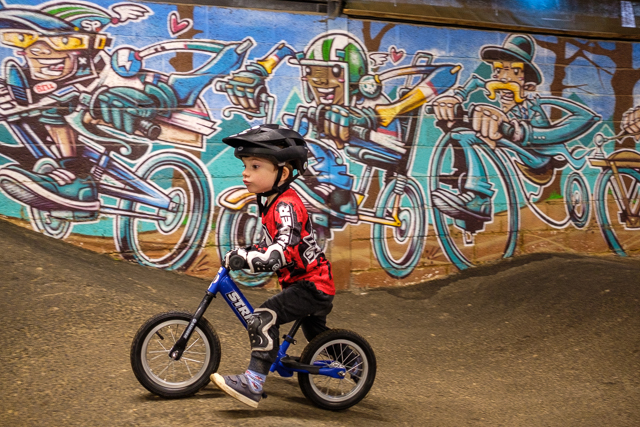 Whenever I mention going to a pump track Owen always asks if it is "the indoor one" or "the one we went to on holiday", so when a Little Rippers MTB Facebook group meetup at Flyup 417 Bike Park was suggested, Owen and I got our names down. In the end it was just us and one other little boy, on a pedal bike rather than a balance bike (his parents were there, but not riding), but Owen had a great time whizzing round the track again, especially with someone nearer to his speed to chase! Once again it was difficult to get Owen to leave the track after our session was up, especially as there was another rider on the track who did not have to stop yet. Eventually I convinced him that we needed to look for some new gloves in the bike shop. Owen loved being at the bike park, saying hello to everyone (and telling anyone who would listen about his new wheels), looking at all the bikes and watching people riding in the dirt jump barn. An hour each way in the car seems slighly exessive to ride at a pump track, but it is an extremely good pump track and Owen absolutely loves it! I am sure we will be back over the winter – in fact I have just mentioned to Owen that I am writing about "the pump track barn" and he said "we have been two times, can we go again?"