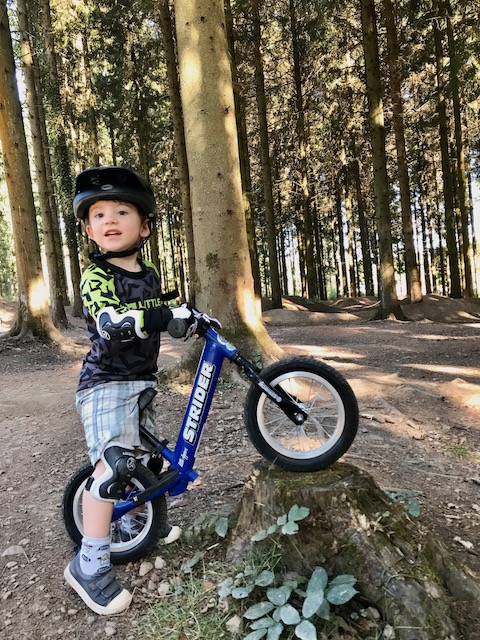 After the success of our stop at the Flyup 417 Bike Park pump track on our way to Bluestone in Wales, we decided to have another pump track stop on the way home – at the Cannop Cycle Centre in the Forest of Dean, which is one of my favourite places to ride. We got there in time for lunch at Pedalabikeaway – their wild boar burgers are amazing! We also had a look around the shop, which has a great range of kids MTB kit.
After lunch Jen and Henry went for a walk, whilst Owen and I had a quick session on the pump track. To get to the skills area where the pump track is located meant riding along the first section of the blue Verderers trail – which was Owen's first time on a proper mountain bike trail! It is only a tame section of trail, but Owen coped well on his tiny Strider bike.
At the pump track Owen got stuck in straight away, lapping the track, only stopping to ask me to chase after him – I found that if I gave him a half lap head start I would just about catch him up by the last corner. We had the track mostly to ourselves, but occasionally people would join us and Owen got quite a few compliments on his riding.
At one point Owen got a bit too cocky and had a big crash going in to the first berm, so we decided that it would be a good time to progress to the jump line in the skills area, well the bottom part of it anyway, which was just one table top into a berm. Owen enjoyed this line, as it was slightly bigger than the pump track, but still within his ability.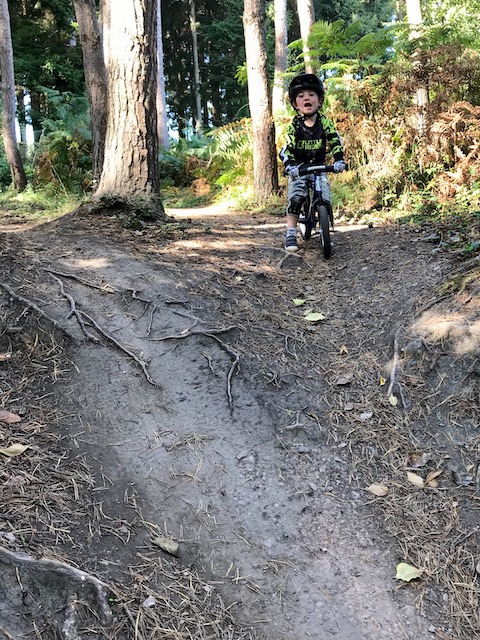 After a few laps of the jump line it was time to head back to the car – which was via a red graded trail – a level of difficulty up from the blue trail we had ridden to get to the skills area. The first section was flat, but quite rooty and rocky – easy on a full size mountain bike, but not on a balance bike with 12″ wheels! After I had coached Owen through this section, which he handled really well, we pulled over to let another rider past – it was @pinkmtbr, who I follow on Instagram. She stopped to give Owen a high five for his great riding, which was really nice! The last few sections of the trail were quite steep, but short descents. I rode ahead and waited at the bottom each decent so I could direct Owen down the smoothest lines – he coped brilliantly and was so pleased with himself having made it to the bottom!
As with Flyup 417 Bike Park, the Cannop Cycle Centre is a great place to stop for lunch and a pump track session to break up a journey. Owen and I have watched a few GMBN videos filmed there, and Owen always recognises it and asks when we will be able to go back. He is really going to love it when he can start to explore the trails as well as the pump track.