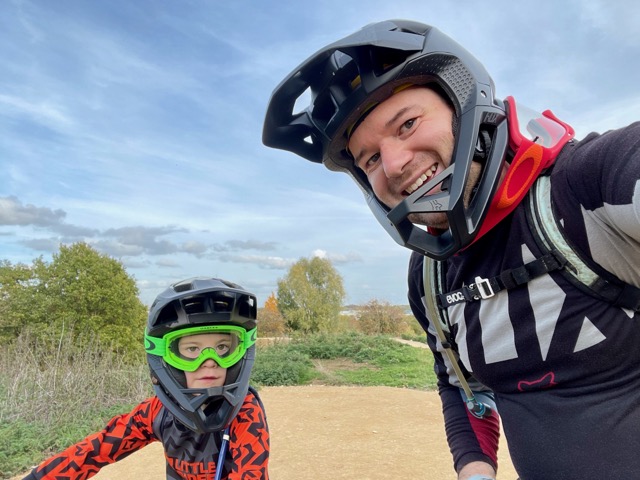 My old hometown of Northampton is more famous for motorsport than mountain biking, so I was surprised when I heard rumours that a disused golf course was going to be turned into a bike park. Naturally, once it had opened I had to check it out!
I decided to skip the opening weekend as I thought it would be too busy, so I rode at Cannock Chase instead. I had a great ride, checking out some new and resurfaced sections of trail, but I also noticed some crunching noises from my bike. Given that I have only been riding my Clockwork Evo this year, and focusing my workshop time on rebuilding my Four, some wear and tear was inevitable. The reason I am covering this will become apparent soon…
I knew the chain was worn but was sure that the noises were not down to the chain. Stripping the bike down revealed the problem – the pawls on the freehub were decidedly worn. This was not a huge surprise as these were the original wheels that had come fitted to my Orange Four in 2017, and have probably covered the best part of 5,000km. Unfortunately, even the guys at Albany Cycles could not source spares, nor was it worth replacing the hub on what are fairly cheap rims, so it was time for a new wheel. In a reversal of fortunes, I had recently built up a suitable wheel (DT Swiss XM 481 on a Hope hub) to go on my Four rebuild, so I built the Clockwork Evo back up with that, as well as a new chain and gear cable. At lunchtime, on the day I had promised Owen that we would ride at Northampton Bike Park…
I got the bike sort of working, with minimal brake rub and gears very roughly indexed, loaded up the van and set off for Northampton with Owen. Pulling up to a golf course, I was concerned that the sat nav had got the location wrong, but eventually, we saw a load of VW Transporters and people wearing Fox Racing kit at the far end of the car park – we were in the right place. Looking around it was very easy to tell who was there to ride bikes and who was there to play golf – it was a bit surreal. We quickly got kitted up and rode through the tunnel at the back right of the car park to the trails.
We started on the easier "Eastside" trails, which we pretty much had to ourselves. It was only a short climb up to the trailhead, and we dropped straight into "Uncle Fester", a flowy blue trail that spat us back out at the base of the climb, ready for another lap. After stopping for a selfie, Owen set off down "PDQ". I let him get past the first few berms, then followed, only just catching him by the bottom of the short trail. Next, we rode over to the dual slalom track, which upped the difficulty with bigger berms and jumps to negotiate. It was fun being able to race each other down the parallel trails – on the first few runs I gave Owen too much of a head start, so on our third run down we started together and it felt like I finished further ahead of him than I had been giving him for a headstart. Maybe it is easier to be the leader, rather than the chaser…
After the dual slalom, we went to the "Westside" trails – the main attraction. These trails were busier, with a constant stream of riders on the push-up trail, although Owen held his own mixing with all the big riders, looking the part with all his kit on. After waiting for our turn, we pushed up the top of the roll-in and set off down the "Blue Nun" trail. It started off pretty flat, then a short climb, before left and right berms dropped us into the main field – at this point, a huge smile spread across my face, as all I could see were mountain bike trails, with people having fun on them. "Blue Nun" was another step up in technicality from the dual slalom trail, but Owen coped well and really enjoyed it, to the point he just wanted to go straight back up for another run. However, before we went up we did a lap of the skills area, as we passed it on the way up.
We rode back up to the top of the trail and decided to ride the "Mother Superior" jump line, which forks off from "Blue Nun". Owen was ready before me and raring to go – he dropped in whilst I was still faffing. And that was where it all went wrong. I dropped in down the roll-in and got on the pedals hard to catch him up. My chain slipped, which threw me off balance on a big pedal stroke and I hit the ground. Hard. Fortunately, nothing seemed to be broken, but Owen was riding off into the distance – so I had to shout for him to stop before I could check myself and my bike over. Of course, all of this happened in front of a big crowd waiting to drop in. I asked the next riders down to let Owen know that I would be down in a few minutes and checked my bike over. The chain was stuck between the cassette and the frame – limit screws not set correctly? Or hub spacer missing? The rear brake lever had also shifted around, but I was able to ride to Owen, and down the rest of the trail.
I let Owen do some more laps of the skills area whilst I sorted my brake lever and gave the rest of the bike a more thorough check. Owen loved doing laps on his own, chatting to people in the queue, probably telling them about his dad crashing… We did a few more laps, although I took it easy, as I did not want to risk putting too much power through the pedals. Owen had a close call on one of the "Mother Superior" jumps, the lip was steeper than anything he had ridden before, and Owen came down on his front wheel – I thought that he was going to go over the bars, but he managed to ride it out.
Owen had said that he wanted to try the "A45" red-graded trail, but after our incidents on the blue trails, he sensibly decided that we would save it for our next visit. And there will be a next visit, as despite my fall, we both had a great time and really enjoyed the trails.