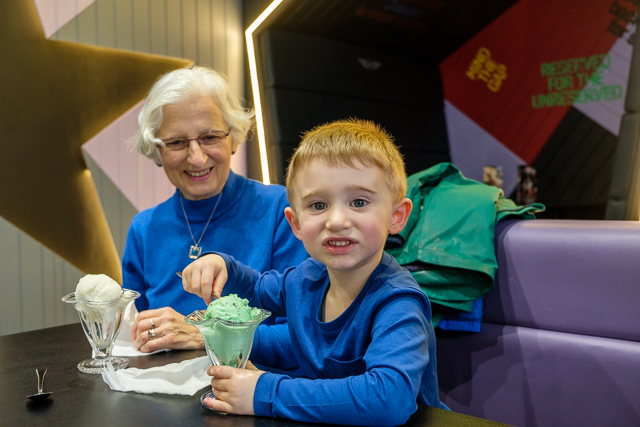 Happy New Year!
2023 did not get off to a good start for me – being woken up by Henry before 8:00, then getting punched in the eye for not being his favourite parent – it was Jen's turn to have a lie-in, which Henry did not appreciate. After that Hen went back to bed in a sulk to wait for Jen to get up.
Once again, Jen and I saw it the new year at home, but this year Owen managed to stay up for midnight with us! Owen and I have been working our way through the Star Wars movies, so watched Return of the Jedi – I was impressed at how he was able to stay awake and pay attention to such a long film. The film got us most of the way to midnight, and although Owen wanted to go to bed just before the clock struck twelve, we managed to keep him up to see in the new year and watch the fireworks on TV.
After the initial commotion, we had a quiet morning at home, even managing to get a few jobs done around the house and garden. After lunch we drove to Leamington Spa, to meet my parents. We parked at Newbold Comyn, and walked into town, via Jephson Gardens. Then my dad treated us to ice creams. After walking back to Newbold Comyn, the boys had a roll around the skatepark. Owen said that he had had a "lovely walk and a lovely ice cream", which pretty much summed up our afternoon. We also had a quick peek at the new mountain bike trails under construction. The trails looked good and are one of the things I am most excited about this year – great trails within a thirty minute drive means that Owen and I will have a new regular riding spot.
We have not got much planned for the year – we had been thinking about a road trip to France, but with the new Entry/Exit System for the EU looking like it will cause chaos at the channel crossing, so we will wait and see how that pans out. We have got a few shorter trips pencilled in – Lego Land, a VW Show in Weston-super-Mare and hopefully a visit to my brother's house in Kent. But before all that, we have a new sofa arriving next week! Something that I am not looking forward to quite so much is turning 40 in December!
As in previous years, I have set myself some goals for the year ahead:
Pass the AWS Certified Developer Associate exam
A recycled goal from 2022 – as although I did a lot of studying I did not take the exam. I need to pass the exam in the next few months, as my AWS Certified Cloud Practitioner certification from 2020 will lapse. And I promised myself a Fuji X100V when I passed – I have already bought it…
Rebuild my Orange Four
Another recycled goal from 2022, although I do not know if it is still a rebuild, given that the frame was replaced under warranty, so I am technically building up a new bike. Fortunately, I am most of the way there! I am waiting for my Four to be built up to ride the new red-graded trail at the Forest of Dean.
Once the Four is back on the trails, the Clockwork Evo is probably due a thorough service, after hard year in 2022.
Refresh my photography portfolio website
I have been using a Bootswatch theme on my homepage, which still needs a backend refresh, and I would like to carry that theme over to my photography portfolio website, which is hosted on Adobe Portfolio to tie them together. I could also do with updating the images, to include some more recent ones.
Photograph more bike races
Photographing the British Downhill Series mountain bike race was one of my highlights of 2022, and I would like to do some more this year.
Take a wildlife photo I am happy with
This was a failed goal in 2021, and one that has been in the back of mind since. My plan is to borrow a long lens from Fuji and spend the day at a nature reserve.
Complete at least three 50km bike rides
Rather than setting myself a year long cycling goal, I have decided to switch things up and target some longer rides. My longest ride to date is 48km, so 50km is achievable, but multiple rides should make it more of a challenge. I have got a few ideas for routes and hopefully my friend Partho will accompany me for some of the rides.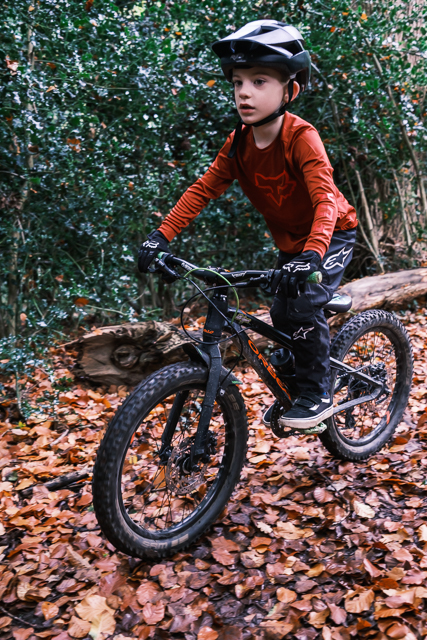 Ride 20km with Owen
This is more Owen's goal, as he wants to beat his longest ride to date, which stands at 16km. I have no doubt that Owen will be able to beat this – I just need to find the right route. He rode 15km, on some of the toughest trails he has ever ridden at Coed y Brenin last year, but I do not want to make it too hard (hilly) or boring (riding along a straight/flat disused railway) for him. So I am thinking a return visit to Sherwood Pines may be in order – Owen has ridden the 14km blue-graded "Adventure Trail" there, so I am sure we could add in some loops of their red-graded trail to bring it up to 20km easily.
Ride at Bike Park Wales with Owen
Bike Park Wales is the biggest bike park in the UK, but well set up for kids. Owen and I have watched a few videos from there, and the trails look fun. Annoyingly we have missed the last few Little Rippers MTB group rides there. After our North Wales trip last year, I thought that a South Wales trip, with a possibly making a weekend of it with a return visit to Dare Valley Country Park to ride the main trails, as it looked like a good set up when we called in on the way to Bluestone in 2021.
Ride at Bwlch Nant yr Arian
Bwlch Nant yr Arian in Mid Wales has some great looking trails, and is also known for their daily Red Kite feeding – which is enough of an excuse for me to go for a ride. And may help with my wildlife photography goal. It also seems like somewhere that might be worth visiting with Jen and the boys as part of a Mid Wales trip.
Ride some more of the "10 of the best XC trails in the UK" with Partho
My best friend Partho shared an article with me called "10 of the best XC trails in the UK". I have ridden a couple of the trails, and parts of a few more, but we have decided to try to ride a few more together.
Tidy my office
I spend most days working in my office, and other than what can be seen by my webcam, it is a complete tip. I still have my old iMac set up on my desk – it did not even get switched on last year, so I need to clear it down and get rid of it. I also need to move the artwork I hung on the dining room wall when I had my desk there a few years ago. As an incentive, I am going to treat myself to a mechanical keyboard when it is done, as I have been using the same keyboard at home since 2008.
Tidy my garage
As above, my garage is also a bit of a mess, with bike parts all over the place and not enough room to work on my MR2 Roadster.
MR2 jobs
This year marks ten years since I bought my MR2 Roadster, for the most part it has been cheap motoring, and very reliable, but I have neglected those little jobs that will prolong it's life, things like cleaning the drain holes. The wheels could also do with a thorough clean and a good coat of wax. However, I'll need to get the garage tidied first… There are also a few blemishes on the paintwork that I would like to get
Van upgrades
It is hard to believe that I bought my van three years ago – my plan had been to run it for a year to see how I got on with it, then make the interior a bit nicer, with carpet and insulation etc. The van has proved itself, and fits into our family life perfectly, so the interior upgrades are well overdue. It could also do with new tyres, possibly on bigger wheens, and I would also like to fit an awning rail to the side, so we can have some shelter when we park up. Family days out in the van are something that we want to do more of as a family.
Monthly blog posts
I feel like I have not been blogging as much as I would like the last few years, so in 2023 I plan to post at least once a month. Even if they end up being shorter posts, just sharing a photo and a few words.
Flagged emails
I currently have 536 flagged emails in my inbox, spanning the last ten years. At somepoint I have thought that there is something I need to do as a result of these emails, but either have not done, or at least have not subsequently unflagged the email. I am going to try to get this down to a list of tasks I genuinely need to do. I will attack it from both the top of the list, and the ten year old tasks at the bottom of the list, which I hope were not too urgent…
Get my weight down to 85kg
I have had this as a goal for many years, but never seem to make much progress on it, despite feeling like I am making more sensible choices when it comes to food. I am going to try to get a decent midweek bike ride in every week this year – working from home gives me the flexibility to take a long lunchbreak, so I am going to try to use that for bike rides, to hopefully help towards this goal.
Based on all these goals, it looks like 2023 is going to be a busy year for me, which should hopefully give me plenty to post about on here! Given my poor success rate last year, I have set up a document to keep track of them.