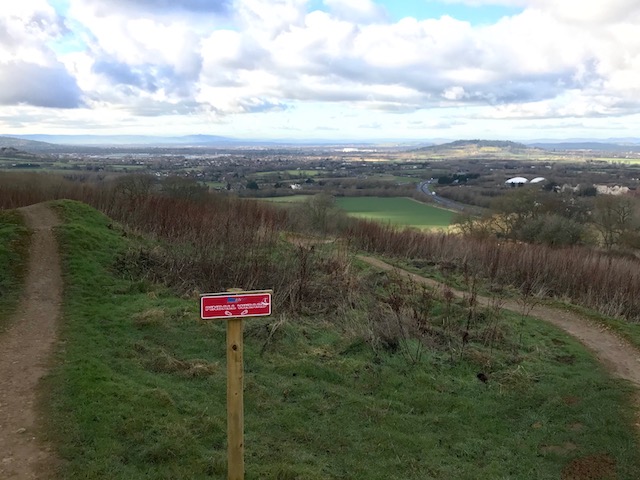 One of my goals for 2019 was to ride at a bike park, and earlier this week a day off work, childcare and the weather all aligned and I could get to Flyup 417 Bike Park in Gloucestershire. And what a day it was!
For the non mountain bikers reading, a bike park is somewhere with lots of downhill bike trails, usually with an uplift service (van/chairlift etc) to get you up to the top of the hill. This means that you can concentrate on riding downhill. Although this may sound like cheating, lots of downhill riding can be quite tiring, as I found out…
When I got to the bike park and signed in, I realised that I was their first customer of the day – I had the whole bike park to myself! I could not believe my luck as I was driven to the top of the hill in the van. I started off with a few laps of "Blue Racoon" their new "easy" trail, which was a really fun, flowy trail, with smooth wide berms all the way down the hill. Perfect to warm up on! As the bike park had only just reopened after being closed by snow, I took it easy on my first run, making sure there were no ice patches etc, but it was clear and I was able to press on for the next few runs. Brandon, the van driver, later told me that all the trails are inspected before the bike park opens, but I prefer to check out a new trail before hitting it at full speed.
For my fourth run I tried their other blue-rated trail "Cheese Roller", which is on the other side of the hill. This is a longer trail and one of the first trails they built, so is narrower and a bit more natural. The top section of the trail was closed due to ice, but that meant it could ride from where the van dropped me off, rather than pushing up to the very top of the hill. "Cheese Roller" was my favourite trail of the day, it is a fair bit longer than "Blue Racoon" and a nice step up in difficulty. The final section along the bottom of the field is a series of table top jumps, which looked like they were perfect for learning to jump on – assuming your legs still had some strength left after the descent. I say were, as I have since heard that they are rebuilding these jumps. As I was riding down, I saw someone else pushing their bike up the hill, which looked like a lot of effort to save a few pounds! He only did a few runs, so I still had the track to myself when I was riding. Having the uplift van to myself was great too, it would be waiting for me at the bottom of the hill, ready to whisk me back to the top. I was making the most of this and managed six runs in just over an hour, so when lunchtime came round I was glad to be able to give my legs a rest.
After eating my lunch I had a look at the indoor riding barns. The dirt jump barn looked fun, but I lack both the skills and bravery to ride it! The indoor ashphalt pump track looked like a lot of fun – I think Owen would have been in his element there. Next time we are passing by on the M5, I think we will be calling in for an hour. Whilst waiting for the van to come and pick me up for the afternoon, I rode up the push up track and back down the lower section of "Cheese Roller". I felt like I could attack the line of jumps more, as my legs were feeling fresher than after riding down the whole trail. However I was still nowhere near making the landing – more practice needed!
My first full run after lunch was "Cheese Roller", as I wanted to warm up with a familiar trail, before stepping up to the red graded trails. The main red trail, "Igneous", has a couple of alternative lines, "Missing Link" and "Pinball Wizard", which split off from, then rejoin, the main trail. Brandon advised that I should ride these alternative lines, by taking the left trail at both of the forks. "Missing Link" was noticeably rougher than the blue trails, with a small rock garden in the middle. The rocks continued as I rejoined "Igneous", with a series of small drop offs in quick succession – this was probably the most technical section of trail I rode. It highlighted that I need to improve my set up to drops, as I could hit one, but could not get the hang of hitting multiple drops one after the other, as I was taking too long to prepare myself for each one. "Pinball Wizard" was a fun trail to ride, albeit slightly outside of my comfort zone. It had a few deceptive drop offs, that initially looked quite big, but were actually rollable. Then came two sets of berms, first a bigger set, then a smaller, tighter set, which again I struggled with, as I am not quite quick enough. The last section of "Igneous" has recently been rebuilt, with a series of large table top jumps. A couple of lads were seasoning the jumps on downhill bikes – the first point in the day that I was sharing the trail with anyone! Knowing the jumps were way too big for me to even attempt, I kept my speed down and just rolled over them.
After a couple of runs on the red trails I decided it was time to get my GoPro from the car and get some footage of the trails. I rarely ride with my GoPro, but the short repeated loops at the bike park seemed ideal to use it. I rode "Blue Racoon" down to the car park to collect my camera, then rode the "Missing Link"/"Pinball Wizard", "Cheese Roller" and "Blue Racoon" trails, capturing the footage at the bottom of this post. For my last two rides up the hill I was joined in the van by a father and son who had been riding at the Forest of Dean earlier in the day, but fancied a few bike park laps on their way home. By the end of my run down "Blue Racoon" my legs were really burning. It was a different sensation to tired legs from pedalling, more in the calves than the thighs, but I knew it was time to call it a day and get home in time to wash my bike before it got dark.
I had a great day, possibly my best ever on a bike, and I am already looking forward to my next bike park trip. I know I was extremely lucky to have the place almost to myself, but on the other hand I can see how much fun it would be with a group of friends. I will need to work on my fitness before my next visit – I have already started doing calf raises on the bottom step of the stairs at home, and I am sure that more pump track sessions will help too. I also learned that I need to be less excited and actually remember to pause my Strava app before each uplift ride – I ended up spending way too much time tidying up the GPX file and uploading each individual run.
GoPro clips from each of the trails
Strava files for each of the trails